JEWISH HERITAGE MONTH PARTNER: PRINCE GEORGE, BRITISH COLUMBIA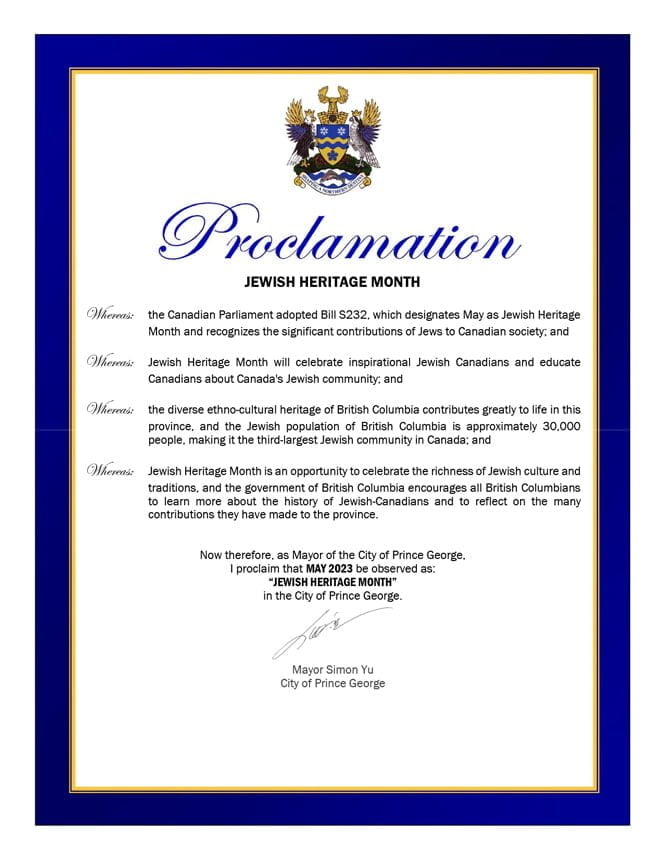 Prince George is a city located in central British Columbia, where the Fraser and Nechako rivers meet. With a city population of over 76,000 residents, Prince George has been given the moniker of British Columbia's "Northern Capital." It has a long history of serving as a fur-trading outpost and rail stop for the Grand Trunk railway.  
While Prince George does not boast a significant Jewish population today, the number of Jews living in and contributing to British Columbia continues to increase.  
Most notably, Prince George can be credited with electing the first schoolboard chairwoman in Hannah Director. In the school year 1917/1918, Ms. Director became the first recorded Jewish Canadian woman ever elected to public office.  
Ms. Director and her family proved to be prominent members of the small Jewish community located in northern British Columbia. Their family started a local kahal and named themselves Beit Yaacov.  
This significant achievement by Ms. Director has set the stage for future Jewish Canadians to run for public office and continue a long history of contributions to British Columbia and Canada.  
We commend Mayor Simon Yu for a prompt release of the proclamation declaring May 2023 to be Jewish Heritage Month in Prince George.  
Prince George est une ville située au centre de la Colombie-Britannique, là où les rivières Fraser et Nechako se rencontrent. Avec une population urbaine de plus de 76 000 habitants, Prince George a reçu le surnom de « capitale du Nord » de la Colombie-Britannique. Il sert depuis longtemps d'avant-poste de traite des fourrures et d'arrêt ferroviaire pour le chemin de fer du Grand Tronc. 
Bien que Prince George ne se vante pas d'avoir une population juive importante aujourd'hui, le nombre de Juifs vivant et contribuant à la Colombie-Britannique continue d'augmenter. 
Plus particulièrement, Prince George peut être crédité d'avoir élu la première présidente du conseil scolaire à Hannah Director. Au cours de l'année scolaire 1917/1918, Mme Director est devenue la première femme canadienne juive jamais élue à une fonction publique. 
Mme Director et sa famille se sont révélées être des membres éminents de la petite communauté juive située dans le nord de la Colombie-Britannique. Leur famille a fondé un kahal local et s'est nommée Beit Yaacov. 
2023

JEWISH HERITAGE MONTH PARTNERS
2023

COMMANDITAIRES DU MOIS DU PATRIMOINE JUIF
2022 JEWISH HERITAGE MONTH PARTNERS
2022 COMMANDITAIRES DU MOIS DU PATRIMOINE JUIF