JEWISH HERITAGE MONTH PARTNER: AURORA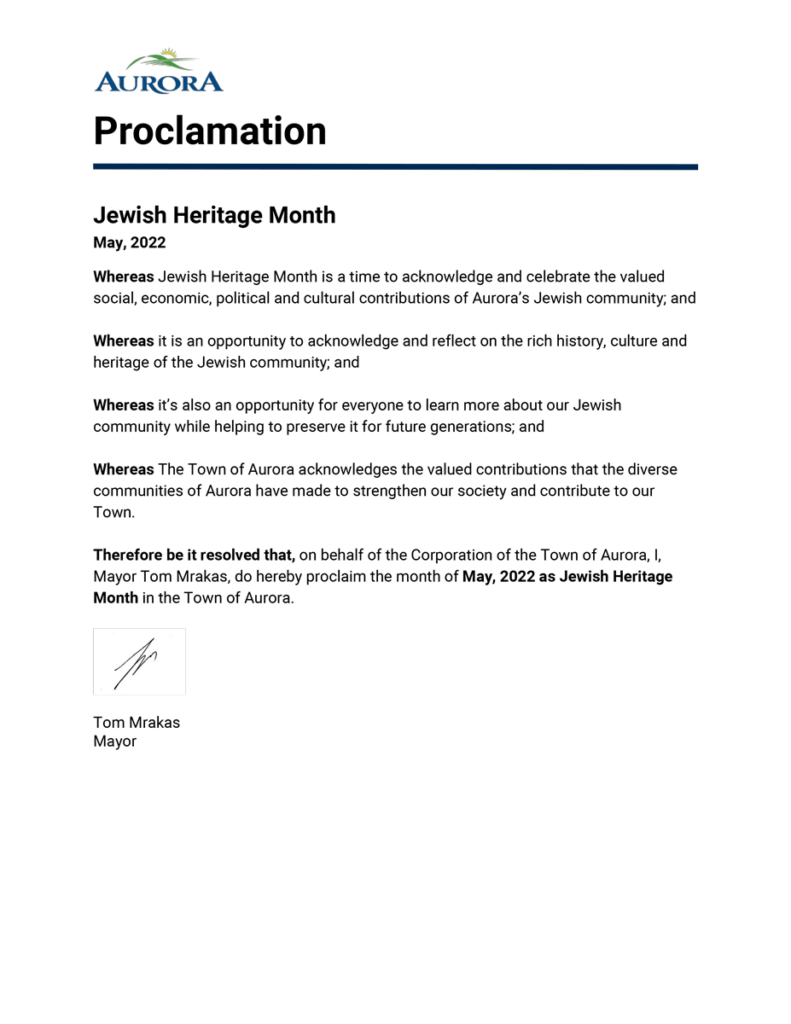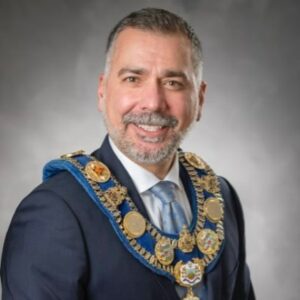 Recent census statistics indicate that Aurora, located in the central part of York Region, north of Toronto, has reached a population of slightly more than 62,000.
Tracing its history back to the 1790s when Upper Canada's Lieutenant Governor John Graves Simcoe ordered the extension northward of Yonge Street to open settlement to the north of York, as Toronto was then known.
Over the past thirty years Aurora has doubled in population. Its historic downtown located on Yonge Street at Wellington is well preserved. The town's growth however is associated with suburbanization as improvements to the road network and to public transit has made its practical for many to work in Toronto, 49 km away, or other close by communities in York Region.
Jewish Heritage Month was championed by Councillor Wendy Gaertner who won the support of Mayor Tom Mrakas. The Mayor issued a Proclamation on behalf of the Town of Aurora.
Councillor Gaertner tells us that the Jewish community is growing fast in Aurora which combined with neighbouring Newmarket now numbers more than 2000 people.
Chabad Aurora opened several years ago. Its Rabbi, Yossi Hecht, indicated in a recent media interview that in the past three years since he moved to Aurora from California that nearly 500 families have benefited from the Chabad Centre for holiday programs, religious services, and a Hebrew school.
The growth of the Jewish community in the town is reflected by the local Sobey's Supermarket opening a kosher aisle.
Councillor Gaetner's leadership led to Aurora lowering the flags at City Hall this past January 27 on International Holocaust Remembrance Day. It was the first time the town had marked the day.
Unlike most of Ontario's towns, the Town of Aurora municipal government is composed of a mayor and six councillors elected on an "at large" basis.
The councillor with the highest votes becomes the deputy mayor and may proxy for the mayor. Starting with this October's municipal election, the town will switch to a ward-based system with 6 wards, electing one mayor and six councillors or one per ward.
Selon des statistiques de recensement récentes, Aurora, située dans la partie centrale de la région de York, au nord de Toronto, a atteint une population d'un peu plus de 62 000 habitants.
Son histoire remonte aux années 1790, lorsque le lieutenant-gouverneur du Haut-Canada, John Graves Simcoe, a ordonné le prolongement de la rue Yonge vers le nord pour ouvrir la voie à la colonisation au nord de York, comme on appelait alors Toronto.
Au cours des trente dernières années, la population d'Aurora a doublé. Son centre-ville historique situé sur Yonge Street à Wellington est bien préservé. La croissance de la ville est toutefois associée à la suburbanisation, car l'amélioration du réseau routier et des transports en commun a permis à de nombreuses personnes de travailler à Toronto, à 49 km de là, ou dans d'autres communautés proches de la région de York.
Le Mois du patrimoine juif a été défendu par la conseillère Wendy Gaertner qui a obtenu le soutien du maire Tom Mrakas. Le maire a émis une proclamation au nom de la ville d'Aurora.
La conseillère Gaertner nous dit que la communauté juive se développe rapidement à Aurora qui, avec la ville voisine de Newmarket, compte maintenant plus de 2000 personnes.
Chabad Aurora a ouvert ses portes il y a plusieurs années. Son rabbin, Yossi Hecht, a indiqué dans une récente interview aux médias qu'au cours des trois dernières années, depuis qu'il a quitté la Californie pour s'installer à Aurora, près de 500 familles ont bénéficié des programmes de vacances, des services religieux et de l'école hébraïque du centre Chabad.
La croissance de la communauté juive dans la ville est reflétée par l'ouverture d'un rayon casher au supermarché Sobey's local.
Grâce au leadership du conseiller Gaetner, Aurora a mis en berne les drapeaux à l'hôtel de ville le 27 janvier dernier, lors de la Journée internationale de commémoration de l'Holocauste. C'était la première fois que la ville soulignait cette journée.
Contrairement à la plupart des villes de l'Ontario, le gouvernement municipal de la ville d'Aurora est composé d'un maire et de six conseillers élus au suffrage universel.
Le conseiller qui obtient le plus grand nombre de voix devient le maire adjoint et peut donner une procuration au maire. À compter de l'élection municipale d'octobre prochain, la ville passera à un système par quartiers, avec six quartiers, où seront élus un maire et six conseillers, soit un par quartier.
2023 JEWISH HERITAGE MONTH PARTNERS
2023 COMMANDITAIRES DU MOIS DU PATRIMOINE JUIF
2022 JEWISH HERITAGE MONTH PARTNERS
2022 COMMANDITAIRES DU MOIS DU PATRIMOINE JUIF