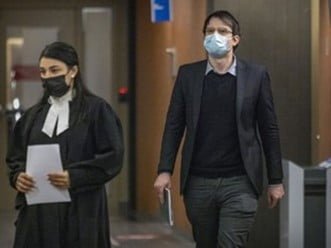 September 22, 2023
MONTREAL – B'nai Brith Canada is pleased with a Quebec court's decision to sentence a notorious neo-Nazi to 15 months in prison, followed by three years of probation.
Law enforcement originally charged Gabriel Sohier Chaput in 2018, following B'nai Brith's advocacy. Chaput was charged after an expose in the Montreal Gazette linked him to an article in the Daily Stormer—a neo-Nazi publication—threatening that 2017 would "be the year of action." Chaput has also made other hateful statements like calling for "non-stop Nazism."
Montreal Judge Manlio Del Negro found Chaput guilty on January 23, 2023, after the court determined that the neo-Nazi's writings "did not constitute satire or exaggeration," as he argued in his defence.
"We hope the strong sentence Chaput has received will serve as a deterrent to other hateful individuals," said Michael Mostyn, B'nai Brith's Chief Executive Officer. "This decision shows what should have been apparent from the very beginning- that promoting Nazism and calling for "action" against Jewish persons will not be tolerated in our society."
Henry Topas, B'nai Brith's Quebec Regional Director, agreed.
"This sentence is not only important for the Jewish community," he said. "It shows that the system works. It tells all Canadians—especially vulnerable minority groups—that they can trust the judicial process."