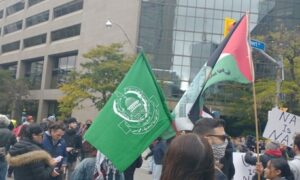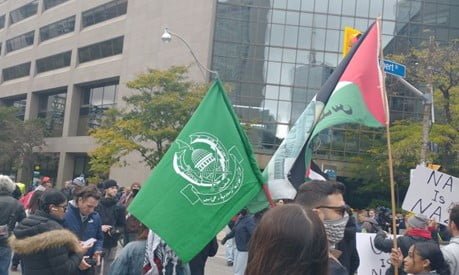 October 20, 2023
MISSISSAUGA, Ont. – B'nai Brith Canada has discovered emblems associated with listed terrorist entities at rallies across the country celebrating Hamas' recent attack on Israel, during which more than 1,400 Israelis were murdered.
Such gatherings in support of Hamas – a listed terrorist organization in Canada – took place in cities including Calgary, Edmonton, Ottawa, Whitehorse, Halifax, Regina, Montreal, Winnipeg, Victoria, Vancouver, Toronto and Mississauga.
"This is disturbing," said Michael Mostyn, B'nai Brith Canada's Chief Executive Officer. "The hateful atmosphere at these rallies is inspiring extremism."
According to sources at a demonstration last week in Toronto, some participants carried a flag bearing Hamas' emblem. Sweets were handed out in celebration of the atrocities committed by Hamas against innocent civilians, while a chorus of voices called for the erasure of the Jewish state.
Sadly, such troublesome occurrences were not limited to this one instance. Observers at a Montreal protest last Friday witnessed an attendee openly displaying the flag of Hezbollah, the Lebanon-based terrorist group. One individual was even documented holding a poster that appeared to contain the emblem of Daesh, popularly known as the Islamic State (ISIS) – another terror group widely condemned for its barbarism.
The same alarming trend was seen in Mississauga this past weekend. Pamphlets distributed at the rally called on Muslim men to form an "Army of Muhammad" to "liberate Al-Aqsa." At the same rally, a pick-up truck was spotted sporting the white flags of the Taliban – the Afghanistan- based terror group responsible for countless human-rights violations. Another protester was seen waving the black Islamic Jihad flag, which has frequently been associated with the listed terror group Al-Qaeda.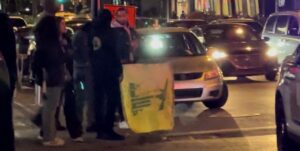 Meanwhile at another recent rally in Vancouver, Khaled Barakat – a high-profile member of the Popular Front for the Liberation of Palestine (PFLP), which Canada lists as a terrorist entity – addressed the crowd.
In Calgary last week, protestors declared in Arabic that they were "the men of Mohammed Dief." Dief is the supreme military commander of Hamas' Izz ad-Din al-Qassam Brigades.
The incitement continued Tuesday night in Toronto. A group of protestors marched to the Israeli Consulate and demonstrated their militancy by aggressively chanting in Arabic, "To Jerusalem we march, martyrs by the millions," and "with our souls and our blood we will redeem you oh Gaza."
"What we are witnessing is a breeding ground for those who celebrate listed terrorist entities and threaten violence," Mostyn said.