JEWISH HERITAGE MONTH PARTNER: NORTH BAY, ONTARIO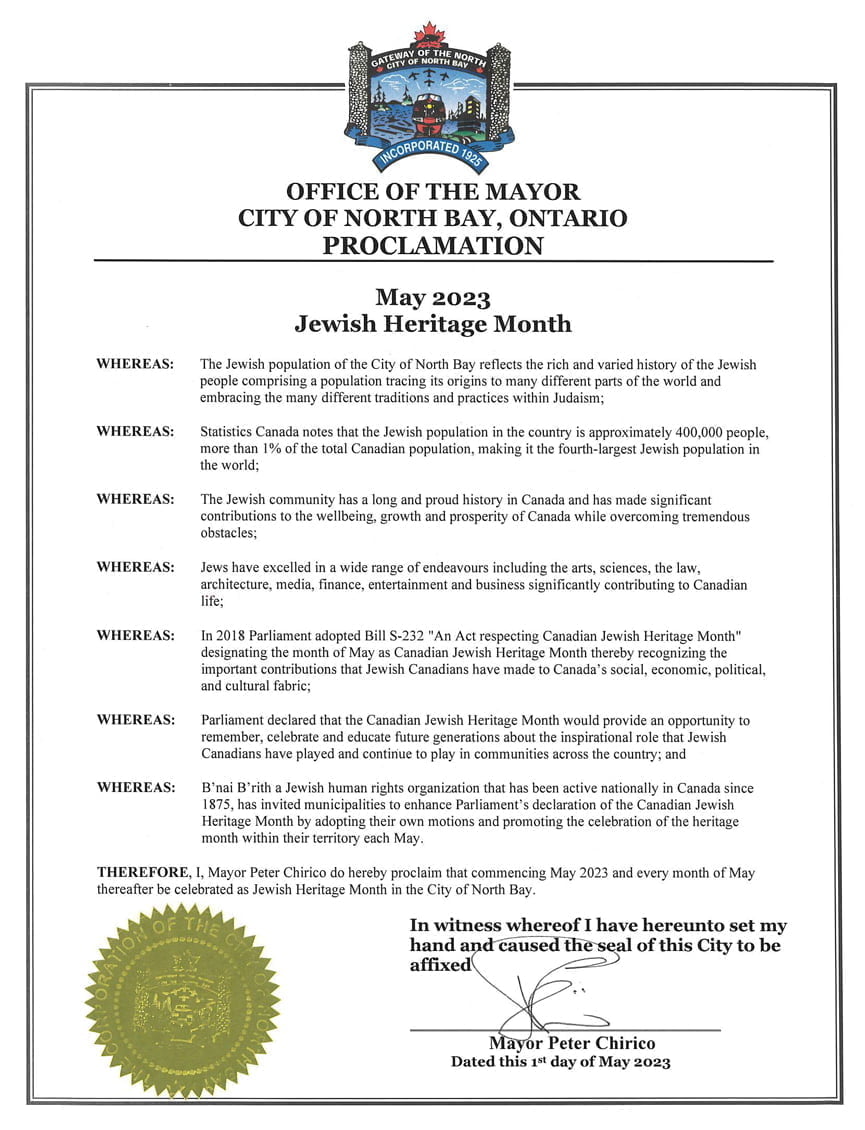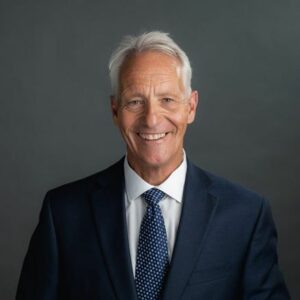 North Bay, Ontario has been an important partner of B'nai Brith Canada in the fight against antisemitism and hate. In 2021, an antisemitic incident at a high school galvanized the community. B'nai Brith worked with the Mayor, Al McDonald and City Council, providing advice on how to move forward.
April 2022 saw the first motion by City Council to declare every May Jewish Heritage Month. In May of that year, B'nai Brith issued a certificate of recognition to Mayor Al McDonald.
North Bay has a population of 53,000 and is located on beautiful Lake Nipissing, 350 km north of Toronto. The community is home to the Sons of Jacob Synagogue, the oldest Ontario synagogue north of Toronto still in use.
The Synagogue, located in the heart of downtown a few minutes from downtown, was initially constructed in 1907 as a commercial building becoming a place of worship in 1925. The current configuration dates to a retrofit in the mid 1950s. The city declared the Synagogue a heritage building in 2009.
We thank current Mayor Peter Chirico for supporting our initiative with Jewish Heritage Month and issuing a proclamation on Jewish Heritage Month.
North Bay, en Ontario, est un partenaire important de B'nai Brith Canada dans la lutte contre l'antisémitisme et la haine. En 2021, un incident antisémite dans une école secondaire a galvanisé la communauté. B'nai Brith a travaillé avec le maire, Al McDonald, et le conseil municipal, leur donnant des conseils sur la façon d'aller de l'avant.
En avril 2022, le conseil municipal a adopté la première motion visant à déclarer chaque mois de mai Mois du patrimoine juif. En mai de la même année, B'nai Brith a délivré un certificat de reconnaissance au maire Al McDonald.
North Bay compte 53 000 habitants et est située sur le magnifique lac Nipissing, à 350 km au nord de Toronto. La communauté abrite la synagogue Fils de Jacob, la plus ancienne synagogue de l'Ontario au nord de Toronto encore en activité.
La synagogue, située au cœur du centre-ville, à quelques minutes de celui-ci, a été initialement construite en 1907 comme bâtiment commercial et est devenue un lieu de culte en 1925. La configuration actuelle date d'une rénovation effectuée au milieu des années 1950. La ville a déclaré la synagogue bâtiment patrimonial en 2009.
Nous remercions le maire actuel, Peter Chirico, d'avoir soutenu notre initiative dans le cadre du Mois du patrimoine juif et d'avoir publié une proclamation à cette occasion.
2023

JEWISH HERITAGE MONTH PARTNERS
2023

COMMANDITAIRES DU MOIS DU PATRIMOINE JUIF
2022 JEWISH HERITAGE MONTH PARTNERS
2022 COMMANDITAIRES DU MOIS DU PATRIMOINE JUIF