JEWISH HERITAGE MONTH PARTNER: NORTH BAY, ONTARIO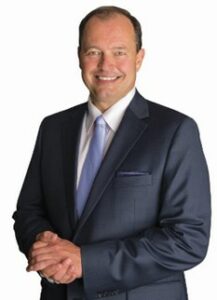 B'nai Brith has developed a special relationship with the City of North Bay.
A widely publicized incident in September 2021 at a local high school saw students give the Hitler salute and make antisemitic slurs. The hateful behaviour was circulated in a video on social media. The video went viral and soon the incident made headlines across Canada and internationally.
Mayor Al McDonald and the City Council immediately went public to say there was no place for hate and racism in their town. The Mayor's statement that "Hate and racism has no home here. It is everyone's responsibility to speak up against racism and hate when it appears" was picked up by the national press.
The community mobilized. The police department opened an investigation. The school board worked with the students to tell them how hurtful their actions had been. Ordinary citizens spoke up to express their support of the local Jewish community.
B'nai Brith spoke with the Mayor providing advice. In April, the City Council adopted a motion to declare every May as Jewish Heritage Month in North Bay.
In a moving heartfelt debate, many members of Council spoke of the many contributions Jews have made to the growth of the city. Several Councillors spoke of their youth and their interactions with Jewish merchants who spurred the city's commercial success and supported local sporting and cultural activities.
On May 17, a special event was held at City Hall. B'nai Brith CEO Michael Mostyn and Marvin Rotrand, National Director of B'nai Brith's League for Human Rights presented a certificate of recognition to Mayor McDonald.
The event attended by members of the municipal police and fire department, representative of the city's civil service and the leaders of the local Jewish community garnered extensive media attention across northern Ontario.
Mostyn and Rotrand told those assembled that the city, the police service and residents had responded with the right kind of response, a response which should be emulated by every other community which experiences this kind of incident.
In his speech accepting the award, Mayor McDonald gave special recognition to local Jewish business leaders, Chief of Police Scott Tod and North Bay City Council members.
The Mayor said that the community's response was an opportunity to educate everyone, including the students.
He concluded the event ceremony stating "I always believe it's not the problem that defines you, it's your reaction and solutions to make the issue top of mind, and correct it. I feel bad for all of the students that were caught up in all of this. Hopefully, they've learned a very important lesson that they'll remember for their lifetimes. I'm hoping these young students will be those leaders to speak out."
North Bay has a population of 53,000 and is located on beautiful Lake Nipissing, 350 km due north of Toronto. The community is home to the Sons of Jacob Synagogue, the oldest Ontario synagogue north of Toronto still in use.
The Synagogue located in the heart of downtown a few minutes from downtown was initially constructed in 1907 as a commercial building becoming a place of worship in 1925. The current configuration dates to a retrofit in the mid 1950s. The city declared the Synagogue a heritage building in 2009.
B'nai Brith a développé une relation particulière avec la ville de North Bay.
Un incident largement médiatisé survenu en septembre 2021 dans un lycée local a vu des élèves faire le salut hitlérien et proférer des insultes antisémites. Ce comportement haineux a été diffusé dans une vidéo sur les médias sociaux. La vidéo est devenue virale et l'incident a rapidement fait la une des journaux au Canada et dans le monde entier.
Le maire Al McDonald et le conseil municipal ont immédiatement rendu public le fait que la haine et le racisme n'avaient pas leur place dans leur ville. Le maire a déclaré : « La haine et le racisme n'ont pas leur place ici. Il est de la responsabilité de chacun de s'élever contre le racisme et la haine lorsqu'ils apparaissent » a été reprise par la presse nationale.
La communauté s'est mobilisée. Le service de police a ouvert une enquête. La commission scolaire a travaillé avec les élèves pour leur dire à quel point leurs actions étaient blessantes. Des citoyens ordinaires ont pris la parole pour exprimer leur soutien à la communauté juive locale.
B'nai Brith s'est entretenu avec le maire pour lui donner des conseils. En avril, le conseil municipal a adopté une motion visant à déclarer chaque mois de mai comme le mois du patrimoine juif à North Bay.
Lors d'un débat émouvant et sincère, plusieurs membres du Conseil ont évoqué les nombreuses contributions des Juifs à la croissance de la ville. Différents conseillers ont parlé de leur jeunesse et de leurs interactions avec les marchands juifs qui ont stimulé le succès commercial de la ville et soutenu les activités sportives et culturelles locales.
Le 17 mai, un événement spécial a eu lieu à l'hôtel de ville. Le PDG de B'nai Brith, Michael Mostyn, et Marvin Rotrand, directeur national de la Ligue des droits de l'homme de B'nai Brith, ont remis un certificat de reconnaissance au maire McDonald.
L'événement, auquel ont assisté des membres de la police municipale et du service des incendies, des représentants de la fonction publique de la ville et les dirigeants de la communauté juive locale, a suscité une grande attention de la part des médias du nord de l'Ontario.
Mostyn et Rotrand ont déclaré aux personnes rassemblées que la ville, le service de police et les résidents avaient réagi de manière appropriée, une réaction qui devrait être imitée par toutes les autres communautés qui connaissent ce genre d'incident.
Dans son discours d'acceptation du prix, le maire McDonald a rendu un hommage particulier aux chefs d'entreprise juifs locaux, au chef de police Scott Tod et aux membres du conseil municipal de North Bay.
Le maire a déclaré que la réponse de la communauté était une occasion d'éduquer tout le monde, y compris les étudiants.
Il a conclu la cérémonie en déclarant : « Je crois toujours que ce n'est pas le problème qui vous définit, c'est votre réaction et vos solutions pour faire de ce problème une priorité et le corriger. Je me sens mal pour tous les étudiants qui ont été pris dans tout cela. J'espère qu'ils ont appris une leçon très importante dont ils se souviendront toute leur vie. J'espère que ces jeunes étudiants seront ces leaders qui prendront la parole. »
North Bay a une population de 53 000 habitants et est située sur le magnifique lac Nipissing, à 350 km au nord de Toronto. La communauté abrite la synagogue Sons of Jacob, la plus ancienne synagogue ontarienne encore en activité au nord de Toronto.
La synagogue, située en plein cœur du centre-ville, à quelques minutes de celui-ci, a été initialement construite en 1907 comme bâtiment commercial, devenant un lieu de culte en 1925. La configuration actuelle date d'une rénovation effectuée au milieu des années 1950. La ville a déclaré la synagogue bâtiment patrimonial en 2009.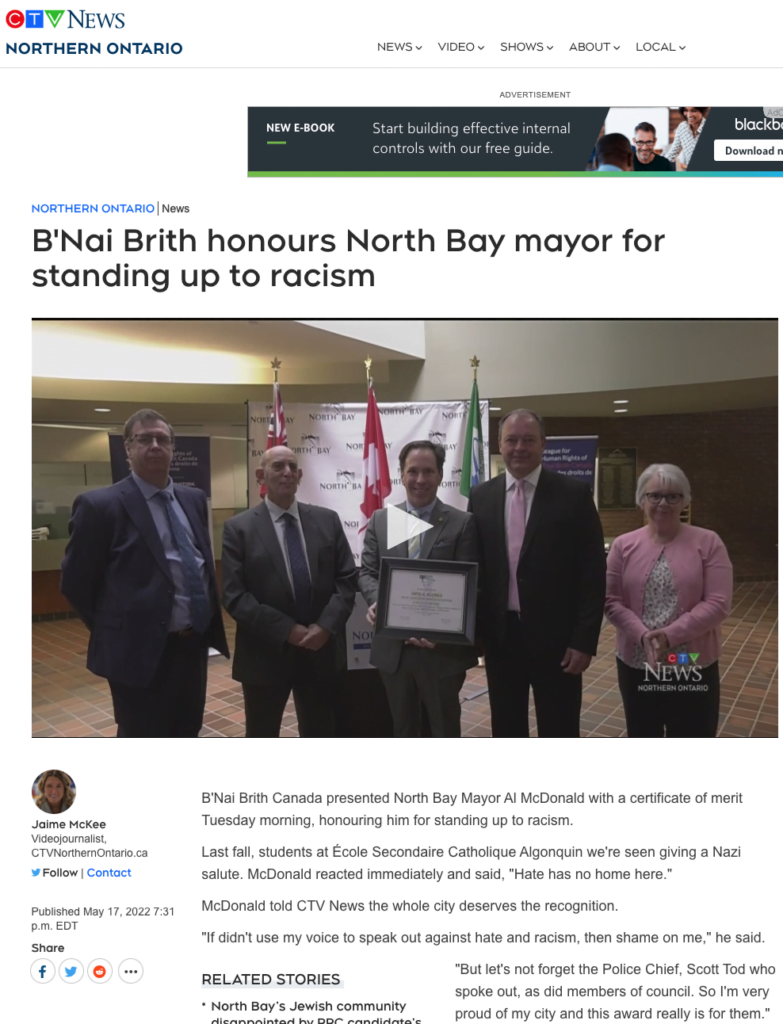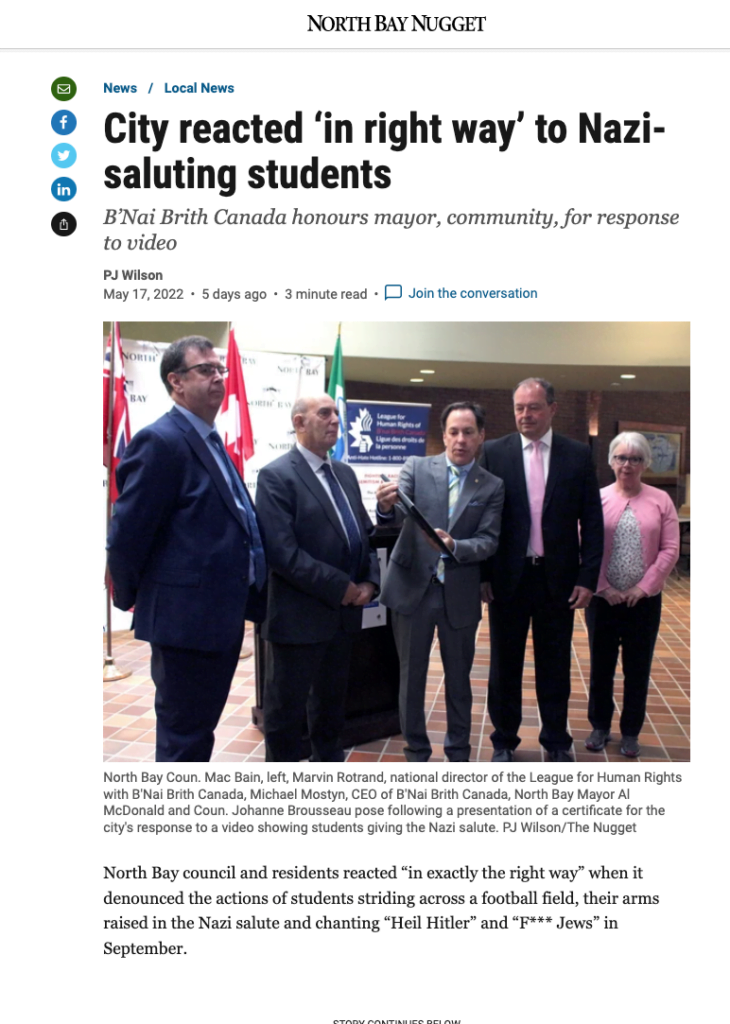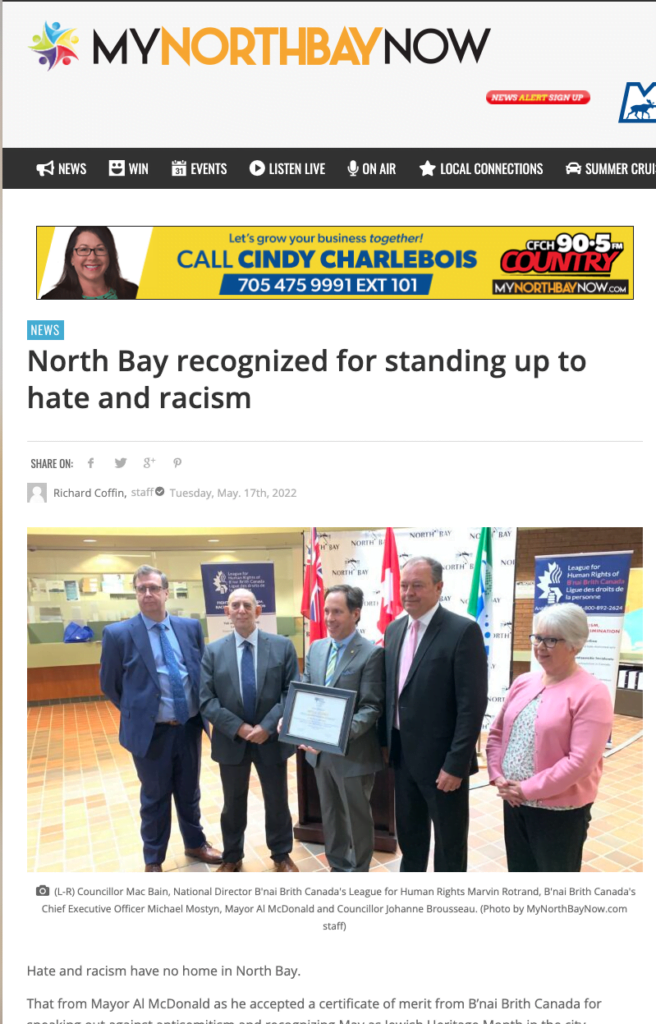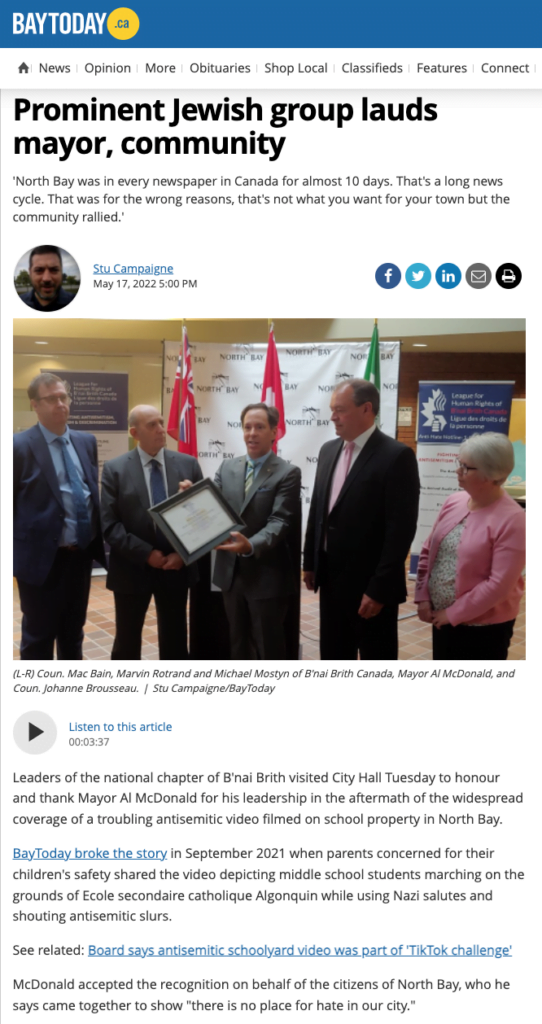 JEWISH HERITAGE MONTH PARTNERS
COMMANDITAIRES DU MOIS DU PATRIMOINE JUIF