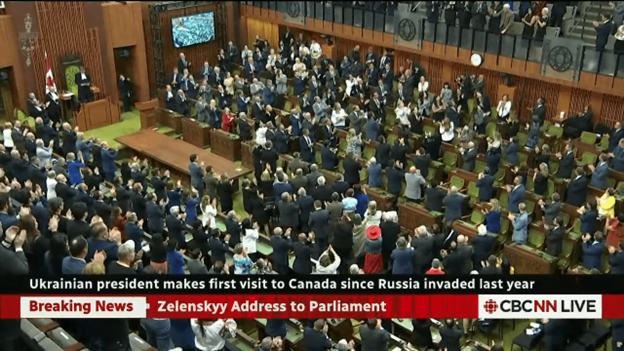 September 24, 2023
OTTAWA – B'nai Brith Canada is shocked after Parliament last Friday celebrated a veteran of the 14th Waffen Grenadier Division (14th Waffen SS).
During Ukrainian President Volodymyr Zelensky's visit to address Canada's House of Commons last week, Speaker Anthony Rota acknowledged 98-year-old Yaroslav Hunka to demonstrate solidarity with Ukraine as it fends off Russia's unprovoked and illegal invasion. Hunka, who immigrated to Canada after serving in the 14th Waffen SS – a Nazi unit whose members swore allegiance to Adolf Hitler during WWII – received a standing ovation from members of Parliament and senators in attendance.
Adolf Hitler was the leader of Nazi Germany, Canada and the free world's nemesis, and military opponent during WWII. The Ukrainian ultra-nationalist ideologues who volunteered to create the SS-Galician division in 1943 dreamed of an ethnically homogenous Ukrainian state and endorsed the idea of ethnic cleansing.
The 14th Waffen SS carried out numerous atrocities against civilians in the Ukraine and fought alongside regular Nazi German armed forces in the battle of Brody. The SS was declared a criminal organization by the International Military Tribunal in Nuremberg. Members of this unit swore fealty to the Fuhrer and the perverted racial ideology of the Nazis.
"We cannot allow the whitewashing of history," said Michael Mostyn, B'nai Brith Canada's Chief Executive Officer. "It is beyond outrageous that Parliament has honored a former member of a Nazi unit in this way. Canadian soldiers fought and died to free the world from the evils of Nazi brutality.
"We understand an apology is forthcoming. We expect a meaningful apology. Parliament owes an apology to all Canadians for this outrage, and a detailed explanation as to how this could possibly have taken place at the centre of Canadian democracy."