JEWISH HERITAGE MONTH PARTNER: RICHMOND, BRITISH COLUMBIA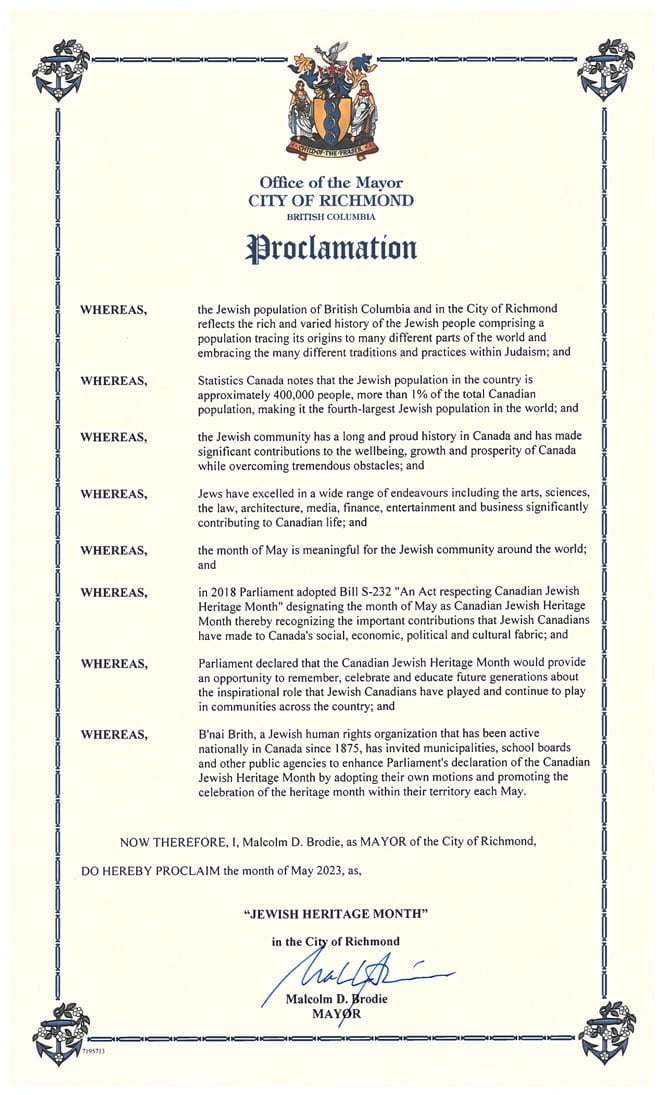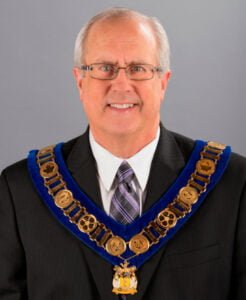 Located in the Greater Vancouver Area (GVA), Richmond is a beautiful city of 230,000 nestled in the Fraser River Delta. With the Vancouver International Airport and Olympic Oval located in Richmond, the city is a key aspect of what makes the GVA a special part of Canada.  
The Jewish community has been a part of the Richmond community for decades. The first cranberry farm in BC was started in 1946 on Lulu Island by Jack Bell, the "Cranberry King." In 1959, the Richmond Country Club was established to provide Jews the opportunity to play golf, tennis and squash and to meet others in the community.  
At the time, BC had restrictions on when and where Jews could access other country club facilities. The Richmond Country club was and still is a central meeting point for Richmond's Jewish community to come together and celebrate their heritage.  
We thank Mayor Malcom Brodie for proclaiming May 2023 as Jewish Heritage Month in the city of Richmond, BC and for honouring the contributions Jews have made to Richmond's history. 
Située dans la région du Grand Vancouver (GVA), Richmond est une belle ville de 230 000 habitants nichée dans le delta du fleuve Fraser. Avec l'aéroport international de Vancouver et l'anneau olympique situés à Richmond, la ville est un aspect clé de ce qui fait de la VAG une partie spéciale du Canada. 
La communauté juive fait partie de la communauté de Richmond depuis des décennies. La première ferme de canneberges en Colombie-Britannique a été lancée en 1946 sur l'île Lulu par Jack Bell, le « Cranberry King ». En 1959, le Richmond Country Club a été créé pour offrir aux Juifs la possibilité de jouer au golf, au tennis et au squash et de rencontrer d'autres membres de la communauté. 
À l'époque, la Colombie-Britannique avait des restrictions sur le moment et l'endroit où les Juifs pouvaient accéder aux installations d'autres country clubs. Le Richmond Country club était et est toujours un point de rencontre central pour que la communauté juive de Richmond se rassemble et célèbre son héritage. 
Nous remercions le maire Malcom Brodie d'avoir proclamé mai 2023 Mois du patrimoine juif dans la ville de Richmond, en Colombie-Britannique, et d'avoir honoré les contributions que les Juifs ont apportées à l'histoire de Richmond. 
2023

JEWISH HERITAGE MONTH PARTNERS
2023

COMMANDITAIRES DU MOIS DU PATRIMOINE JUIF
2022 JEWISH HERITAGE MONTH PARTNERS
2022 COMMANDITAIRES DU MOIS DU PATRIMOINE JUIF