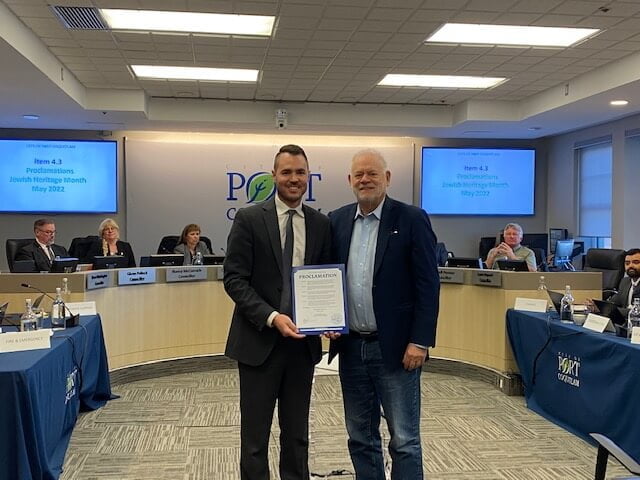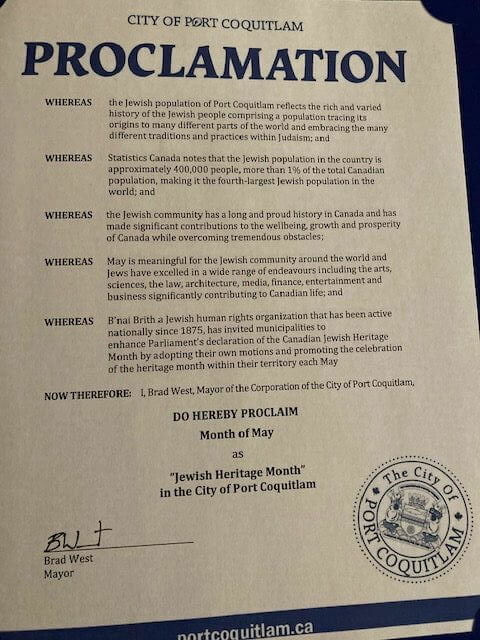 JEWISH HERITAGE MONTH PARTNER: PORT COQUITLAM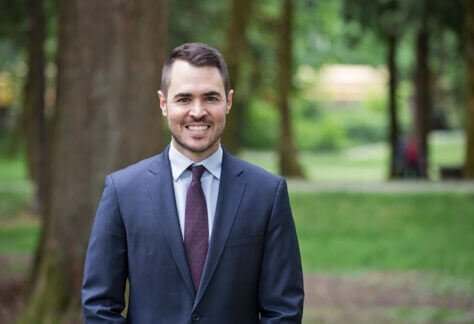 On April 26, Port Coquitlam Mayor Brad West welcomed B'nai Brith's Herb Silver to City Hall as the municipal council endorsed a proclamation issued to celebrate every May as Jewish Heritage Month in the municipality.
Located 27 km. east of Vancouver, Port Coquitlam has grown to be home to a population of 61,500.
Mayor West is proud of his community's diversity which includes large East and South Asian communities as well as growing African and Latin American communities. Nearly 5% of the residents are of First Nations origin.
The Jewish community remains relatively small. The closest Jewish institution is the Burquest Jewish Community Centre about a 10 minute drive away in the neighbouring city of Coquitlam.
The Burquest Centre's outreach is to the Jewish population of the tri-city area of Port Coquitlam, Coquitlam and Port Moody as well as to those in the Lower Fraser Valley.
Mayor West told B'nai Brith that City Council's goal is to ensure that Port Coquitlam is a welcoming community in which everyone feels safe and contributing to the common good. Toward that end Port Coquitlam has created an Equity, Diversity and Inclusion Roundtable to act as a resource for the City of Port Coquitlam on promoting diversity, eliminating discrimination, and engaging in community dialogue and action.
In accepting the Proclamation, Mr. Silver told the Mayor that B'nai Brith was appreciative that the municipality wished to recognize the contributions of the Jewish community to Port Coquitlam, to British Columbia and to Canada as well as its noting the leadership of our organization in promoting Jewish Heritage Month.
Le 26 avril, le maire de Port Coquitlam, Brad West, a accueilli Herb Silver de B'nai Brith à l'hôtel de ville, alors que le conseil municipal approuvait une proclamation visant à célébrer chaque mois de mai comme le Mois du patrimoine juif dans la municipalité.
Située à 27 km à l'est de Vancouver, Port Coquitlam a grandi et compte aujourd'hui une population de 61 500 habitants.
Le maire West est fier de la diversité de sa communauté, qui comprend d'importantes communautés d'Asie de l'Est et du Sud, ainsi que des communautés africaines et latino-américaines en pleine expansion. Près de 5% des résidents sont d'origine autochtone.
La communauté juive reste relativement petite. L'institution juive la plus proche est le Burquest Jewish Community Centre, situé à environ 10 minutes de route dans la ville voisine de Coquitlam.
Le centre Burquest s'adresse à la population juive de la région des trois villes de Port Coquitlam, Coquitlam et Port Moody, ainsi qu'à celle de la Vallée du bas Fraser.
Le maire West a déclaré à B'nai Brith que l'objectif du conseil municipal est de faire en sorte que Port Coquitlam soit une communauté accueillante dans laquelle chacun se sent en sécurité et contribue au bien commun. À cette fin, Port Coquitlam a créé une table ronde sur l'équité, la diversité et l'inclusion qui servira de ressource à la ville de Port Coquitlam pour la promotion de la diversité, l'élimination de la discrimination et l'engagement dans le dialogue et l'action communautaires.
En acceptant la proclamation, M. Silver a dit au maire que B'nai Brith appréciait que la municipalité souhaite reconnaître les contributions de la communauté juive à Port Coquitlam, en Colombie-Britannique et au Canada, et qu'elle soulignait le leadership de notre organisation dans la promotion du Mois du patrimoine juif.
2023

JEWISH HERITAGE MONTH PARTNERS
2023

COMMANDITAIRES DU MOIS DU PATRIMOINE JUIF
2022 JEWISH HERITAGE MONTH PARTNERS
2022 COMMANDITAIRES DU MOIS DU PATRIMOINE JUIF