JEWISH HERITAGE MONTH PARTNER: TORONTO DISTRICT SCHOOL BOARD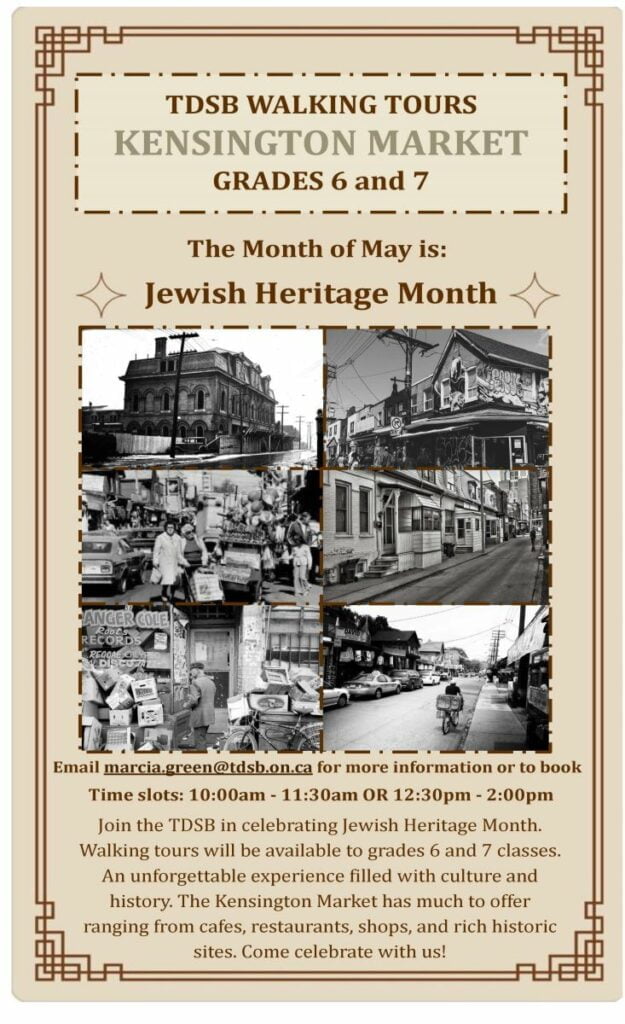 The Toronto District School Board (TDSB), Canada's largest public-school board, has alerted B'nai Brith to a program available to its Grade 6 and 7 students to highlight the heritage month.
We thank School Board Trustee Shelley Laskin and Shari Schwartz-Maltz, the TDSB's Media Relations and Issues Manager for providing this information.
The TDSB is partnering with the Ontario Jewish Archives to offer a walking tour of the Kensington Market area.
The tour will focus on the early Jewish community in Toronto which was initially clustered in St. John's Ward bounded by College, Queen, Yonge and University but which by the mid-1930s saw significant movement of Jews west, crossing Spadina, and Bathurst. Many Jews settled around Kensington Market.
By 1911, the Jewish population of Toronto had grown to 18,237. By 1931, there were 45,000 Jews living in Toronto.
While the demographics of these neighbourhoods has changed greatly since, they still contain many landmarks of Jewish heritage. The historic Kiever Shul completed in 1927 remains active until this day. The equally historic Anshei Minsk Synagogue found nearby and completed as a Byzantine Revival style building in 1930s also is open for services.
Those needing furtther information regarding this unique tour, can visit the Jewish Heritage Month Committee webpage or contact Shari Schwartz-Maltz; shari.schwartz-maltz@tdsb.on.ca.
Le Conseil scolaire du district de Toronto (CSDT), le plus grand conseil scolaire public du Canada, a informé B'nai Brith d'un programme offert à ses élèves de 6e et 7e année pour souligner le mois du patrimoine.
Nous remercions Shelley Laskin, conseillère scolaire, et Shari Schwartz-Maltz, responsable des relations avec les médias et des enjeux du CSDT, de nous avoir fourni cette information.
Le CSDT s'associe aux Archives juives de l'Ontario pour offrir une visite à pied du quartier du marché Kensington.
La visite sera axée sur les débuts de la communauté juive de Toronto, qui était initialement regroupée dans le quartier de St-John's, délimité par College, Queen, Yonge et University, mais qui, au milieu des années 1930, a connu un important mouvement de Juifs vers l'ouest, traversant Spadina et Bathurst. De nombreux Juifs se sont installés autour du marché Kensington.
En 1911, la population juive de Toronto comptait 18 237 personnes. En 1931, il y avait 45 000 Juifs vivant à Toronto.
Bien que la démographie de ces quartiers ait beaucoup changé depuis, ils contiennent toujours de nombreux points de repère du patrimoine juif. La synagogue historique de Kiever, achevé en 1927, est toujours en activité aujourd'hui. La synagogue Anshei Minsk, tout aussi historique, se trouve à proximité et a été construite dans les années 1930 dans un style néo-byzantin.
Pour de plus amples informations sur cette visite unique, veuillez consulter la page internet du comité du mois du patrimoine juif ou contacter Shari Schwartz-Maltz (shari.schwartz-maltz@tdsb.on.ca).
2023 JEWISH HERITAGE MONTH PARTNERS
2023 COMMANDITAIRES DU MOIS DU PATRIMOINE JUIF
2022 JEWISH HERITAGE MONTH PARTNERS
2022 COMMANDITAIRES DU MOIS DU PATRIMOINE JUIF