JEWISH HERITAGE MONTH PARTNER: VAUGHAN, ONTARIO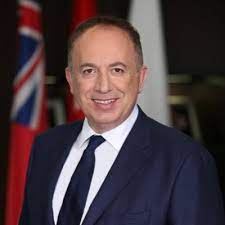 Mayor Maurizio Bevilacqua
Vaughan, situated just north of the City of Toronto in York region, has seen enormous growth over the past thirty years. Today Vaughan's population is approaching 325,000 making it Canada's 17th largest city.
Some 5% of the population, or more than 15,000 residents are Jewish, and the city is home to many thriving Jewish institutions. These include the Richmond Hill Country Shul, Temple Kol Ami, Bei Rayim Synagogue, the Jewish Russian Community Centre, Temple Har Zion, Ahavat Yisrael Hebrew School, the Kimel Family Education Centre, Bialik Hebrew Day Schools, Chabad Russian Centre of Thornhill, JYN Hebrew School, Chabad Romano, and many more.
When B'nai Brith approached Vaughan Mayor Maurizio Bevilacqua to adopt a resolution for Jewish Heritage Month, we heard back almost immediately from Joy Ciafardoni, the Mayor's Executive Assistant, that in fact Vaughan had been the first community in Ontario to recognize Jewish Heritage Month – and had done so on April 24,2012.
Vaughan reacted to the Province of Ontario's 2012 adoption of Bill 17, the Jewish Heritage Act declaring the month of May as Jewish Heritage Month across Ontario. The municipality felt that as the home of a significant Jewish community that it would be important to build on the province's work.
This year then will be Vaughan's 11th Jewish Heritage Month.
Over the years Vaughan has reinforced its links with the Jewish community. In 2019 the City led a business mission to Israel alongside Vaughan Chamber of Commerce.
In 2020 Vaughan decreed every January 27 as International Holocaust Remembrance Day in the municipality. In July 2021 Mayor Bevilacqua was one of the participants In the historic National Summit to Combat Antisemitism.
More recently, the Mayor , while chairing a meeting of the Ontario Municipal Leaders' Summit in Antisemitism, forcefully stated the there is absolutely no place in Vaughan for Antisemitism. That declaration received widespread media attention.
Vaughan also maintains a sister city agreement with Ramla, Israel. The agreement was originally signed in 1993.
City Hall told B'nai Brith that Jewish Heritage Month is meaningful to all the community's residents. We appreciate Vaughan Council's strong relationship with the Jewish community and look forward to seeing the Heritage Month continue to grow in the municipality.
Vaughan, située juste au nord de la ville de Toronto dans la région de York, a connu une croissance énorme au cours des trente dernières années. Aujourd'hui, la population de Vaughan approche les 325 000 habitants, ce qui en fait la 17e ville du Canada.
Environ 5 % de la population, soit plus de 15 000 résidents, sont juifs, et la ville abrite de nombreuses institutions juives florissantes. Parmi celles-ci, citons la Richmond Hill Country Shul, le Temple Kol Ami, la synagogue Bei Rayim, le Centre communautaire juif russe, le Temple Har Zion, l'école hébraïque Ahavat Yisrael, le Centre d'éducation de la famille Kimel, les écoles de jour hébraïques Bialik, le Centre Chabat russe de Thornhill Woods, l'école hébraïque JYN, le Chabad Romano, et bien d'autres encore.
Lorsque B'nai Brith a demandé au maire de Vaughan, Maurizio Bevilacqua, d'adopter une résolution pour le Mois du patrimoine juif, Joy Ciafardoni, l'adjointe exécutive du maire, nous a répondu presque immédiatement qu'en fait Vaughan avait été la première communauté en Ontario à reconnaître le Mois du patrimoine juif – et l'avait fait le 24 avril 2012.
Vaughan a réagi à l'adoption par la province de l'Ontario, en 2012, du projet de loi 17, la Loi sur le patrimoine juif, qui déclare le mois de mai Mois du patrimoine juif dans tout l'Ontario. La municipalité a estimé qu'en tant que foyer d'une importante communauté juive, il serait important de s'appuyer sur le travail de la province.
Cette année sera donc le 11e Mois du patrimoine juif de Vaughan.
Au fil des ans, Vaughan a renforcé ses liens avec la communauté juive. En 2019, la ville a mené une mission commerciale en Israël aux côtés de la Chambre de commerce de Vaughan.
En 2020, Vaughan a décrété le 27 janvier comme Journée internationale de commémoration de l'Holocauste dans la municipalité. En juillet 2021, le maire Bevilacqua a été l'un des participants au sommet national historique de lutte contre l'antisémitisme.
Plus récemment, le maire, alors qu'il présidait une réunion du Sommet des dirigeants municipaux de l'Ontario sur l'antisémitisme, a déclaré avec force que l'antisémitisme n'avait absolument pas sa place à Vaughan. Cette déclaration a été largement médiatisée.
Vaughan a également conclu un accord de jumelage avec Ramla, en Israël. Cet accord a été signé en 1993.
L'hôtel de ville a déclaré à B'nai Brith que le mois du patrimoine juif était important pour tous les résidents de la communauté. Nous apprécions la relation solide du conseil municipal de Vaughan avec la communauté juive et nous nous réjouissons de voir le Mois du patrimoine continuer à se développer dans la municipalité.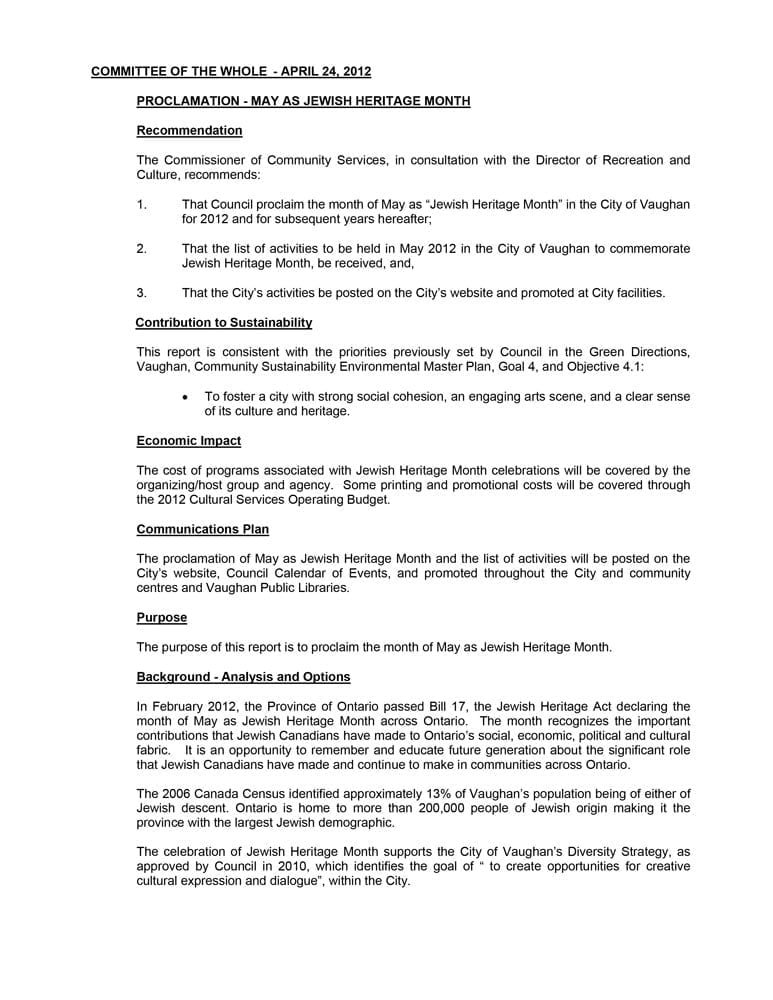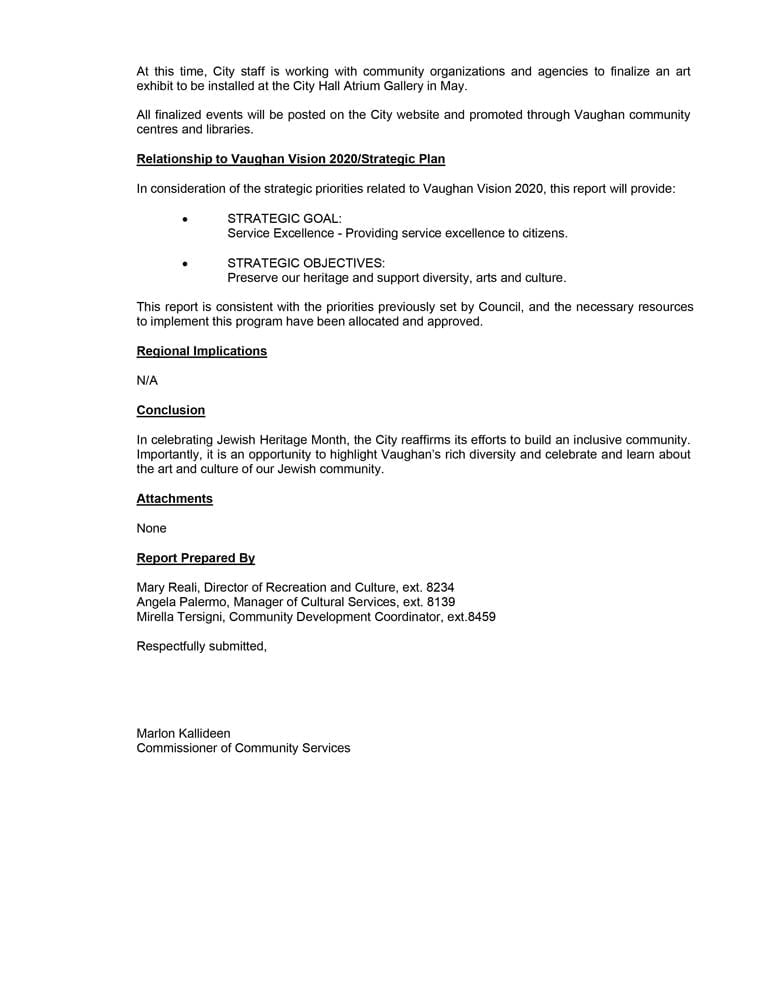 JEWISH HERITAGE MONTH PARTNERS
COMMANDITAIRES DU MOIS DU PATRIMOINE JUIF