JEWISH HERITAGE MONTH PARTNER: EDMONTON, ALBERTA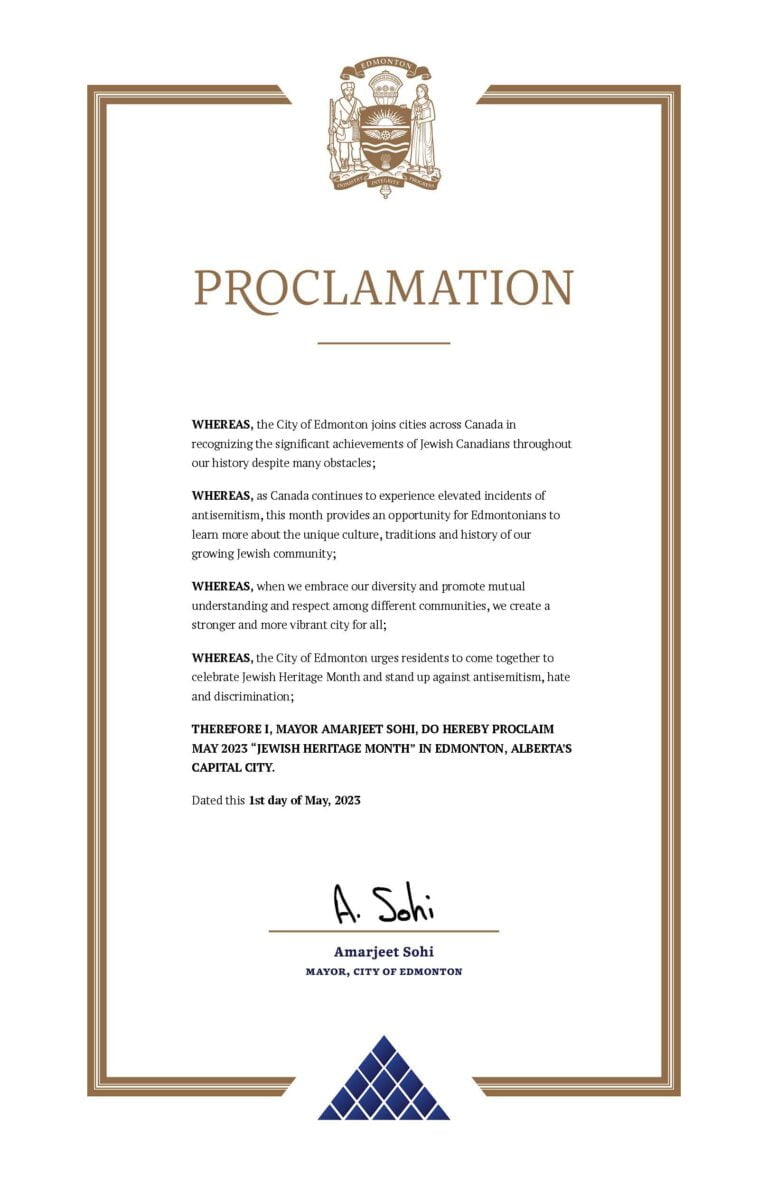 Edmonton is Alberta's capital, the anchor for the province's central and northern regions and one of Canada's fastest growing metropolitan areas. 
The Jewish Archives and Historical Society of Edmonton and Northern Alberta indicates that the Cristall family, which arrived in 1893, was Edmonton's first Jewish family. The Beth Israel, the first synagogue in the growing town, dates from 1912. It has moved several times but still serves the community. 
Today, Jews number some 6,000 in the city. Jews have had a history of civic engagement in Edmonton. Stephen Mandel became the city's first Jewish Mayor, serving from 2004 to 2013. 
Amarjeet Sohi, Edmonton's Mayor, was elected in October 2021.  
Last January, Mayor Sohi was one of the keynote speakers at B'nai Brith's National Multicultural Forum. Speaking to attendees across Canada, the mayor noted Jewish Heritage Month and pledged that the fight against antisemitism in Edmonton would be year-round. 
During his time in office, Mayor Sohi has received several prestigious awards, including the Edmonton Interfaith Advocate Award and the John Humphrey Centre Human Rights Advocate Award for promoting welcoming and inclusive communities. 
We thank Mayor Sohi for his continued advocacy in fighting racism and antisemitism and for his steadfast support of Jewish Heritage Month.  
Edmonton est la capitale de l'Alberta, le point d'ancrage des régions centrale et septentrionale de la province et l'une des zones métropolitaines à la croissance la plus rapide au Canada.
L'Archives juives et société historique d'Edmonton et du nord de l'Alberta indique que la famille Cristall, arrivée en 1893, a été la première famille juive d'Edmonton. La Beth Israel, première synagogue de cette ville en pleine expansion, date de 1912. Elle a déménagé à plusieurs reprises, mais sert toujours la communauté.
Aujourd'hui, les Juifs sont environ 6 000 dans la ville. L'engagement civique des Juifs à Edmonton ne date pas d'hier. Stephen Mandel est devenu le premier maire juif de la ville, de 2004 à 2013.
Amarjeet Sohi, le maire d'Edmonton, a été élu en octobre 2021.
En janvier dernier, le maire Sohi a été l'un des principaux orateurs du Forum multiculturel national de B'nai Brith. S'adressant à des participants de tout le Canada, le maire a souligné le Mois du patrimoine juif et s'est engagé à ce que la lutte contre l'antisémitisme à Edmonton se poursuive tout au long de l'année.
Au cours de son mandat, le maire Sohi a reçu plusieurs prix prestigieux, notamment le prix Défenseur Interconfessionnel d'Edmonton et le John Humphrey Prix du Centre pour la défense des droits de la personne pour la promotion de communautés accueillantes et inclusives.
Nous remercions le maire Sohi pour son engagement continu dans la lutte contre le racisme et l'antisémitisme et pour son soutien indéfectible au Mois du patrimoine juif.
2023

JEWISH HERITAGE MONTH PARTNERS
2023

COMMANDITAIRES DU MOIS DU PATRIMOINE JUIF
2022 JEWISH HERITAGE MONTH PARTNERS
2022 COMMANDITAIRES DU MOIS DU PATRIMOINE JUIF