JEWISH HERITAGE MONTH PARTNER: OTTAWA, ONTARIO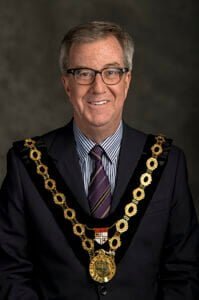 Ottawa is our nation's capital and it is also home to a vibrant Jewish community whose roots go back to the city's founding.
Located on the south bank of the Ottawa River, the city now has a population of 1,1018,000 according to the most recent census figures and a metropolitan population of nearly 1.5 million when Gatineau in neighbouring Quebec is coined making Ottawa both Canada's fourth largest city and metropolitan area.
The first settlement in the area dates to 1800 on the north side of the river in what is now Quebec. Timber fuelled the area's growth as huge log booms were soon being floated down the river to Montreal and Quebec City.
Work on the Rideau Canal connecting the St. Lawrence to the Ottawa River saw the founding of Bytown, as Ottawa was initially known in 1826. It quickly outstripped the settlement on the north side of the river and was incorporated at the City of Ottawa in 1855.
Ottawa's success stems from Queen Victoria's surprise decision in 1857 to name the small frontier the capital of the United Province of Canada. The rest is history.

Today's modern city is home to Parliament, Government departments and magnificent museums and art galleries. The population has more than doubled in the past fifty years.
The Jewish community has grown along with the city. Census data indicated 20 Jewish families in Ottawa in 1889. That grew to a population of 5500 by 1961.
The Machzikei Hadas Congregation dates from 1907. It moved to its current location in 1973.
While its roots maybe the oldest, the city today home to synagogue communities for every type of Jewish observance. Among the 14 places of Jewish worship are Temple Israel founded in 1966, Adath Shalom built in 1978, Beit Tikvah dating from1980, Or Haneshamah constructed 1987 and Ohev Yisroel which originated in 2002. There are three Chabad Lubavitch locations as well.
B'nai Brith is honoured that Mayor Jim Watson accepted B'nai Brith's text for a Proclamation for Jewish Heritage Month adding Ottawa's support for the efforts to promote the heritage month.
Ottawa est la capitale de notre pays et elle abrite également une communauté juive dynamique dont les racines remontent à la fondation de la ville.
Située sur la rive sud de la rivière des Outaouais, la ville compte aujourd'hui 1 1018 000 habitants selon les chiffres du dernier recensement et une population métropolitaine de près de 1,5 million d'habitants si l'on tient compte de Gatineau, au Québec voisin, ce qui fait d'Ottawa à la fois la quatrième ville et la quatrième région métropolitaine du Canada.
Le premier établissement dans la région remonte à 1800 sur la rive nord de la rivière, dans ce qui est maintenant le Québec. Le bois a alimenté la croissance de la région, car d'énormes barils de bois ont rapidement été transportés sur la rivière jusqu'à Montréal et Québec.
Les travaux du canal Rideau, qui relie le Saint-Laurent à la rivière des Outaouais, ont donné lieu à la fondation de Bytown, le nom initial d'Ottawa, en 1826. Elle a rapidement dépassé la colonie de la rive nord de la rivière et a été incorporée à la ville d'Ottawa en 1855.
Le succès d'Ottawa découle de la décision surprise de la reine Victoria, en 1857, de nommer la petite frontière capitale de la Province unie du Canada. Le reste fait partie de l'histoire.
La ville moderne d'aujourd'hui abrite le Parlement, des ministères et de magnifiques musées et galeries d'art. La population a plus que doublé au cours des cinquante dernières années.
La communauté juive s'est développée en même temps que la ville. Les données du recensement indiquaient 20 familles juives à Ottawa en 1889. En 1961, la population était de 5 500 personnes.
Le Congrégation Machzikei Hadas date de 1907. Elle a déménagé à son emplacement actuel en 1973.
Bien que ses racines soient peut-être les plus anciennes, la ville abrite aujourd'hui des communautés de synagogues pour chaque type d'observance juive. Parmi les 14 lieux de culte juifs, on trouve
Temple Israël fondé en 1966, Adath Shalom construit en 1978, Beit Tikvah datant de1980, Or Haneshamah construit en 1987 et Ohev Yisroel qui a vu le jour en 2002. Il existe également trois établissements Chabad Lubavitch.
B'nai Brith est honoré que le maire Jim Watson ait accepté le texte de B'nai Brith pour une proclamation du mois du patrimoine juif, ajoutant ainsi le soutien d'Ottawa aux efforts de promotion du mois du patrimoine.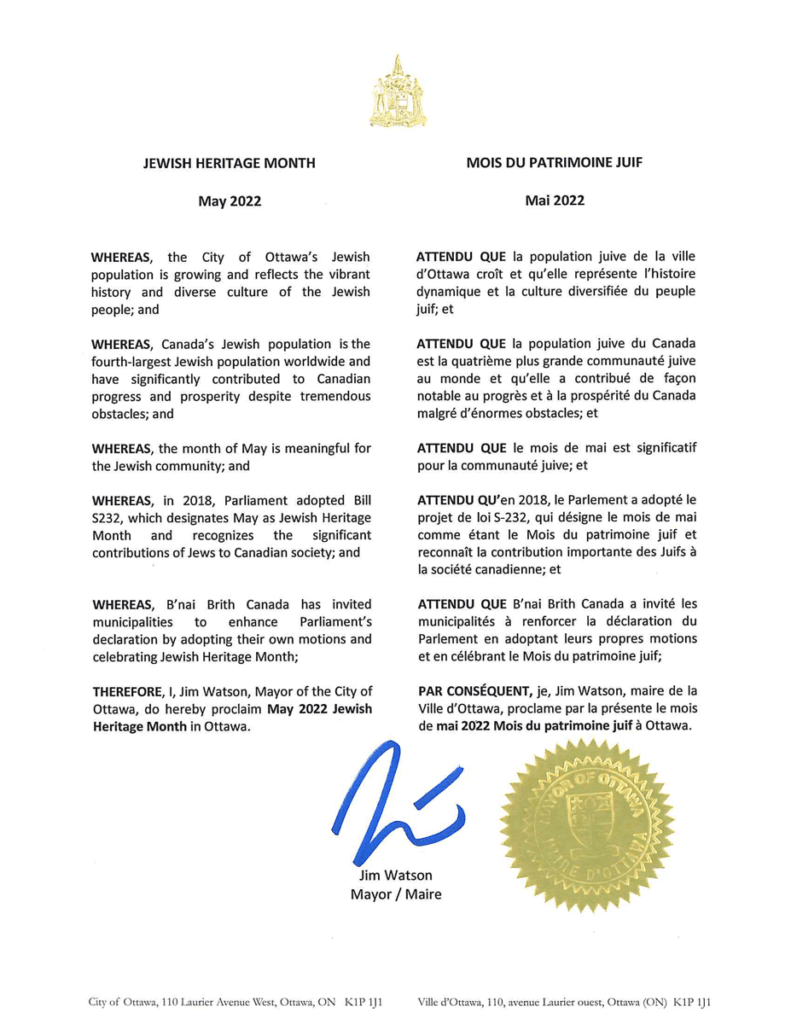 JEWISH HERITAGE MONTH PARTNERS
COMMANDITAIRES DU MOIS DU PATRIMOINE JUIF