JEWISH HERITAGE MONTH PARTNER: MARKHAM, ONTARIO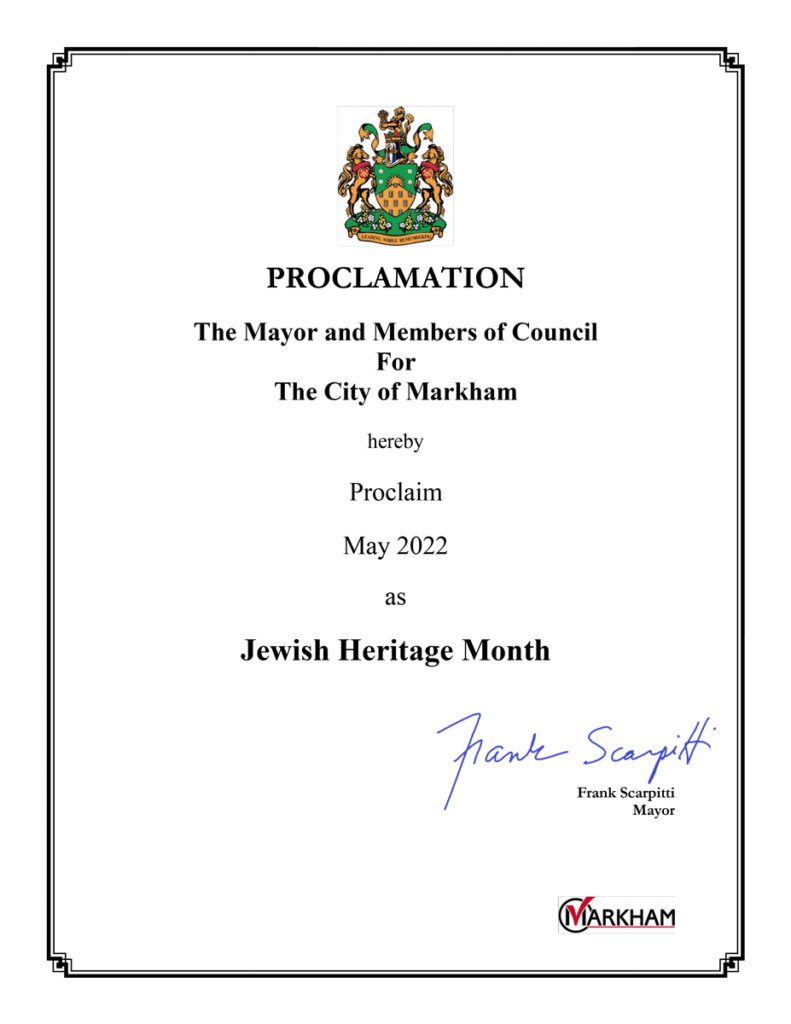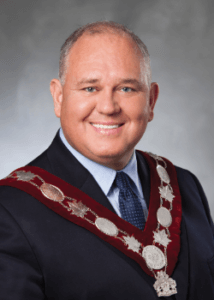 In the 2021 Census, Markham had a population of 338,503, ranking it as the fourth largest in the Greater Toronto Area and 16th largest in Canada. 
Today's community is extremely diverse. Over 50% of the population hails from diverse Asian communities. In fact, Markham is home to the largest Chinese community in the Greater Toronto Area. Markham has signed sister city agreements with 10 cities in China. 
The city is also home to a Jewish community with roots in the municipality going back decades. Thornhill, a community with a substantial Jewish population, straddles Yonge Street with the east side being in Markham and the west side in Vaughan. 
The community is served by Chabad of Markham, Chabad of Laureleaf and Temple of Har Zion. However, the local Jewish community is also served by institutional buildings in nearby Vaughan, Richmond Hill, and the City of Toronto 
Mayor Frank Scarpitti has served as the city's first magistrate since 2006. In response to B'nai Brith Canada's request, his administration issued a Proclamation to declare May 2022 as Jewish Heritage Month. The mayor has implemented a Diversity Action Plan that aims to promote the heritage of the many distinct communities that make up Markham. 
We thank Mayor Scarpitti for his recognizing Jewish Heritage Month for the second consecutive year.  
Lors du recensement de 2021, Markham comptait 338 503 habitants, ce qui en faisait la quatrième ville de la région du Grand Toronto et la seizième du Canada.
La communauté actuelle est extrêmement diversifiée. Plus de 50% de la population est issue de diverses communautés asiatiques. En fait, Markham abrite la plus grande communauté chinoise de la région du Grand Toronto. Markham a signé des accords de jumelage avec dix villes chinoises.

La ville abrite également une communauté juive dont les racines remontent à plusieurs décennies. Thornhill, une communauté avec une importante population juive, chevauche la rue Yonge, le côté est se trouvant à Markham et le côté ouest à Vaughan.
La communauté est desservie par Chabad of Markham, Chabad of Laureleaf et Temple of Har Zion. Cependant, la communauté juive locale est également desservie par des bâtiments institutionnels situés à proximité, à Vaughan, à Richmond Hill et dans la ville de Toronto
Le maire Frank Scarpitti est le premier magistrat de la ville depuis 2006. En réponse à la demande de B'nai Brith Canada, son administration a publié une proclamation déclarant mai 2022 Mois du patrimoine juif. Le maire a mis en œuvre un plan d'action sur la diversité qui vise à promouvoir le patrimoine des nombreuses communautés distinctes qui composent Markham.
Nous remercions le maire Scarpitti d'avoir reconnu le Mois du patrimoine juif pour la deuxième année consécutive.
2023 JEWISH HERITAGE MONTH PARTNERS
2023 COMMANDITAIRES DU MOIS DU PATRIMOINE JUIF
2022 JEWISH HERITAGE MONTH PARTNERS
2022 COMMANDITAIRES DU MOIS DU PATRIMOINE JUIF