JEWISH HERITAGE MONTH PARTNER: TORONTO METROPOLITAN UNIVERSITY, ONTARIO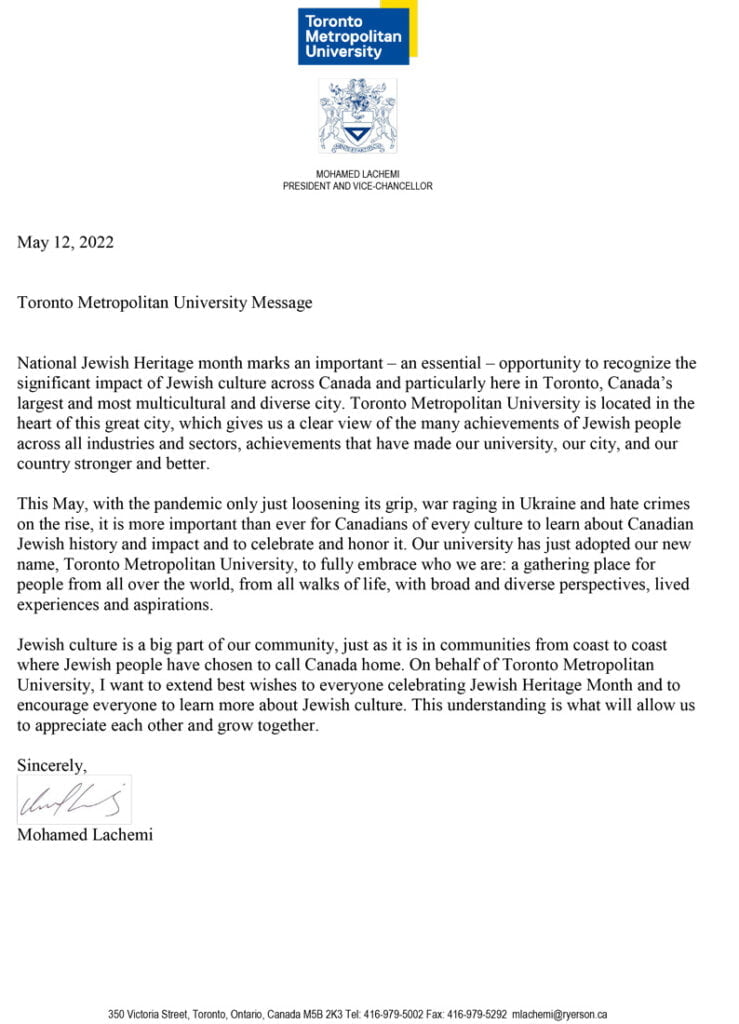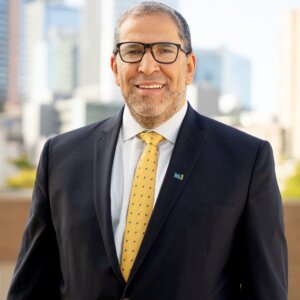 President and Vice Chancellor Mohamed Lachemi
B'nai Brith is pleased to alert the public that it has embarked in discussions with Toronto Metropolitan University on ensuring a safe and welcoming learning space at the university for Jewish students. The university was until recently known as Ryerson University.
We would like to recognize the work of Michael Forbes, the Chief of Staff, to University President Mohamed Lachemi for having fostered regular meetings with B'nai Brith to discuss issues important to Jewish students and faculty.
To celebrate Jewish Heritage Month, President and Vice Chancellor Lachemi issued a letter on behalf of the university recognizing the significant positive impact of Jewish culture across Canada and particularly in Toronto, Canada's largest and most diverse city, lauding the many achievements of Jews across all industries and sectors, making the university, Toronto, and Canada stronger and better.
B'nai Brith a le plaisir d'informer le public qu'il a entamé des discussions avec l'Université métropolitaine de Toronto afin d'assurer un espace d'apprentissage sûr et accueillant à l'université pour les étudiants juifs. L'université était jusqu'à récemment connue sous le nom de Ryerson University.
Nous tenons à souligner le travail de Michael Forbes, chef de cabinet du président de l'université, Mohamed Lachemi, qui a favorisé la tenue de réunions régulières avec B'nai Brith pour discuter de questions importantes pour les étudiants et le corps enseignant juifs.
Pour célébrer le Mois du patrimoine juif, le président et le vice-chancelier Lachemi ont publié une lettre au nom de l'université reconnaissant l'impact positif significatif de la culture juive à travers le Canada et en particulier à Toronto, la ville la plus grande et la plus diversifiée du Canada, louant les nombreuses réalisations des Juifs dans toutes les industries et tous les secteurs, rendant l'université, Toronto et le Canada plus forts et meilleurs.
2023 JEWISH HERITAGE MONTH PARTNERS
2023 COMMANDITAIRES DU MOIS DU PATRIMOINE JUIF
2022 JEWISH HERITAGE MONTH PARTNERS
2022 COMMANDITAIRES DU MOIS DU PATRIMOINE JUIF