JEWISH HERITAGE MONTH PARTNER: CHATHAM-KENT, ONTARIO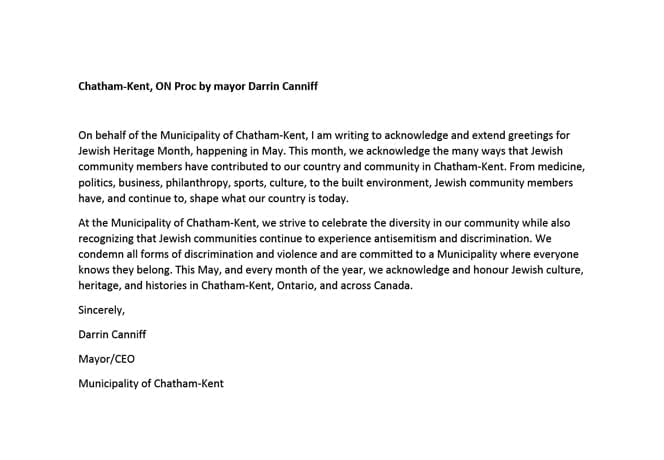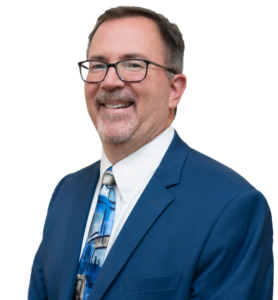 Chatham-Kent is a mostly rural municipality in Southwestern Ontario with a population of just over 104,000. Formed in 1998, the municipality is an amalgamation of over two dozen smaller communities.
Historically, the area was a haven for Black slaves who escaped the American slave trade. Chatham-Kent was the northern terminus of the Underground Railroad and offered many freed slaves the chance to own land and live freely in Canada.
The Lower Thames River runs through Chatham-Kent and gives the municipality over 85 km of shoreline for its residents to enjoy.
In the 1970's, the Jewish community of over 60 families was served by the Children of Jacob synagogue. Today, with only 10 families left in the area, the congregation is able to support High Holiday services, but does not have enough membership for weekly services.
We are especially grateful to Mayor Darrin Canniff for supporting his small Jewish community and for wishing all Canadians a happy Jewish Heritage Month.
Chatham-Kent est une municipalité essentiellement rurale du sud-ouest de l'Ontario, qui compte un peu plus de 104 000 habitants. Formée en 1998, la municipalité est une fusion de plus de deux douzaines de communautés plus petites.
Historiquement, la région a été un refuge pour les esclaves noirs qui ont échappé à la traite des Noirs aux États-Unis. Chatham-Kent était le terminus nord du chemin de fer clandestin et a offert à de nombreux esclaves libérés la possibilité de posséder des terres et de vivre librement au Canada.
Le cours inférieur de la Tamise traverse Chatham-Kent et offre à ses habitants plus de 85 km de rivage.
Dans les années 1970, la communauté juive de plus de 60 familles était desservie par la synagogue Enfants de Jacob. Aujourd'hui, alors qu'il ne reste plus que 10 familles dans la région, la congrégation est en mesure d'assurer les services des fêtes de fin d'année, mais n'a pas assez de membres pour assurer les services hebdomadaires.
Nous sommes particulièrement reconnaissants au maire Darrin Canniff de soutenir sa petite communauté juive et de souhaiter à tous les Canadiens un joyeux Mois du patrimoine juif.
2023

JEWISH HERITAGE MONTH PARTNERS
2023

COMMANDITAIRES DU MOIS DU PATRIMOINE JUIF
2022 JEWISH HERITAGE MONTH PARTNERS
2022 COMMANDITAIRES DU MOIS DU PATRIMOINE JUIF