JEWISH HERITAGE MONTH PARTNER: BARRIE, ONTARIO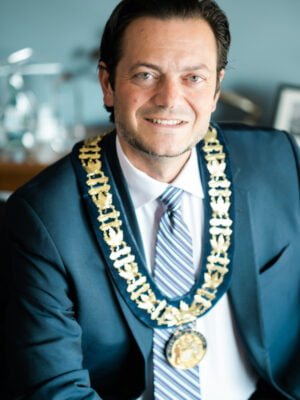 On March 18, Mayor Jeff Lehman issued a Proclamation to declare May 2022 as Jewish Heritage Month in Barrie, a city that has grown to a 160,000 population and is increasingly diverse.
Lehman a former academic at the London School of Economics, was first elected Mayor in 2010 at the age of 35, having served as a Barrie City Councillor from 2006 to 2010. During his mandates, the municipality has gone through a major transformation becoming a high-tech hub and experiencing a housing boom. Those who remember the Barrie of decades ago can still recognize the historic downtown but most everything else has changed.
The Jewish community in the city is relatively small, about 1000 people. The community maintains the Am Shalom Congregation on Huronia Road which was founded in 2004. As well more recently the Chabad Centre of Barrie has opened, also on Huronia Road, just to the north of the synagogue.
On June 29, 2020, Barrie City Council approved a motion, sponsored by Barrie Police to establish an Anti-Racism Task Force. Seven volunteers were chosen to work actively with police services, school boards, community groups, municipal organizations, social services, and government agencies to facilitate a stronger understanding of the needs of the City's diverse populations. The Task Force's mandate includes combatting antisemitism.
Le 18 mars, le maire Jeff Lehman a émis une proclamation déclarant le mois de mai 2022 Mois du patrimoine juif à Barrie, une ville qui compte aujourd'hui 160 000 habitants et qui est de plus en plus diversifiée.
Lehman, un ancien universitaire de la London School of Economics, a été élu maire pour la première fois en 2010 à l'âge de 35 ans, après avoir été conseiller municipal de Barrie de 2006 à 2010. Au cours de ses mandats, la municipalité a subi une transformation majeure, devenant un centre de haute technologie et connaissant un boom immobilier. Ceux qui se souviennent du Barrie d'il y a quelques décennies peuvent encore reconnaître le centre-ville historique, mais presque tout le reste a changé.
La communauté juive de la ville est relativement petite, environ 1 000 personnes. La communauté maintient la Congrégation Am Shalom sur Huronia Road qui a été fondée en 2004. Plus récemment, le Centre juif Chabad de Barrie a ouvert ses portes, également sur Huronia Road, juste au nord de la synagogue.
Le 29 juin 2020, le conseil municipal de Barrie a approuvé une motion, parrainée par la police de Barrie, visant à créer un groupe de travail sur la lutte contre le racisme. Sept volontaires ont été choisis pour travailler activement avec les services de police, les commissions scolaires, les groupes communautaires, les organisations municipales, les services sociaux et les agences gouvernementales afin de faciliter une meilleure compréhension des besoins des diverses populations de la ville. Le mandat du groupe de travail inclut la lutte contre l'antisémitisme.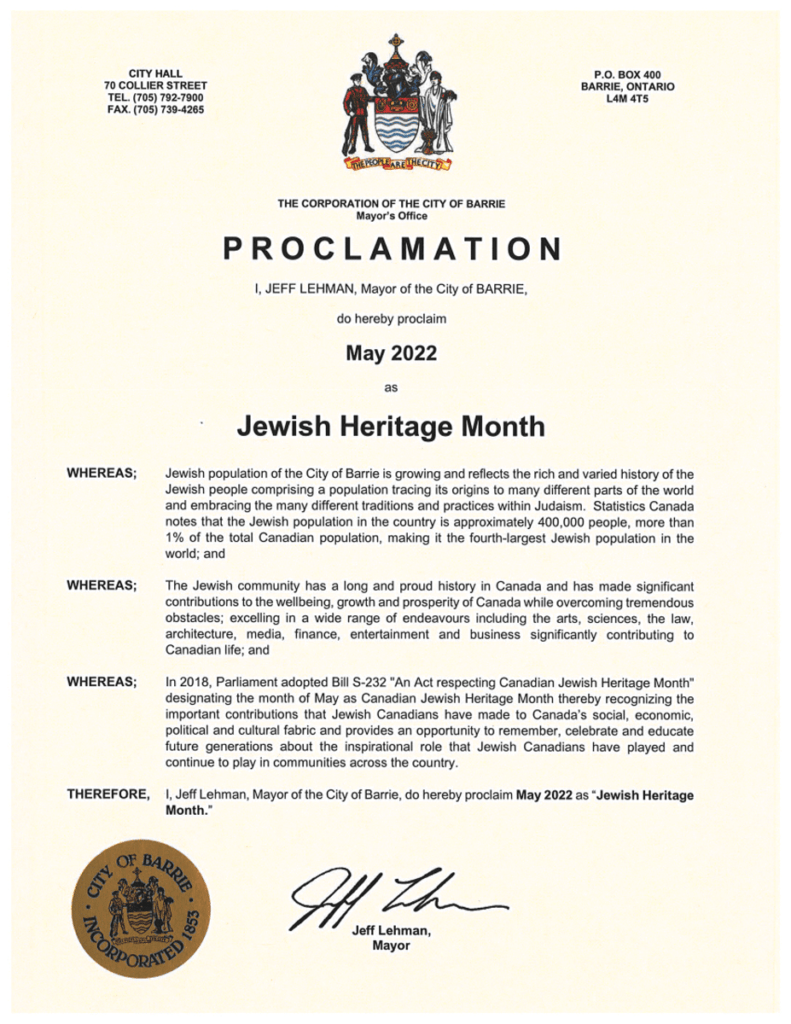 JEWISH HERITAGE MONTH PARTNERS
COMMANDITAIRES DU MOIS DU PATRIMOINE JUIF