JEWISH HERITAGE MONTH PARTNER: TORONTO​
Deputy Mayor Jennifer McKelvie was born and raised in Toronto and has served the community for the past decade.  
With a Master of Science and PhD in geology from the University of Toronto, Deputy Mayor McKelvie had an extensive pre-political career as an environmental geoscientist. 
As the first president of the Scarborough Community Renewal Organization and president of the Centennial Community & Recreation Association, she fought for renewal and investment in Scarborough. Her many contributions led to her being awarded the Paul Harris Fellow award for exemplary work in community service in 2017.  
She currently serves as Chair of Toronto's Infrastructure and Environment Committee and as Vice-Chair of the Executive Committee. She also serves on Scarborough's Community Council, the Toronto Hydro Corporation Board of Directors and the Toronto Zoo Board of Management. 
We thank Deputy Mayor McKelvie for supporting Jewish Heritage Month in 2023 and for encouraging all Torontonians to do the same.  
L'adjointe au maire Jennifer McKelvie est née et a grandi à Toronto, où elle est au service de la communauté depuis une dizaine d'années.   
Titulaire d'une maîtrise en sciences et d'un doctorat en géologie de l'Université de Toronto, l'adjointe au maire McKelvie a mené une longue carrière pré-politique en tant que géoscientifique de l'environnement.  
En tant que première présidente de l'Organisation de renouvellement communautaire de Scarborough et présidente de l'Association de la communauté et des loisirs de Centennial, elle s'est battue pour le renouveau et l'investissement à Scarborough. Ses nombreuses contributions lui ont valu de recevoir le prix Paul Harris Fellow pour son travail exemplaire au service de la communauté en 2017.  
Elle est actuellement présidente du comité de l'infrastructure et de l'environnement de Toronto et vice-présidente du comité exécutif. Elle siège également au conseil communautaire de Scarborough, au conseil d'administration de la Corporation Hydro Toronto et au conseil d'administration du zoo de Toronto.  
Nous remercions la maire adjointe McKelvie de soutenir le Mois du patrimoine juif en 2023 et d'encourager tous les Torontois à faire de même.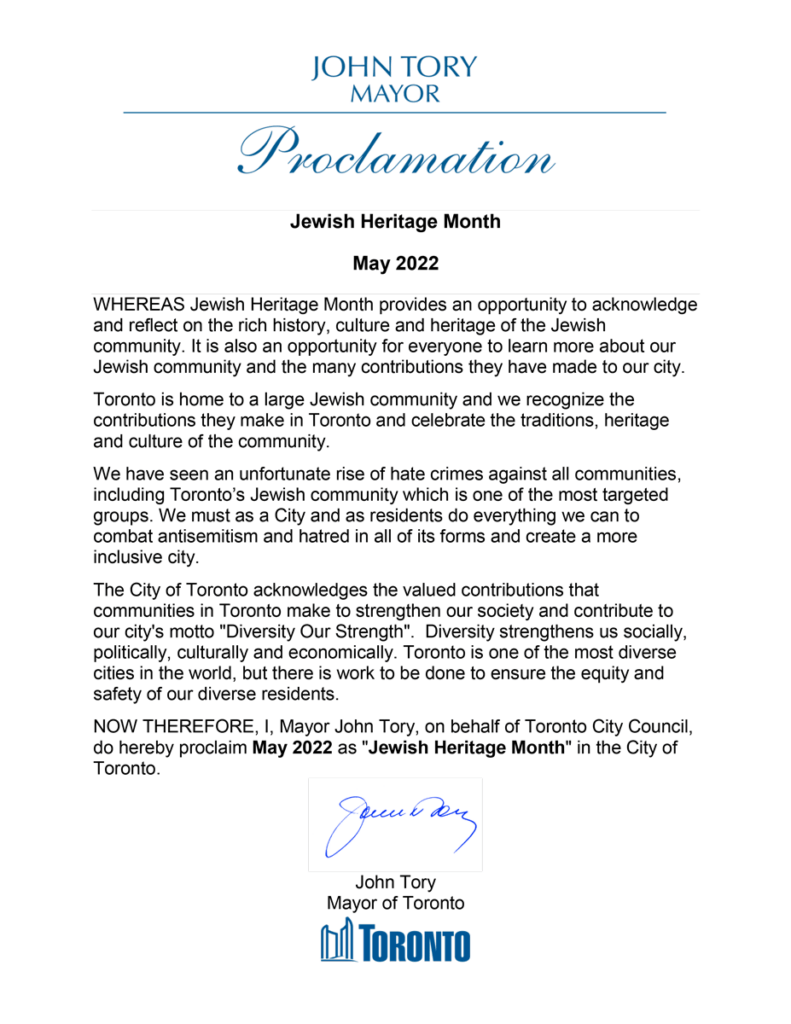 2023 JEWISH HERITAGE MONTH PARTNERS
2023 COMMANDITAIRES DU MOIS DU PATRIMOINE JUIF
2022 JEWISH HERITAGE MONTH PARTNERS
2022 COMMANDITAIRES DU MOIS DU PATRIMOINE JUIF