JEWISH HERITAGE MONTH PARTNER: Don Valley West, Ontario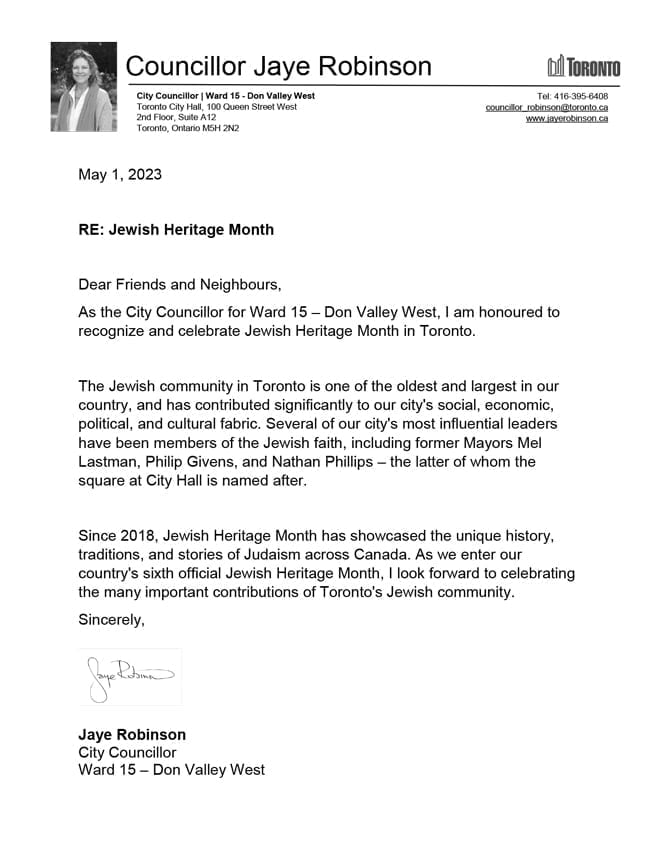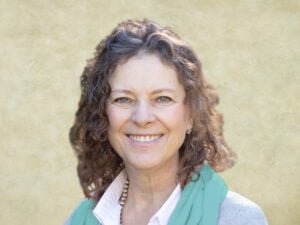 Councillor Jaye Robinson has served as City Councilor in the Don Valley West community since 2010.  
During her time on Council, she served as Chair of the TTC and later as Chair of the Public Works and Infrastructure Committee. She has been named to a special role leading the 2026 FIFA World Cup in Toronto.  
Before entering politics, Councillor Robinson was a senior manager in economic development at the City of Toronto for over 20 years. She helped launch many significant annual events, including Nuit Blanche, Summerlicious and Winterlicious.  
At City Hall, she champions planning reform, road safety, public transit, congestion management, environmental initiatives, improving Toronto's fiscal health, and protecting trees and green spaces. 
B'nai Brith thanks Councillor Robinson for her support of Jewish Heritage Month in 2023.  
La conseillère Jaye Robinson est conseillère municipale de la communauté de Don Valley West depuis 2010.   
Au cours de son mandat, elle a été présidente du comité de la TTC, puis du comité des travaux publics et de l'infrastructure. Elle a été nommée à un rôle spécial pour diriger la Coupe du monde de la FIFA 2026 à Toronto.   
Avant de se lancer en politique, la conseillère Robinson a occupé pendant plus de 20 ans un poste de cadre supérieur dans le domaine du développement économique à la ville de Toronto. Elle a contribué au lancement de nombreux événements annuels importants, notamment Nuit Blanche, Summerlicious et Winterlicious.   
À l'hôtel de ville, elle défend la réforme de la planification, la sécurité routière, les transports en commun, la gestion des embouteillages, les initiatives environnementales, l'amélioration de la santé financière de Toronto et la protection des arbres et des espaces verts.  
B'nai Brith remercie la conseillère Robinson pour son soutien au Mois du patrimoine juif en 2023. 
2023

JEWISH HERITAGE MONTH PARTNERS
2023

COMMANDITAIRES DU MOIS DU PATRIMOINE JUIF
2022 JEWISH HERITAGE MONTH PARTNERS
2022 COMMANDITAIRES DU MOIS DU PATRIMOINE JUIF