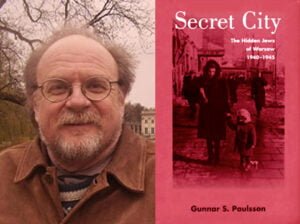 B'nai Brith Canada's League for Human Rights is proud to host award-winning author Dr. Steve (Gunnar S.) Paulsson for a lecture at Beth Emeth Synagogue in Toronto on Thursday, Jan. 26.
Entitled "The Other Jews of Warsaw: An Underground Community and its Struggle to Survive," the event will feature Dr. Paulsson discussing his decades-long Holocaust research, conclusions and reflections. Paulsson is a Swedish-born Canadian historian, university lecturer and author. His book, Secret City: The Hidden Jews of Warsaw 1940-1945, documents the near 28,000 Jews from Warsaw that either hid, never entered or escaped the Warsaw Ghetto.
More information can be found in the flyer below.
*A free video conference call with Dr. Paulsson will take place at noon on Thursday, January, 17. The call will introduce Dr. Paulsson and serve as a primer for the lecture. To RSVP for call in details, email: [email protected]*