The Globe and Mail
November 16, 2023
By Marie Woolf
Elon Musk under fire for not taking down antisemitic tweets in Canada – The Globe and Mail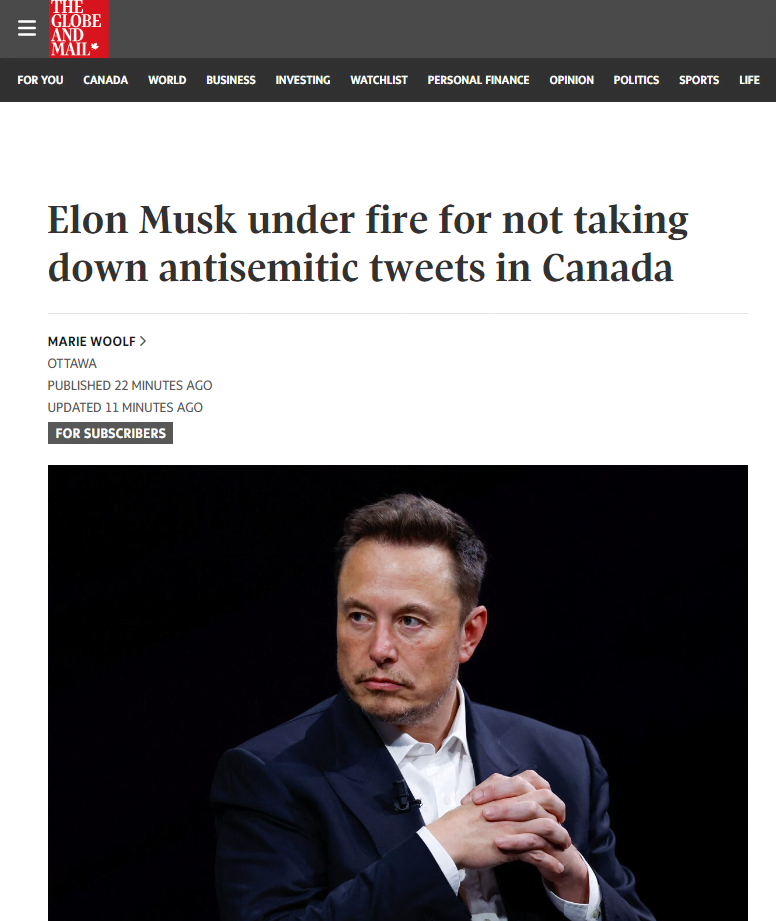 Elon Musk is under fire from Jewish groups in Canada over X's failure to take down antisemitic tweets and ignoring complaints about controversial anti-racism consultant Laith Marouf's derogatory posts, including some tagging Jews who comment on antisemitism.
The Centre for Israel and Jewish Affairs (CIJA) has written to the owner of the social-media platform, saying that repeated calls to remove tweets that violate his social-media platform's hateful conduct policies have been ignored.
Its letter says some of Mr. Marouf's tweets, "can be classified as inciting violence and hatred against the Jewish community, Canadian elected officials and others."
Among those Mr. Marouf has targeted on X since the beginning of the Hamas-Israel war last month is Conservative deputy leader Melissa Lantsman, who is Jewish, calling her a Jewish White Supremacist.
Shimon Koffler Fogel, CIJA president and CEO, said it has also complained to the police about some of Mr. Marouf's tweets, which it believes breach Canada's anti-hate laws.
"Laith Marouf is again spreading vile antisemitic hatred on X, including rhetoric that arguably incites violence against the Jewish community such as 'we will crush your Jewsader Colony and the Imperialist hordes on our shores. After, we will be hunting down all Zionists and bring them to stand trial in liberated Palestine. Get ready,' " Mr. Fogel said, quoting on of Mr. Marouf's tweets.
"The fact that, despite repeated reports to the platform, his account remains online is testament to the urgent need for online hate legislation in Canada," he added.
Mr. Marouf, who has denied he is antisemitic, was the centre of a furore last year after the Montreal-based Community Media Advocacy Centre (CMAC), a non-profit body he worked for as a senior consultant, was awarded $133,000 by the federal Heritage department for an anti-racism project that involved him leading seminars across Canada.
Mr. Musk has himself been accused of spreading antisemitism after he endorsed a post that said Jewish communities push hatred toward white people.
The CEO of X Linda Yaccarino said in a post: "X's point of view has always been very clear that discrimination by everyone should STOP across the board."
"When it comes to this platform –X has also been extremely clear about our efforts to combat antisemitism," she added
An X post on Wednesday afternoon said: "Jewish communties [sic] have been pushing the exact kind of dialectical hatred against whites that they claim to want people to stop using against them." It also spoke about "hordes of minorities" in Western countries.
In response to the post, Mr. Musk said: "You have said the actual truth" while criticizing the Anti-Defamation League, an advocacy group that combats antisemitism and other forms of hatred.
Michael Mostyn, CEO of B'nai Brith Canada, said "Musk's conduct will only normalize the caustic vitriol" of peopled disseminating hate on social media, including Mr. Marouf.
"The social-media giants have demonstrated they are unwilling to take any meaningful action to combat the problem of online hate that is plaguing their platforms," he said. "Their passive condonement of antisemitism was taken a step further yesterday when Elon Musk used his platform X to validate an antisemitic conspiracy," he said.
Recently released research by the U.S.-based Network Contagion Research Institute, which identifies and forecasts cyber social threats, analyzed more than 100 million comments on Twitter and found they can forecast abuse of Jews on the ground.
"Our analysis suggests that the signals from social media are crucial – they forecast where and when real-world antisemitic acts take place," said Joel Finkelstein, of the Institute.
"Canada and other democratic nations are now facing a huge security gap," he said. "The threat actors that seek to harm the Jewish communities and other vulnerable groups are technologically outpacing the institutions responsible for preventing those attacks."
Among those who has been tagged with insulting tweets by Mr. Marouf is Michael Geist, the University of Ottawa's Canada research chair in internet law who is Jewish and has been tweeting about rising antisemitism. Mr. Geist is a strong supporter of freedom of expression but says some posts online are fuelling hatred, and platforms should uphold their stated policies on removing hate speech.
"In the case of Twitter/X, Marouf's comments pretty clearly fall within their definition of hateful conduct," he said. "The failure to act – indeed the amplification of antisemitism by Twitter owner Elon Musk – is enormously troubling and provides fuel for the antisemitism fire that is burning way too hot right now."
After his derogatory tweets about "Jewish White Supremacists," francophones, and Black and Indigenous public figures emerged, the Heritage department cancelled the project and asked CMAC for its money back. It has not yet been returned.
Mr. Marouf's previous Twitter account was deactivated. He has been actively tweeting from a new account on X since the start of the Hamas-Israel war last month. During a September, 2022 hearing held in Washington, D.C., by the Interparliamentary Task Force to Combat online Antisemitism, elected officials questioned Twitter about why Mr. Marouf was able to open a new account on the platform. Twitter said then it was "a mistake."
Mr. Marouf declined a request for a comment from The Globe and Mail.
Michael Wernick, the former head of the federal public service, questioned why the government has yet to introduce promised legislation combatting hate online.
"MPs and senators looking to do something useful during these troubled times could take action against emboldened antisemitism and Islamophobia by debating and passing the long-promised online harms legislation before the sands run out on this Parliament," he said.