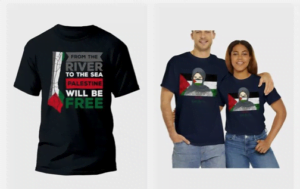 November 2, 2023
B'nai Brith is appalled that Amazon is facilitating the sale of products in Canada that contain genocidal, antisemitic slogans directed at Israel, the world's only Jewish State.
Since the monstrous Hamas terror attacks on Israel – which slaughtered over 1,400 innocent victims – vendors on the site have increasingly advertised hoodies, stickers, pillows, and other merchandise with rhetoric such as "Palestine will be free, from the River to the Sea…" – a favorite slogan of Hamas calling for the ethnic cleansing and genocide of the Jewish people from their ancestral homeland. Items with this hateful mantra are available to online shoppers in Canada.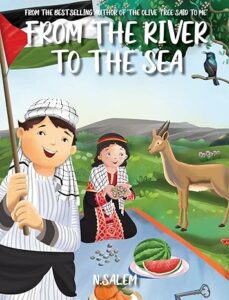 "Hamas has just perpetrated the most cruel and savage atrocity against Jews in generations," said Michael Mostyn, B'nai Brith Canada's Chief Executive Officer. "'From the River to the Sea' is the Hamas terror group's favourite tagline. It is outrageous that Amazon has allowed its platform to sell items with a genocidal slogan that is regularly inciting hatred against the Jewish community on our city streets."
This is not the first time B'nai Brith has raised concerns about products available on Amazon in Canada. In 2022, for example, we collaborated with other Jewish organizations to push the online retailer to stop selling Nazi paraphernalia, sacred Jewish prayer shawls advertised as "beach towels," and other offensive items.
In January, the company removed some – but not all – of the products B'nai Brith brought to its attention.
Let Amazon know how you feel about the sale of such materials by emailing Joanne Pitkin, Senior Manager, Digital Policy Amazon Canada, at [email protected]. You can also post a message on X (formerly Twitter) and tag @Amazonca.