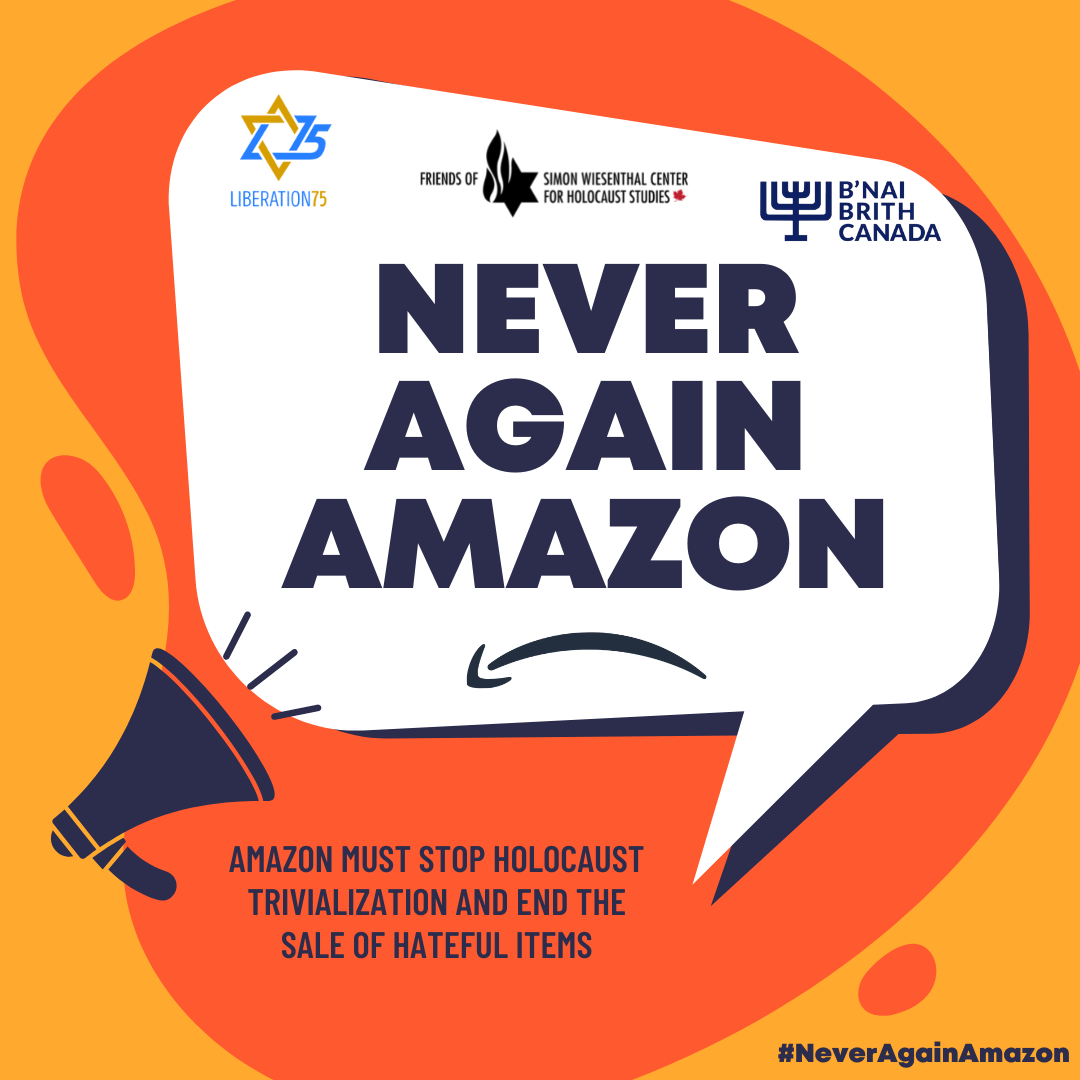 Cliquez ici pour le français
Jan. 31, 2023
Thanks to a campaign from Jewish organizations, and follow-up complaints from supporters, Amazon Canada has stopped facilitating the sale of some offensive items that were available for purchase on its website.
Still, the organizations – B'nai Brith Canada, Friends of Simon Wiesenthal Center (FSWC) and Liberation75 – remain dissatisfied with the tech giant's continued silence, refusal to stop facilitating all sales of offensive items, and failure to provide a plan to prevent further appalling sales.
The groups collaborated on a joint release earlier this month calling on Amazon to remove the listings.
While Amazon removed some, it continues to offer the sale of several offensive items, including one portraying a tallit – an item sacred to the Jewish tradition – depicted as a "beach towel." Also still available on the website is a "vintage SS recruitment poster" depicting the slaying of a "Jewish dragon."
"While we are pleased that Amazon has removed some of the items we objected to, much more needs to be done," said Michael Mostyn, Chief Executive Officer of B'nai Brith Canada. "At a minimum, the company must acknowledge our concerns and pledge to eliminate antisemitic listings from its website. We want a plan from Amazon, not silence. At a time of rising antisemitism, leaders in the national landscape, including multinational corporations, have a specific responsibility to stand against Jew hatred. Amazon must do the right thing and stop facilitating the sales of these disgusting items."
"Although we are heartened to see some of the merchandise flagged by B'nai Brith, Liberation75, and Friends of Simon Wiesenthal Center removed from Amazon Canada, troubling items still remain," reiterated Michael Levitt, President and CEO of FSWC. "These items are really just the tip of the iceberg concerning merchandise sold by Amazon Canada that trivialize the Holocaust and promote hateful ideologies. It's not good enough for Amazon Canada to be playing whack-a-mole as hateful content is flagged. We need to see leadership from Amazon Canada recognize the issue and commit to proactively addressing the deeply rooted problem they have with hateful materials."
"We still have many Holocaust survivors with us who are re-traumatized by these offensive items being sold online," said Marilyn Sinclair, Founder of Liberation75. "Symbols of antisemitism cause these elderly individuals much pain and sadness. As a child of a Holocaust survivor, I sincerely appeal to Amazon to act with compassion and remove all such items now."