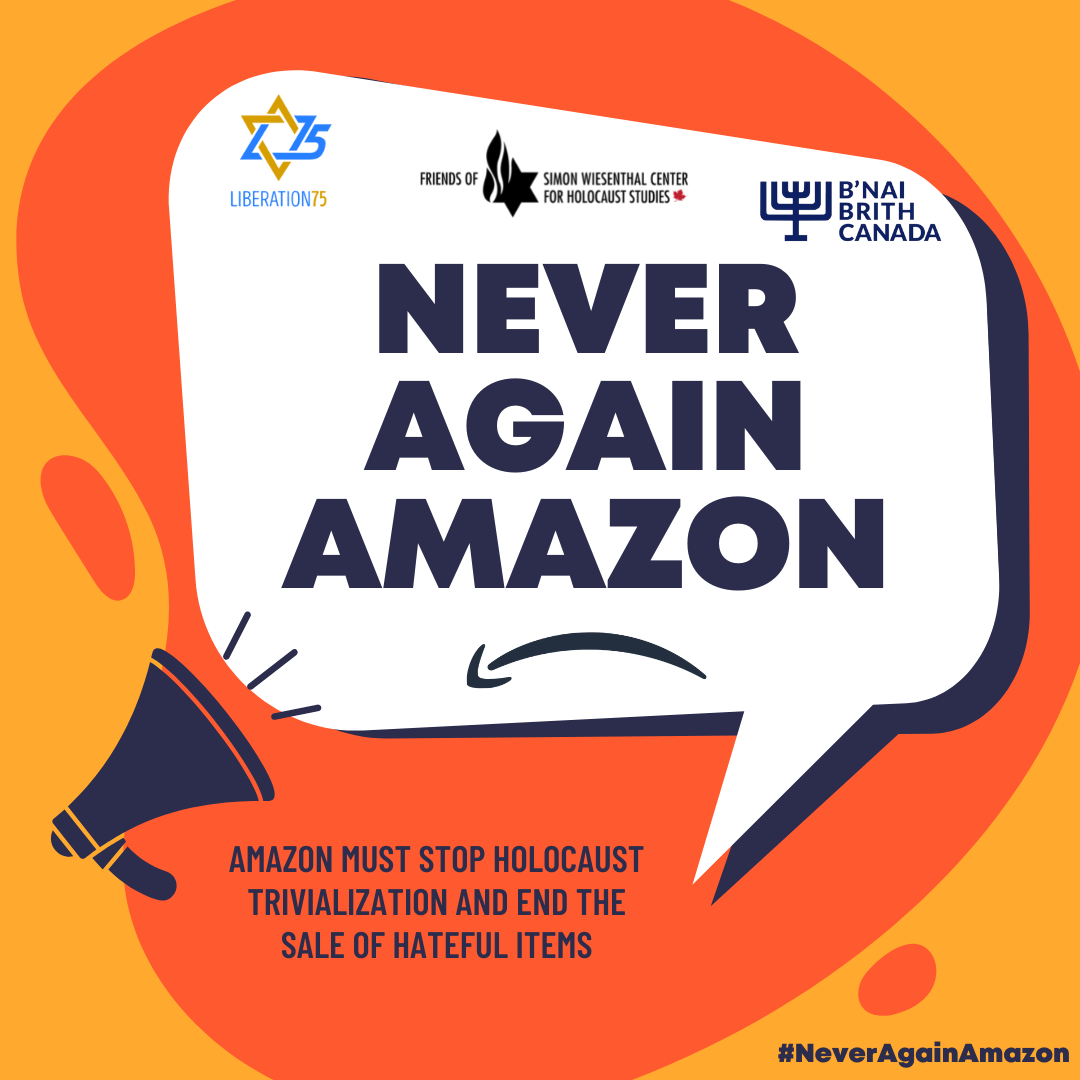 Jan. 11, 2023
Jewish groups committed to preserving the sanctity of the Holocaust – including B'nai Brith Canada, Friends of Simon Wiesenthal Center and Liberation75 – are uniting in a vigorous campaign to prevent Amazon Canada from continuing the sale of hateful and appalling items on its website.
B'nai Brith Canada discovered last month that Amazon, despite its own guidelines of not tolerating hate material, has been facilitating the sales of deeply offensive items such as Hitler and Nazi images, Holocaust-themed prints and Jewish ritual items presented as beachwear. There are even wall stickers, canvas prints and posters featuring images of emaciated concentration-camp victims and the Auschwitz death camp – items that unpardonably commercialize deplorable acts of genocide and hate.
Despite appeals from concerned Canadians who wrote complaints to Amazon, the company has not responded.
In the leadup to Jan. 27, organizations concerned with combating Holocaust trivialization in this country are calling on supporters to use the hashtag #NeverAgainAmazon to raise awareness online. We encourage concerned Canadians to check our social media channels for updates.
"Amazon's transgressions and continued silence are serious and warrant a sustained intervention by a united Jewish community," said Michael Mostyn, Chief Executive Officer of B'nai Brith Canada. "We are bringing further attention to this ongoing issue and asking that Amazon Canada remove the problematic content by no later than Jan. 27, 2023 – International Holocaust Remembrance Day."
"We are hopeful that the unified approach with Amazon will succeed," said Michael Levitt, President and CEO of Friends of Simon Wiesenthal Center. "Amazon is one of the largest and most successful online retailers in our country. There is no excuse for this corporation to profit off the sale of revolting items profoundly offensive to the Jewish community and people of good conscience."
"It is unacceptable that Amazon is facilitating the sales of such harmful and despicable items," added Marilyn Sinclair, founder of Liberation75. "We must be relentless in working together and ensuring that these items are removed, and quickly. They are intolerable."
Share the image below with the hashtag #NeverAgainAmazon on your social media pages to call on Amazon Canada to end the sale of hateful and offensive items on its website.