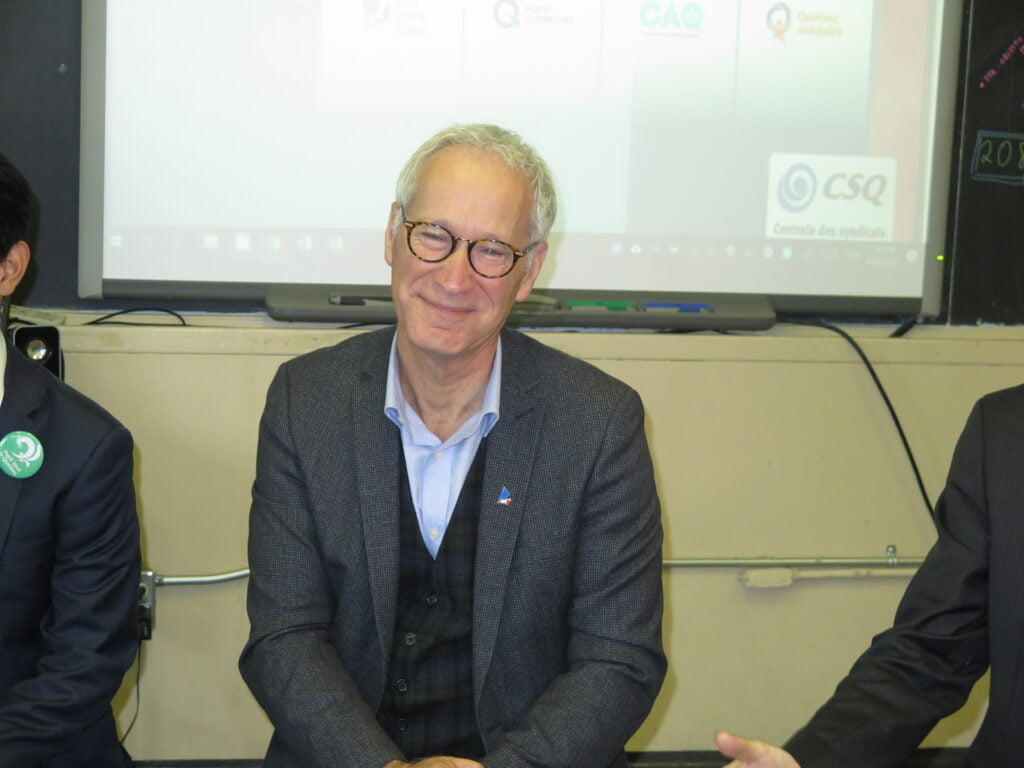 Sept. 28, 2018
QUEBEC CONFIDENTIAL | By Mike Cohen
B'nai Brith Canada
The following is the last of four profiles on Jewish candidates running in the Quebec provincial election. We've also run profiles on Laura Azéroual,  Yaniv Loran  and Mélodie Cohn.
MONTREAL – In the days leading up to the Oct. 1 Quebec election, incumbent D'Arcy McGee Liberal MNA David Birnbaum is hopeful and optimistic that his party will obtain another mandate. When the campaign began, the Coalition Avenir Quebec (CAQ) was ahead in the polls. But following three debates, Premier Philippe Couillard has put his troops back in the running.
Birnbaum was handpicked by Couillard to represent D'Arcy McGee and succeed Lawrence Bergman, who had served for 18 years and gained the title of de facto Minister of Jewish Affairs.  As the only Jewish MNA, Birnbaum carried on the tradition of Bergman and his predecessors Robert Libman, Herbert Marx and Victor Goldbloom.
Birnbaum has represented the Jewish community with distinction and continues to maintain close ties with Jewish organizations, including B'nai Brith Canada.
Last week, Birnbaum confirmed that a re-elected Liberal government would be a financial partner in the planned relocation and expansion of the Montreal Holocaust Museum. The museum has already secured a major lead donation and completed a feasibility study for the ambitious project, evaluated at about $45 million. It has long ben recognized that the museum needs more space than what is available at its current location at the Jewish Community Campus on Côte Ste-Catherine Road. It is seeking a site in downtown Montreal, likely in the borough of D'Arcy-McGee.
"I am so proud that the Premier has made this commitment, which is profoundly important to our Jewish community but also significant for all Quebecers," Birnbaum said, noting that Montreal is home to the third-largest population of Holocaust survivors and their children in the world. "The museum, with the help of courageous survivors, reaches out to schools, in French and English, to ensure that the terrible lessons of the Holocaust are neither forgotten nor repeated."
Before entering politics, Birnbaum, 62, spent 10 years as the executive director of the Quebec English School Boards Association. He also served as the executive director of the Canadian Jewish Congress in Quebec for six years.
During his last mandate, Birnbaum played an important role in Premier Couillard's successful mission to Israel, two Yom HaShoah commemorations and his stint as a guest speaker at the Cote Saint-Luc Men's Club. The Liberal government also contributed $15 million to Chateau B'nai Brith, the organization's second subsidized housing project for seniors that will soon open.
"I know from my time in the community and my relatively short period in government that B'nai Brith is a faithful and important partner," Birnbaum said. "The residence is a perfect example of this."
Last Spring, Birnbaum made national headlines when he chose to wear a kippah in the legislature on the occasion of Yom HaShoah.
"I wore it in solidarity with survivors, but also on the understanding that wearing that kippah in Quebec, I could do so without an ounce of fear and with the understanding that I could aspire to any job whatsoever in Quebec," Birnbaum said.
Parti Québecois (PQ) leader Jean-François Lisée helped catapult Birnbaum into the spotlight the next day by breaking legislature rules and wearing his party's pin, using that as an opening to compare it to the kippah. "I am okay with the member who wore a kippah yesterday, (but) we should also be allowed to display our political convictions," he said.
Six Jewish candidates
During the course of the campaign, B'nai Brith has profiled four Jewish candidates: Birnbaum, Laura Azeroual and Melodie Cohn of the CAQ, and Yaniv Loran of the Conservatives.
There also two other candidates we'd like to acknowledge: Yaakov Polak, carrying the Conservative banner in Outremont, and  Angela Rapoport, a late entry for the CAQ in West Island Nelligan. Asked by The Suburban what she thinks should be the first priority of a CAQ government, Rapoport responded: "The first priority should be to reassure anglos and allophones that their voices and issues will be heard. Our leader will promote the knowledge of French and English and also reassure the population that English-speaking Quebecers can have equal opportunities. Since our leader promises not to separate and bring up the referendum issue, he will reassure Quebec citizens that Quebec will be on the map within Canada, and he will have better negotiating power with Ottawa on issues such as immigration. His main focus will be to create higher paying jobs for Quebec citizens and encourage entrepreneurship."
Mike Cohen is B'nai Brith Canada's Quebec news bureau chief, a veteran writer and municipal politician. He can be reached at [email protected]. Follow him on Twitter at @mikecohencsl.