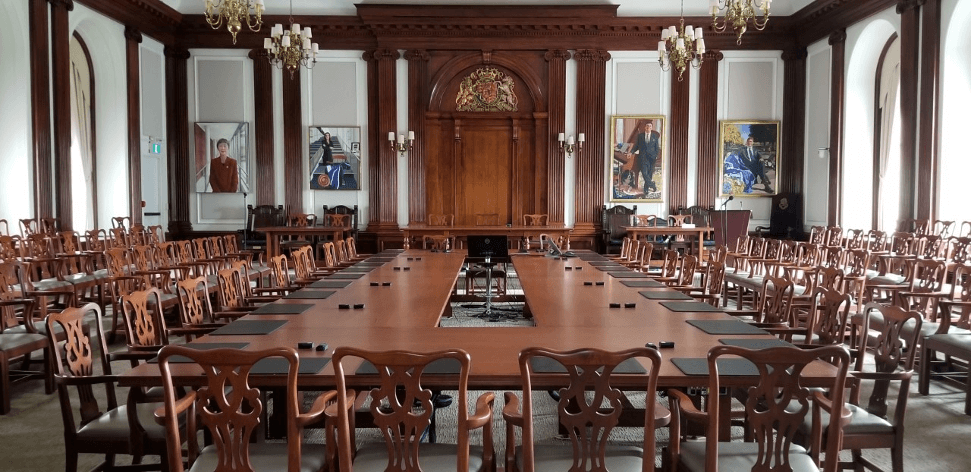 Dec. 08, 2021
TORONTO – B'nai Brith Canada is appalled by a counterproductive report from the University of Toronto that will allow a climate of antisemitism to continue on its campus.
U of T's Antisemitism Working Group, formed in December of 2020 and composed of academics and campus bureaucrats, issued its final report on Wednesday, following a very brief interim report on March 26. The final report, which has been in the works for a year, is a mere 25 pages long and contains eight recommendations. By contrast, a U of T report on anti-Black racism released in April is 86 pages long and contains 56 recommendations. The Antisemitism Report fails to address any of the significant antisemitic scandals that have rocked U of T in the past few years.
In June of 2020, B'nai Brith submitted its own report to U of T outlining concrete measures the university could take using existing policy tools to combat antisemitism. U of T's report Wednesday ignores our recommendations and analysis, which were based on an in-depth study of the school's bylaws and regulations.
"In our report, we offered concrete suggestions to U of T in what we called A Path Forward," said Michael Mostyn, Chief Executive Officer of B'nai Birth Canada. "In this report from U of T today, we see a path backward."
Notably, the U of T report fails to recommend that the University adopt the International Holocaust Remembrance Alliance (IHRA) Working Definition of Antisemitism, which is already being used by leading global universities such as Oxford and Cambridge.
The report's release comes as antisemitism reaches a fever pitch at U of T. In November, the Scarborough Campus Students' Union (SCSU) passed a motion at its annual general meeting to ban speakers who "support the military occupation of Palestine" from campus, "Boycott Israeli and settlement goods from being sold by Student Union entities," and even ban kosher food from organizations that "normalize Israeli apartheid," subject to possible exemptions if no alternatives are available.
Following condemnation by Jewish groups and the University itself, the SCSU purportedly revoked the clause dealing with kosher food, but left the other antisemitic measures intact.
Back in November of 2019, the University of Toronto Graduate Students' Union (UTGSU) achieved global notoriety after it opposed a drive to expand kosher offerings on campus due to its association with "openly pro-Israel" groups. In February of this year, following efforts by B'nai Brith Canada, a student panel ruled that the UTGSU was engaged in prohibited discrimination and recommended that its fees be withheld, but U of T has yet to act on the recommendation.
"The situation at U of T has deteriorated and the University has laid an egg," said Marvin Rotrand, National Director of B'nai Brith's League for Human Rights. "It is a report that says and does nothing. What a contrast to the Prime Minister's commitments made on Canada's behalf at the Malmo Forum just two months ago."
"This report is beyond disappointing and demonstrates that U of T does not take antisemitism seriously," Mostyn added. "It is unfathomable that the IHRA definition was adopted by the Canadian Government, as well as the Province of Ontario, but somehow remains 'unworthy' for this academic institution. Hate and discrimination clearly persist at U of T and Jewish students deserved a report to improve that antisemitic atmosphere.
"Our government should be extremely concerned that U of T has failed to properly address the numerous allegations of antisemitism on its campus in this deeply flawed report."
The report fails to respond to complaints from Jewish students, faculty, alumni, and mainstream human-rights organizations such as B'nai Brith Canada. In fact, B'nai Brith, StandWithUs Canada, Hasbara Canada and major synagogues from across the nation hosted a town hall meeting that featured U of T students and faculty members articulating their ongoing struggles and disappointment with the university's consistent lack of response to incidents of antisemitism.
U of T's recent antisemitic controversies extend far beyond student union politics. In May, leadership at the Temerty Faculty of Medicine took no action in response to concerns raised by Jewish students, who noted that the Faculty Lead of Social Accountability, recently hired to promote "social justice", had referred to support for Israel as a "barbaric cultural practice" and shared a cartoon depicting former Prime Minister Stephen Harper promoting Israeli Sodastream products while controlled by a puppeteer.
Over the same period, antisemitism also reared its ugly head at U of T's Faculty of Law. Some professors and students alleged a nefarious "Zionist" conspiracy to prevent a position being awarded to European anti-Israel academic Valentina Azarova. In October, one law professor publicly apologized for linking a Jewish judge involved in the saga to an infamous Nazi jurist, following withering criticism from B'nai Brith.
Teresa Zoric, President of the University of Toronto Faculty Association, claimed that an "entitled powerful Zionist minority" was engaged in "psychological warfare" against supporters of Azarova. Zoric issued a tepid half-apology months later, but U of T administrators remained silent. Zoric's conduct is now the subject of a human rights complaint.