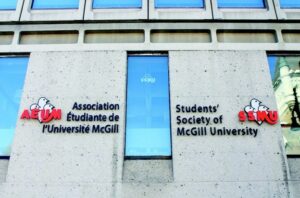 November 17, 2023
MONTREAL – B'nai Brith Canada is supporting a McGill University student seeking an immediate legal injunction to halt an ongoing referendum on a highly-questionable anti-Israel policy.
The question to adopt the so-called "Policy Against Genocide in Palestine" appeared this week on the ballot for the Students' Society of McGill University (SSMU) Fall Referendum. This is despite an active, B'nai Brith-backed legal challenge involving a similarly controversial Referendum held in early 2022 – the results of which were overturned by the Society's Board of Directors following backlash from the Jewish community and pressure from the McGill administration.
"This misinformation-ridden, discriminatory policy should never have appeared on the ballot," said Michael Mostyn, B'nai Brith Canada's Chief Executive Officer. "We are taking the extraordinary step of helping a student obtain an injunction to suspend this Referendum because we believe it represents a serious threat to the rights of Jews at McGill University."
The SSMU Referendum is being held as Montreal's Jewish community experiences unprecedented security challenges. As B'nai Brith has documented, Jewish schools have been shot at on two separate occasions, days after a Molotov Cocktail was thrown at two Jewish institutions in the West Island.
Jewish students in Montreal are facing specific threats as well, with pro-Hamas hate rallies becoming commonplace on campuses. One Nov. 8 altercation at Concordia University left three people injured – and led to a student's arrest – after anti-Israel radicals attacked a peaceful vigil for hostages taken by Hamas.
Although McGill has repeatedly commented on the inappropriateness of SSMU activities since the war in Israel began, the university has so far failed to take effective action to improve student safety on campus.
B'nai Brith encourages students experiencing antisemitism at universities in Canada to contact B'nai Brith Canada through our anti-hate hotline, app, or report an incident form. No one should face antisemitism alone.