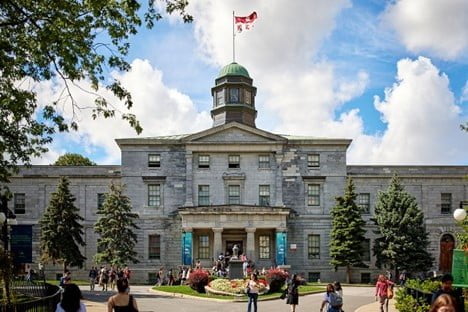 November 14, 2023
MONTREAL – With antisemitism rapidly escalating on McGill University's campus, new details are being incorporated into an ongoing lawsuit against the institution and its undergraduate associations.
A Jewish student initiated this legal action with the backing of B'nai Brith Canada after McGill failed to withhold fees from the undergraduate society as a result of repeated anti-Israel referenda, in violation of the university's own policies.
The updated lawsuit lists an additional student plaintiff and names McGill University, the Students' Society at McGill University (SSMU) and Solidarity for Palestinian Human Rights (SPHR), an official club which promoted an unconstitutional 2022 referendum and regularly engages in incitement.
With campus tensions escalating amid the Israel-Hamas war, the McGill case is growing more urgent. Since Oct. 7, pro-Hamas hate rallies, vandalism, and even violence, has sadly become commonplace at universities across Canada. B'nai Brith has received a tremendous volume of reports from Jewish students who are worried about their safety on campus – many afraid of what their peers or instructors might say or do to them if they show the slightest support for Israel.
One of the most shocking and shameful displays occurred recently in Montreal, when anti-Israel agitators attacked Jewish students at Concordia University holding a vigil for Israeli hostages. A 22-year-old student was arrested for her role in the clashes, which injured three people, including a security guard. The next day, speakers addressing an anti-Israel rally at McGill were met with applause as they congratulated their Concordia counterparts for "terrifying" Jewish students.
SPHR has posted a statement calling the Hamas assault on innocent civilians "heroic" and applauding the terrorists for taking hostages. This prompted McGill to order SSMU to remove McGill from SPHR's name, something the student union has still failed to do.
The amendments to the McGill lawsuit come as students vote on another SPHR-sponsored, anti-Israel referendum question, the so-called "Policy Against Genocide in Palestine," in a vote currently being held on campus. Such an unconstitutional and disinformation-ridden question should never have been allowed to appear on the ballot.
"Jewish students are at the front lines of antisemitism in this country," said Michael Mostyn, B'nai Brith Canada's Chief Executive Officer. "It is simply shameful that universities like McGill and Concordia have allowed radicals to terrorize Jewish students on campuses for so long. We hope to set a precedent that shows universities that antisemitism cannot be condoned or ignored.
"We will not stand idly by while Jewish students are suffering, feeling unsafe, and being prevented from showing their support for Israel."
B'nai Brith encourages students experiencing antisemitism at universities in Canada to contact B'nai Brith Canada through our anti-hate hotline, app, or report an incident form. No one should face antisemitism alone.