By Daniel Koren
Media Coordinator
B'nai Brith Canada
The year 2016 was marked by social tension, international unrest and political uncertainty. In Canada, minorities were subjected to racism and xenophobia and in Toronto, for the 11th straight year, the annual Hate Crimes report from Toronto Police Services showed that the Jewish community is the city's single most-targeted victim of hate crimes.
As a human rights organization, B'nai Brith Canada dutifully spent the year fighting on behalf of all Canadians, collaborating with government officials to expel racism from the public sector, training students to advocate for their rights when faced with antisemitism on campus, and exposing and confronting those who promote hate speech in an effort to bring them to justice.
Due to dangerous trends that emerged this year, including the rise of the boycott, divestment and sanctions (BDS) movement, the need for a stronger and more impactful B'nai Brith is more vital than ever. In a bid to empower Jewish university students, we launched B'nai Brith on Campus. To ensure that the human rights of all Canadians are protected, the efforts of our advocacy arm, the League for Human Rights, led to the successful removal or suspension of university professors, academic staff and politicians – all of whom promoted hate-charged campaigns against the State of Israel and the Jewish people.
Here's a look back at what B'nai Brith has accomplished during the year 2016. It is only through your support that any of this has been possible and that we can continue our fight against hatred and discrimination.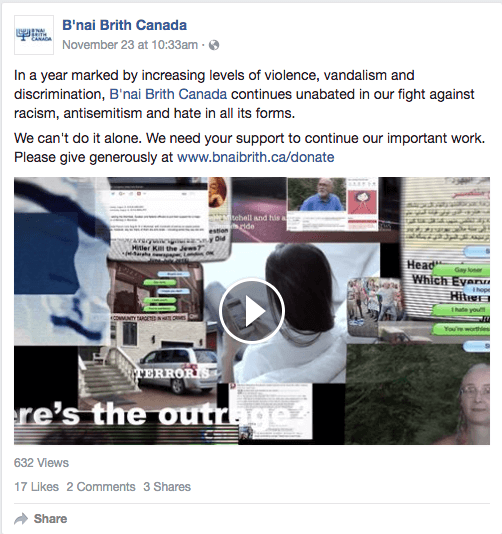 January, 2016
B'nai Brith highlights Iranian human rights violations and how newly-settled Syrian refugees could be revictimized through Canada's re-engagement with Iran, urging the Trudeau Government not to reopen the Iranian embassy.
B'nai Brith Canada CEO Michael Mostyn: "Canada must continue to hold Iran accountable for its actions, and human rights should never be sacrificed at the expense of our business interests."
February, 2016
B'nai Brith investigation leads to suspension of a member of the Windsor Multicultural Council – a body connected with the welcoming and resettlement of Syrian refugees in Canada – who penned an editorial supporting violence against Israelis in Windsor's Arabic-language newspaper Al Forqan.
B'nai Brith Canada CEO Michael Mostyn: "To ensure that Syrian refugees are not exposed to radical Islamist ideology in Windsor, it would be prudent for the [Windsor Multicultural] Council to re-examine the backgrounds of all of their staff and volunteers."
March, 2016
B'nai Brith issues a joint statement alongside Canadian Jewish Holocaust Survivors and Descendants and the Centre for Israel and Jewish Affairs (CIJA) calling on the Government of Canada to deport Canadian resident Helmut Oberlander, a former Nazi who forged documents to gain entrance into Canada in 1954.
B'nai Brith's Purim Food Drive sets a record, with more than 1,000 food bags delivered to our community's most vulnerable.
April, 2016
In the midst of a heated debate over a controversial mural at York University that incites violence against Israel, B'nai Brith pens a joint open letter alongside CIJA, Friends of Simon Wiesenthal Centre, Hasbara Fellowships Canada, Hillel Ontario, StandWithUs Canada and UJA Federation of Greater Toronto to York University President Dr. Mamdouh Shoukri demanding that York's administration act in a manner consistent with its stated goal of encouraging inclusion.

Excerpt from letter: "Your administration's failure to address the growing sense of alienation among Jewish students on campus has led many in our community to question whether York University's leadership is either incapable of, or unwilling to, uphold its own ideals."
May, 2016
B'nai Brith releases its Annual Audit of Antisemitic Incidents, revealing a general increase of harassment towards Jewish people in Canada over the past five years, particularly on social media.
Steven Slimovitch, National Legal Counsel for B'nai Brith Canada: "B'nai Brith has received reports of between 1,200 and 1,600 verified antisemitic incidents in Canada every year for the past 10 years. This is not a problem that's going away."
A B'nai Brith investigation into neo-Nazi Ken O'Keefe – who was given a platform by the University of Toronto to deny the Holocaust and accuse Israel of orchestrating the Sept. 11, 2001 terrorist attacks – results in his being banned from the university. The university also issues an apology.
June, 2016
An investigation by B'nai Brith into the organization Independent Jewish Voices reveals that it a) promoted an article on infamous Holocaust-denying website Veterans Today, b) is supportive of Iran and of the anti-Israel Al-Quds Day hate rally, c) continues to collaborate with a discredited conspiracy theorist who it disavowed in 2009 and d) was very influential in shaping the Green Party of Canada's foreign policy, specifically on proposed resolutions supporting the BDS movement and revoking the charitable status of the Jewish National Fund.
July, 2016
B'nai Brith works with London, Ont. police to investigate al-Saraha, a monthly Arabic newspaper, after it published a vehemently antisemitic and homophobic editorial titled, "The Question Which Everyone Ignores: Why Did Hitler Kill the Jews?" B'nai Brith's investigation prompts Ontario Premier Kathleen Wynne to unequivocally condemn the paper and remove her party's political advertising.
B'nai Brith exposes former Green Party of Canada candidate Monika Schaefer after she made an explicitly antisemitic home video denying the Holocaust. The Green Party quickly announces its termination of membership as a result of B'nai Brith's investigation.
August, 2016
B'nai Brith files complaints with Toronto police over comments made by Mississagua teacher Nadia Shoufani, who praised terrorists at the Toronto al-Quds Day event in July, which leads to separate investigations into Shoufani by both her school board and the Ontario College of Teachers.

B'nai Brith obtains exclusive footage of Israeli-Arab parliamentarian Bhasel Ghattas' address at the World Social Forum (WSF) in Montreal, where he advocates in favour of the BDS movement and compares Israel to apartheid South Africa. Several prominent Israeli officials denounce Ghattas as a result of B'nai Brith's investigation. B'nai Brith also speaks out against taxpayer dollars being used to fund the WSF.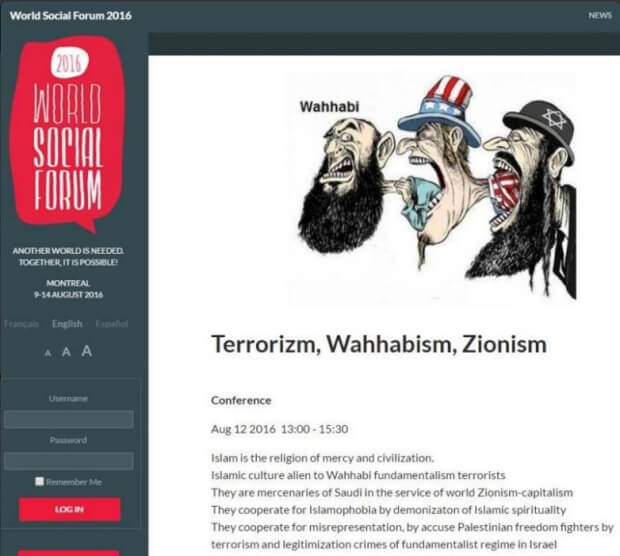 September, 2016
B'nai Brith launches B'nai Brith on Campus in a bid to provide students with support when facing discrimination on campus, helping to resolve their problems, and also provide advocacy training.
B'nai Brith complaint leads to dismissal of York University staff member Nikolaos Balaskas, a long-time lab technician in York's Department of Astronomy and Physics, who supported Holocaust denial and praised Nazi war criminals on social media.
Amanda Hohmann, National Director of B'nai Brith's League for Human Rights: "This is a very positive step, coming from a university where there have been ongoing, and very public, issues of antisemitism. It is incredibly heartening to see that the administration, in this case, not only took the allegations seriously but took real action to correct the problem."
October, 2016
B'nai Brith launches investigation into University of Lethbridge professor Anthony Hall, who blames Israel for the Sept. 11, 2001 terrorist attacks and openly supports Holocaust denial in the classroom. After a B'nai Brith petition garners over 1,800 signatures and a video highlighting Hall's antisemitic views reaches some 100,000 people online, the university suspends Hall without pay.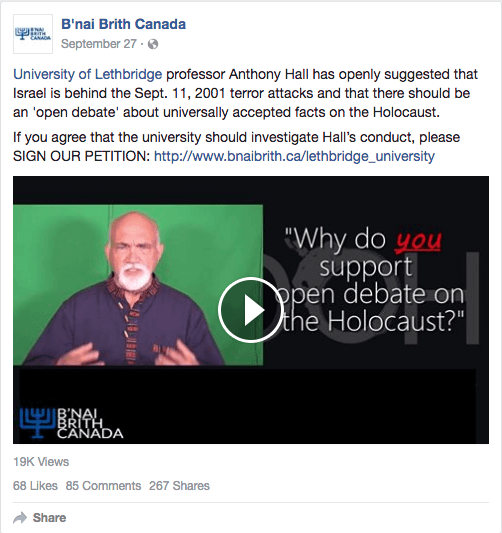 After receiving a tip that stickers promoting BDS had defaced Israeli-made products at the Hudson's Bay and Sears stores in the Polo Park shopping centre in Winnipeg, B'nai Brith swiftly responds by notifying store managers and having the stickers removed. B'nai Brith offers its expert services and resources to Hudson's Bay and Sears to assist in their investigation.
B'nai Brith interviews Holocaust historian Deborah Lipstadt and runs a contest offering free tickets to the movie Denial, based on her experiences.
B'nai Brith condemns the United Nations Educational, Scientific and Cultural Organization (UNESCO) over its resolution denying Jewish ties to biblical sites in Jerusalem. A B'nai Brith letter to UNESCO Director-General Irina Bokova demanding that the resolution not be passed garners approximately 1,000 signatures.
B'nai Brith Canada CEO Michael Mostyn: "By furthering the libel that Israel is 'carrying out aggressions' against Palestinian schoolchildren and restricting Muslims from worshipping at these holy sites, UNESCO is now complicit in incitement against Jews."  
November, 2016
B'nai Brith launches a week-long series to commemorate the 850,000 Jewish refugees expelled from Arab lands following the creation of the State of Israel in 1948, which includes video testimonials from several Jewish refugees as well a call from Conservative MP David Sweet to establish an official day in Canada in their honour.

B'nai Brith On Campus provides logistical support and strategic advice to University of Toronto students as its Graduate Students Union (GSU) rejects a proposal to transform its "BDS Ad Hoc Committee" into a permanent fixture of the organization. B'nai Brith also helps draft anti-BDS materials distributed at the meeting.
B'nai Brith condemns Canada's decision to provide $25 million in funding to the United Nations Relief and Works Agency for Palestine Refugees (UNRWA) – an organization previously criticized for its ties to the Hamas terrorist organization – without addressing the agency's long history of incitement. B'nai Brith launches petition on behalf of thousands of concerned Canadians, demanding evidence that UNRWA has changed its operating procedures and is no longer contributing to the Palestinian Authority's campaign to demonize and delegitimize Israel and the Jewish people.
B'nai Brith Canada's 2016 Human Rights Gala David Foster is a huge success, raising funds to go toward our valuable services and programs. The gala is attended by distinguished politicians, celebrities and community leaders, features a video greeting from Prime Minister Justin Trudeau, and emphasizes the importance of preserving B'nai Brith's mandate to protect the human rights of all Canadians.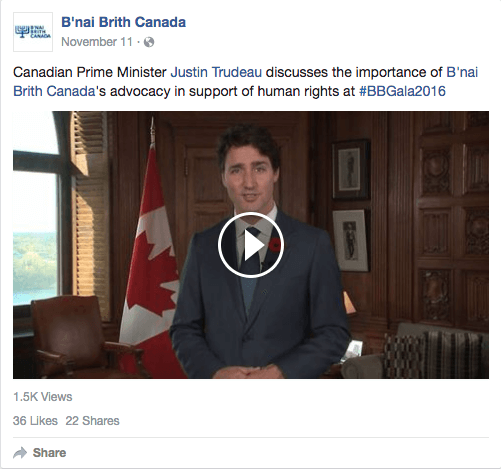 December, 2016
B'nai Brith's annual Chanukah food drive provides nearly 1,000 holiday food bags to the vulnerable members of our community living in Toronto and Winnipeg.
Construction begins on Chateau B'nai Brith in Montreal, a 129-unit subsidized seniors' residence to be located in Cote-Saint-Luc.
B'nai Brith Past President Eric Bissell: "With the current crisis in affordable housing for seniors in Montreal, this is a very important community initiative that will soon be home to 141 people and will serve the community for generations."