May 21, 2019
TORONTO – A representative of the "Independent Jewish Voices" (IJV) fringe group admitted Saturday that the organization takes its direction from Palestinians and not members of Canada's grassroots Jewish community.
At an anti-Israel protest at Yonge-Dundas Square in Toronto, an IJV spokesperson concluded her speech by saying: "I'm really grateful that Palestine House is rejuvenating also, and that we continue, as Jews, to take direction from Palestinian leadership."
As previously revealed by B'nai Brith Canada, the Democratic Front for the Liberation of Palestine (DFLP), a Damascus-based terror group, took credit for winning the Palestine House elections earlier this month. The DFLP staged the 1974 Ma'alot Massacre, in which 31 Israeli civilians were murdered, most of them children.
It continues to support terrorism to this day.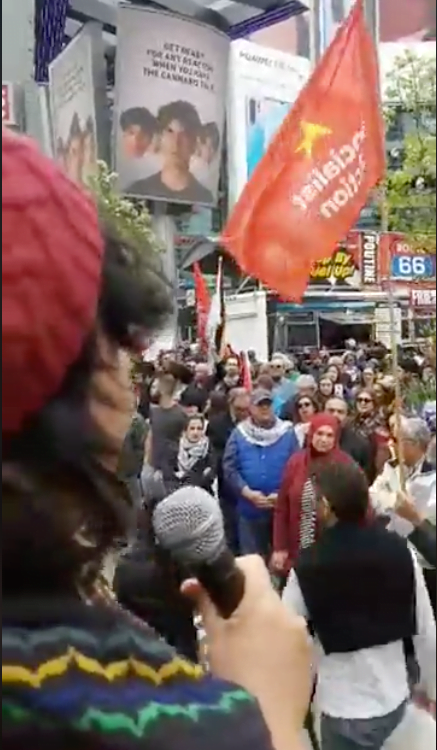 "This admission demolishes any credibility IJV could ever claim as a so-called Jewish organization," said Michael Mostyn, Chief Executive Officer of B'nai Brith Canada. "Real Jewish groups take direction from within the Jewish community, and certainly not from outside groups with a history of celebrating anti-Jewish terror."
On its website, IJV describes itself as "a grassroots organization grounded in Jewish tradition." However, a landmark 2018 survey of Canadian Jews showed that only 6 per cent of Canadian Jews believe that Canada is too supportive of Israel, which is the position taken by IJV (page doesn't exist).
Also addressing attendees at Saturday's anti-Israel protest was Imam Zafar Bangash of Richmond Hill, Ont., who is currently under investigation by York Regional Police for promoting hatred against Jews and members of the LGBTQ community. In March, a television program hosted by Bangash was removed from Canadian airwaves after B'nai Brith revealed it had been used to spread antisemitic and anti-Israel propaganda.
During her speech, the spokesperson also promoted the so-called "Walk Against Israel" rally that took place Monday. Organized by the anti-Israel group "Canadian Defenders for Human Rights" (CD4HR), the protest featured at least two activists with a history of supporting terror groups.
IJV also organized its own protest against the annual Walk with Israel event. By the group's own count, 40 protestors showed up. By contrast, City News estimated that at least 20,000 Canadians gathered to celebrate the Jewish State.