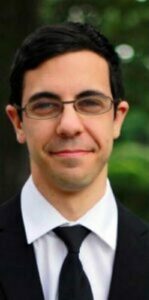 By Tevy Pilc
Staff Writer/Researcher
B'nai Brith Canada
B'nai Brith Canada's League for Human Rights hosted a conference call on Tuesday, Dec. 20 featuring B'nai Birth Canada's Campus Advocacy Coordinator Aidan Fishman, who briefed League volunteers and members (including both students and professors) on the situation of antisemitism on Canadian campuses and B'nai Brith's role in fighting against it.
Fishman emphasized that B'nai Brith on Campus differs from other Jewish groups on campus due to its greater focus on antisemitism as opposed to Israel advocacy.
"We're not here to do hasbara on campus," said Fishman. "While there is certainly a place for that, we're focusing on helping students fight back against antisemitic incidents, whether from professors, students or campus groups where positions of power and influence are being used to promote antisemitic messages.
"There are several groups advocating for Israel and supporting Jewish life on campus, which is definitely needed. Our goal is to utilize the B'nai Brith methods of fighting antisemitism, racism and bigotry – such as our anti-hate hotline – to the benefit of anyone on campus."
Fishman cited examples from the past year including University of Lethbridge professor Anthony Hall teaching anti-Jewish conspiracy theories and Holocaust denial in his classes, York University staff member Nikolaos Balaskas'  antisemitic social media activity and the walkout of Ryerson students during a student union meeting regarding a motion to commemorate a Holocaust Education Week.
Fishman discussed how an "off campus" base of operations allows for B'nai Brith to work with campus administrators and student groups without ramifications of losing campus group statuses or privileges, while also avoiding university politics that might hinder productive dialogue.
Fishman detailed B'nai Brith's initiatives and success in contributing to Hall's suspension  and Balaskas' firing.
Participating in the briefing was League member Professor Robert Kennedy, who shared details of a nation-wide study he's working on that examines antisemitism on campus. He plans to survey Jewish students and alumni on how they feel about antisemitism on campus, asking them to share their stories.
In discussing his research, Kennedy pointed out that most post-secondary institutions in Canada get public funding, so empirical data on the realities of campus antisemitism must be made available to politicians and lawmakers, allowing them to make informed decisions about the allocation of public dollars.
"Universities are the new frontline in the fight against antisemitism in Canada," said Amanda Hohmann, the League's National Director. "If we are going to stop this problem from growing, we need to address it on campus. The work of B'nai Brith on Campus, and our many dedicated student volunteers, will be absolutely critical in combating antisemitism over the next decade."
For information about B'nai Brith on Campus, you can contact Aidan Fishman at [email protected] or visit the B'nai Brith on Campus Facebook page. For more information about the League for Human Rights or volunteer opportunities, please contact Hohmann at [email protected].