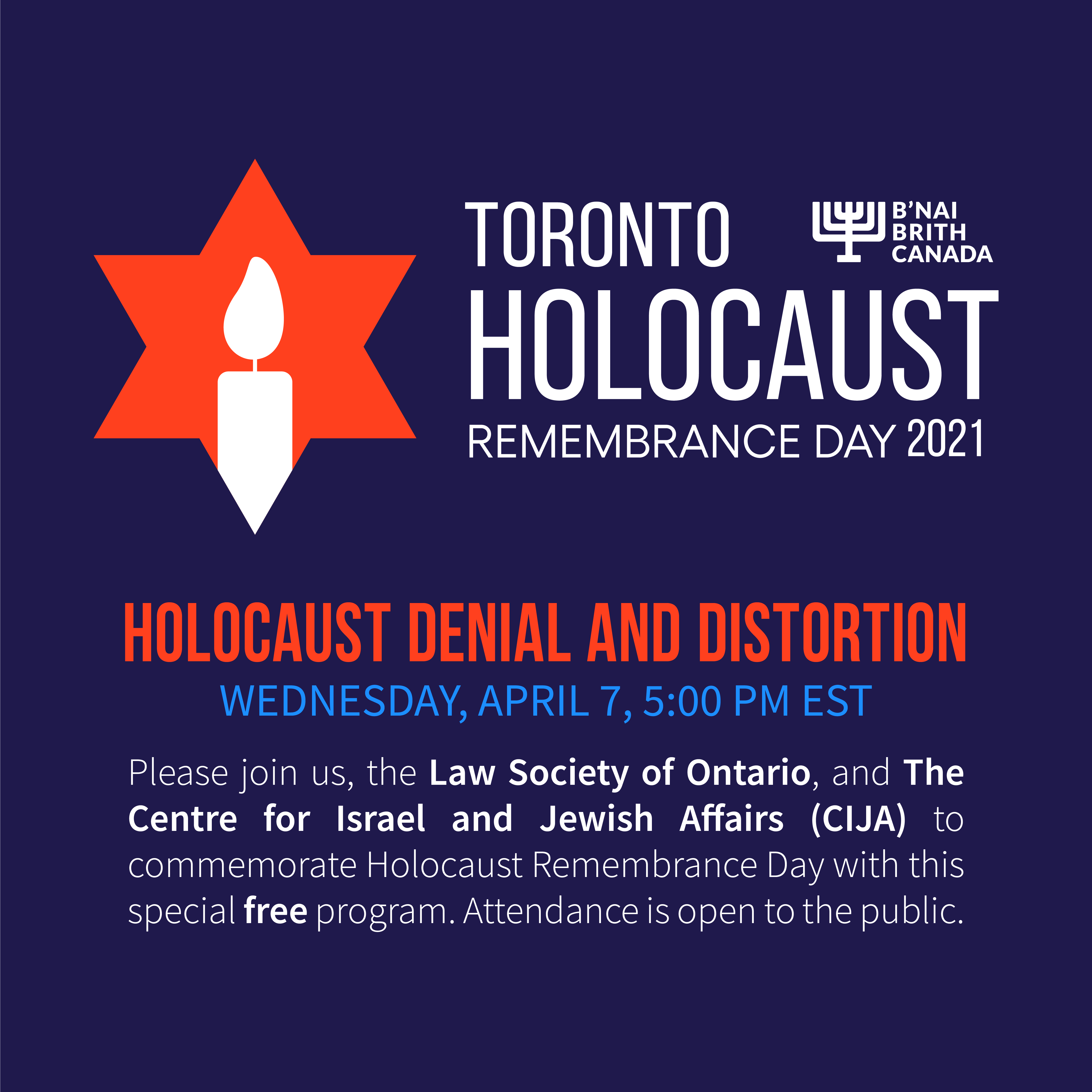 Holocaust Remembrance Day 2021: Toronto
Holocaust Denial and Distortion
Wednesday, April 7, 2021 5:00 pm EST
Please join us, the Law Society of Ontario, and The Centre for Israel and Jewish Affairs (CIJA) to commemorate Holocaust Remembrance Day with this special program.
This year's program features an address from Pinchas Gutter, Holocaust survivor and educator, followed by a moderated discussion on Holocaust denial and distortion.
Our esteemed speakers' panel includes Mark Weitzman, Director of Government Affairs for the Simon Wiesenthal Center (SWC) and the Chief Representative to the United Nations. Mark is a member of the official U.S. delegation to the International Holocaust Remembrance Authority (IRHA), where he chairs the Committee on Antisemitism and Holocaust Denial. He recently spearheaded IHRA's working definition of antisemitism, which was adopted and endorsed by 29 countries, and several international organizations, including the United Nations Secretary General and the European Union.
Jan Grabowski is a Professor of History at the University of Ottawa. His research focuses on issues surrounding the extermination of the Polish Jews and the history of the Jewish-Polish relations between 1939-1945.
Most recently, a court in Poland has found Jan, along with his co-editor Barbara Engelking, guilty of libel, regarding their joint research entitled Night Without End: The Fate of Jews in selected Counties of Occupied Poland. Jewish community groups in Canada and abroad have condemned the ruling. In 2018, Poland adopted a law which made it a civil offence to make false accusations about its history and involvement with the Holocaust.
Erica Whitford is Crown Counsel with the Ontario Ministry of the Attorney General. Most recently, Erica represented the Crown in the high-profile Your Ward News court case. The free Toronto-based publication consistently disparaged women and Jews and denied the Holocaust.
This public event is free. For additional information and to receive the video link, please register here.
If you wish to submit your question to our speakers in advance of the program, please do so via the Comments section on the registration page. Alternatively, you are welcome to send us an email at [email protected]
Please note that the application for CPD Professionalism-EDI accreditation is pending.
Click here for more information about our sister Holocaust Remembrance Day events in Winnipeg and Montreal