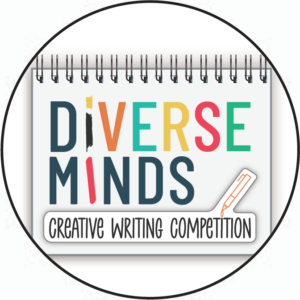 diversemindscompetition
1,367 posts      2,016 followers      355 following
Diverse Minds Writing Competition
Charity Organization (a program from B'nai Brith Cares)
B'nai Brith Canada presents an exciting educational initiative that promotes diversity
and teaches valuable lessons of inclusion to elementary and high school students.
#oneinalifetime #championingdiversity
ENGLISH • FRANÇAIS
WHO CAN PARTICIPATE IN DIVERSE MINDS, WRITING COMPETITION?
All high school students in Canada can participate in the Diverse Minds Competition.
CAN I WORK WITH A PARTNER?
Yes, you can submit your entry individually or with one partner. Groups of three or more are not allowed and remember that you will split the prize money if you and your partner win.
CAN I SUBMIT MY BOOK PHYSICALLY INSTEAD OF DIGITALLY?
No, you must submit your entry online by scanning it in full colour, with an image quality of 300-400ppi. Feel free to submit a physical copy as well, though it is not necessary.
NOTE: The top 10 finalists will need to submit your work with the text and illustrations separately.
ONLY TOP STUDENTS HAVE A CHANCE AT WINNING?
No! While the judges review several factors in the judging process, the most important criteria are the original story's ability to convey diversity and inclusion to young children (K to Grade 5).
DOES MY BOOK NEED TO INCLUDE A TITLE AND COVER?
Yes, your book must have a front and back cover, with a title on the front cover.
DOES THE PAGE LIMIT INCLUDE THE FRONT AND BACK COVERS?
Yes, the front and back covers will be included within the 16 to 24-page limit.
CAN I USE DRAWINGS THAT I FIND ONLINE?
No, all illustrations must be original, as stated in the Guidelines and agreed at the mandatory waiver.
CAN I DRAW BY HAND THE ILLUSTRATIONS OF MY BOOK?
Your illustrations can be drawn digitally or by hand. The only requirement is that they are original and can deliver the message of your authentic story. Be creative!
SHOULD EVERY PAGE HAVE AN ILLUSTRATION?
Entries should include a complete story with full-colour illustrations and include text and art on each page, but it is up to the student/s choice to integrate them.
HOW MANY PAGES SHOULD MY BOOK HAVE?
Entries shall be no longer than 24 pages, with a minimum of 16 pages, including the front and back cover.
IS THERE A WORD LIMIT?
There is no word limit, but keep in mind that your young audience is children, from ages 5 to 10 years old. You must type all the words on each page unless incorporated within an illustration.
WHAT FORMAT SHOULD THE PAGES BE?
The format required is PDF in a square document (9×9 inches), and you must submit them online.
CAN I SUBMIT TWO VERSIONS OF MY BOOK?
No, only one entry per student/pair.
WHAT SHOULD I INCLUDE IN THE BIO?
Your bio should be at least 150 words (max. 250 words) and should include your likes, hobbies, passions and anything else that we can use to write about you if selected as a finalist.
CAN I USE MY BOOK FOR ANOTHER CONTEST?
No, once submitted, all entries are property of B'nai B'rith Canada. B'nai B'rith retains all rights to the content of the books.
HOW WILL I KNOW IF I'VE SUBMITTED EVERYTHING CORRECTLY?
All the details to follow are in the guidelines and checklist. You will receive a confirmation email within a week. If you don't receive this confirmation email, please contact us at [email protected].
HOW WILL THE JUDGES CHOOSE THE WINNERS?
The team at B'nai Brith Canada will make the initial selection of the top 10 books per region. There will be a regional judging panel for Calgary, Edmonton, Winnipeg, Toronto & Montreal. This panel will identify 5 of the top 10 finalists (1 finalist per region). The other 5 places will be filled with the top 5 nationally, regardless of city.
The top ten finalists will be judged by a national judging panel who will choose first, second and third place national winners. The bilingual judging process reviews the following criteria: originality, creativity, artistic and writing skills, clarity of the message, and the readability of the story to the audience.
WHEN WILL I KNOW IF I AM A FINALIST?
By the end of June, all participants are notified by email, letting you know if you have been successful or not.
Deadline for entries is April 16, 2023!
Visit DiverseMinds.ca for detailed submission information and guidelines.