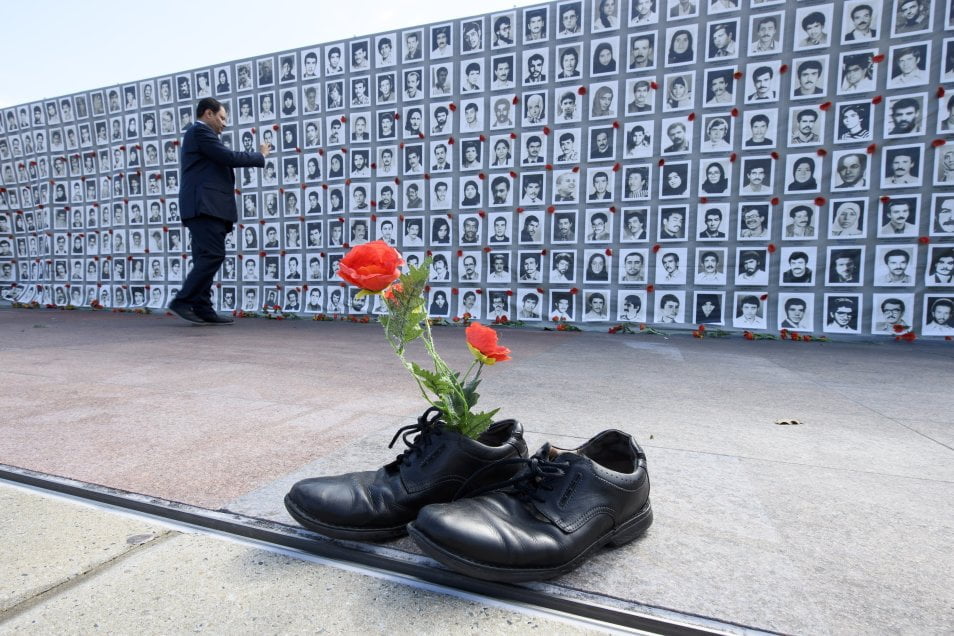 CLIQUEZ ICI pour le français
July 26, 2022
OTTAWA – B'nai Brith Canada and Justice 88 applaud the recent conviction of Hamid Nouri by a Swedish court for his complicity in the murder of political prisoners in Iran, in what is known as the Summer of 1988 Massacre. 
Nouri played a role in the mass execution of thousands of political prisoners during the summer of 1988, most of whom were already "convicted" and were serving their terms. The victims – supporters of a free and democratic Iran – were forced into sham trials that lasted only minutes, and then almost immediately hanged after sentencing. 
At this historic trial in Stockholm, witnesses, including former prisoners, testified that Nouri selected those who should be sent to the Special Tribunal, which invariably condemned prisoners to death, and that he was personally involved in their torture. Nouri was charged and convicted in the wholesale massacre of prisoners who sympathized with the opposition to the Islamist regime and to also subjecting prisoners to torture and inhumane treatment. On July 14, 2022, Nouri received a life sentence by a court in Sweden – the most severe punishment allowed by Swedish law. 
"There is an important message here," said Marvin Rotrand, Director of B'nai Brith Canada's League for Human Rights. "One day, Iranians will finally be free of their criminal regime. Those in leadership of this odious regime that murders and oppresses its own citizens and violates international law will soon realize that there is no escaping justice." 
B'nai Brith believes that Canada and its allies need to do far more to hold the Iranian regime accountable. For example, B'nai Brith has urged the Government of Canada to work with international partners to ensure airlines no longer overfly Iran's airspace, thereby depriving the regime of significant revenues. B'nai Brith has also long advocated for Canada to designate the entire IRGC as a terrorist entity. 
"B'nai Brith stands with the many victims of Iran," said Michael Mostyn, B'nai Brith Canada's Chief Executive Officer. "Canada can help fight Iran's continuing crimes by immediately declaring the entirety of the Islamic Revolutionary Guard Corps (IRGC) as a terrorist entity. Doing so will severely hamper Iran's ongoing human rights violations." 
Mostyn indicated that B'nai Brith has supported the Iranian diaspora in its demands for justice and has partnered with the Ontario-based Justice 88 campaign to hold Iran accountable for the murders, for which Nouri is now the first convicted. Iran has also never faced the consequences of killing the 176 passengers onboard Ukraine International Airlines Flight PS 752, shot down by the IRGC in January 2020, as it left Tehran airport.  
"We appreciate B'nai Brith's support of the efforts of the Iranian diaspora to win justice for the victims of the 1988 massacre," said Reza Banai, Chair of Justice 88. "All the perpetrators need to be brought to justice. The Iranian diaspora is puzzled that Canada, unlike many of our allies like the United States, has yet to declare the entire IRGC a terrorist entity. That will have an immediate impact on the Government of Iran."  
"The implementation of Universal Jurisdiction for crimes committed against humanity by a Swedish court for the case of Hamid Nouri establishes a great precedence for accountability of those involved in such heinous crimes," he added. "The Unanimous Motion of Canadian House of Commons on July 5, 2013 in acknowledgement of 1988 Massacre as crimes against humanity, is another avenue for the Canadian Judicial system to pursue specific Iranian regime elements involved in those crimes, such as Ebrahim Raisi, the current Iranian President." 
B'nai Brith and Justice 88 have also asked Canada to condemn Iran for its recent hijacking of two Greek oil tankers, an act denounced to date by the United States, France, Germany and the United Kingdom, but which Canada has yet to do.