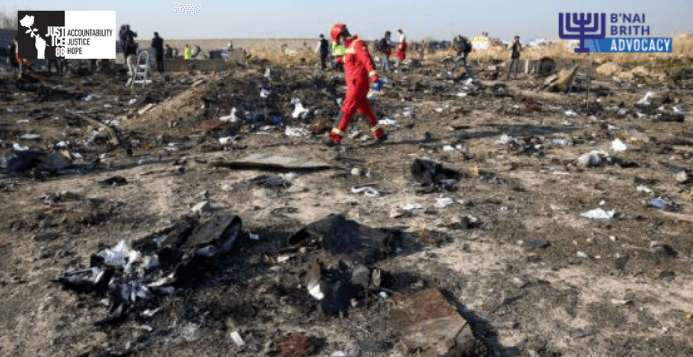 Jan. 07, 2022
OTTAWA – On the second anniversary of the destruction of a Ukrainian airliner by the Iranian Revolutionary Guard Corps (IRGC), B'nai Brith Canada reiterates its solidarity with the families of the victims and Iranian-Canadian organizations that are demanding justice.
On Jan. 8, 2020, the IRGC – the armed forces of the Islamic Republic of Iran – shot down Ukraine International Airlines Flight 752 (PS752), a civilian airliner, slaughtering 176 innocent people, of whom 138 were connected to Canada as citizens or residents.
The Canadian Government has worked with Ukraine, Sweden and the United Kingdom to negotiate reparations for the families of the victims. Earlier this week, the countries concluded that discussions were at a dead end and agreed to pursue Iran under international law.
B'nai Brith is again partnering with Justice 88, an Iranian-Canadian human rights organization, in demanding the Government of Canada take concrete action to hold the terrorist regime accountable.
We reiterate our ongoing disappointment at the Government of Canada's failure to designate the IRGC, in its entirety, as a terrorist entity. In Feb. 2020, B'nai Brith filed a lawsuit against the federal government, citing its failure to comply with the parliamentary motion to list the IRGC as a terrorist organization.
In May, an Ontario Court found the IRGC liable in a lawsuit filed by family members of victims. The court recently made public an award of $107-million, ruling that the destruction of the airliner was an intentional act of terrorism.
B'nai Brith urges the seizing of Iranian assets in Canada to pay for the settlement.
In collaboration with Justice 88, we demand the following:
The immediate classification of the IRGC as a terrorist entity.
Immediate action to end IRGC-associated money laundering and investment in Canadian markets.
Collaboration with international partners at the International Civil Aviation Organization (ICAO) to limit Iranian air carriers' ability to transport passengers until reparations are paid to the victims of Iranian terror.
Reza Banai of Justice 88 questions the Government's failure to list the IRGC as a terrorist entity.  The group suggests that Canada has been lax in scrutinizing real estate investment from Iran.
He notes the work of Transparency Canada, an anti-corruption non-government body, which has examined Government actions that could identify the true owners of real estate. He believes there are ties between the IRGC and some of these investments.
Banai points out that Transparency Canada has found:
Since 2008, corporate entities have acquired $28.4-billion invested in Toronto area housing with no information on beneficial ownership.
A total of $9.8-billion in Toronto area housing was acquired through cash purchases since 2008.
From 2008 to 2018, more than $25-billion in residential mortgages in the Toronto area were provided by unregulated lenders.
Banai observed from Transparency Canada that a "Registry of Beneficial Ownership Act" could inform Canadians of who owns real estate that is hidden behind numbered companies.
Michael Mostyn, Chief Executive Officer of B'nai Brith Canada, said: "On the second anniversary of this horrific event, B'nai Brith stands with Iranian diaspora groups in calling for action to hold the Iranian regime accountable. The promise to pursue Iran under international law is a step in the right direction by our Government. However, our Government at the same time must immediately list the IRGC as a terrorist entity. The Iranian regime must face consequences for its deliberate terrorist actions and be prohibited from prospering on Canadian soil."