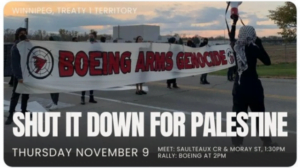 November 12, 2023
Radical Canadian groups have begun targeting our Canadian economy in a misguided attempt to castigate Israel as it fights a war of self-defence against Hamas terrorists.
As part of this unlawful campaign, protesters in Canadian cities have intimidated, harassed and vandalized Jewish-owned businesses or corporations perceived by them as in some way supporting the world's only Jewish state. Some of the affected businesses include Boeing in Winnipeg, Zim in Vancouver, as well as L3Harris in Toronto. Radicals also targeted Lockheed-Martin's Canadian facilities and continue to call for the boycott of locally owned Jewish franchises.
On the 85th anniversary of Kristallnacht, extremists even directed their rancor at Indigo Books, a Canadian owned and operated business, solely because its CEO is  both Jewish and a proud supporter of Israel.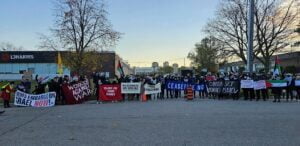 One anti-Jewish bigot, Firas Al-Najim, in a lame attempt to garner publicity, filmed himself returning a drink to Cafe Landwer, claiming that drinking a beverage from the Jewish-owned café was "like drinking blood."
Extremists have been emboldened to act with impunity after weeks of government inaction. Inciting hatred, calling to boycott Jewish businesses, and shutting down Canadian corporations have now become normalized. Our leaders have prioritized an abstract notion of freedom of expression over the right of Canadian businesses and the Jewish community to exist in a hate-free environment.
"B'nai Brith has repeatedly warned that failing to enforce the rule of law following anti-Jewish incitement at hate-filled rallies, and on our university campuses, would only lead to escalation," said Michael Mostyn, B'nai Brith Canada's Chief Executive Officer. "Canadian leaders must proactively confront and unequivocally denounce this anti-Jewish hate. How much further must the situation devolve before we see action?"
We encourage any similarly targeted business to contact B'nai Brith Canada through our anti-hate hotline, app, or report an incident form.