The Toronto Sun
Published Oct 22, 2023
https://torontosun.com/news/local-news/warmington-jewish-businesses-in-city-targeted-like-in-berlin-during-1930s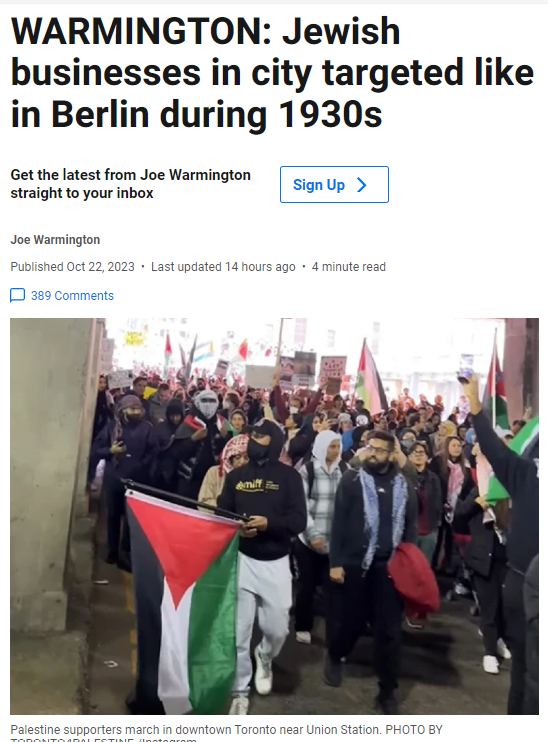 When Toronto has Jewish businesses being vandalized or targeted with a boycott, it's clear these protesters have gone too far. 
But how far will Toronto let this go? 
If the city allows protesters to intimidate a restaurant with Jewish roots, history may offer a glimpse of what could happen next? 
All of this began with the barbarism of Hamas terrorists attacking innocent civilians in Israel next to the Gaza border — a slaughter which included attacks on unarmed young people at a music festival, hostages being taken, and babies burned and dismembered.
With Sunday marking the ninth anniversary of the murder of Cpl. Nathan Cirillo — by an Islamic fundamentalist convert turned domestic terrorist — at the Cenotaph in Ottawa, here is a review of what pro-Palestine demonstrators have done so far.
While The Greater Toronto Area was disgusted with this evil, demonstrators expressing long-time complaints about Israel took to the streets and parking lots in celebration. 
As most of the world reacted in outrage, pro-Palestine movements began mobilizing in an attempt to shift the narrative towards what they called the Israeli occupation of Gaza and Palestine.
The deaths of 1,400 Israelis in the attack of Oct. 7 and in the days and weeks that followed are not mentioned by protesters, who like Prime Minister Justin Trudeau, have proven to be slow to accept that an explosion in a Gaza hospital parking lot was indeed the result of a Hamas rocket — not an attack by Israel.
The original pro-Palestinian protest on Thanksgiving Monday saw hundreds head to Nathan Phillips Square and then north on Bay St. before dissipating. The following day, protesters gathered at Yonge and Bloor Sts. in front of the Israeli consulate, where protesters took over the intersection and climbed on construction scaffolding to address the crowd from a makeshift stage. 
Friday saw rowdy protesters at Bloor St. and Spadina Ave. — in front of the Miles Nadal Jewish Community Centre, and Deputy Prime Minister Chrystia Freeland's constituency office. 
On Saturday night, protesters moved from downtown to the Gardiner Expressway, where attempts to charge up the ramp were stopped by Toronto Police. Officers carried what appeared to be tear gas and sock (bean-bag) guns in case they were needed for crowd control.
Things seem to be escalating with each passing day. The images and videos don't look like something that happens in Toronto, but they are.
"The angry mobs are continuing unabated in Toronto, fuelled by anti-Israel and anti-Jewish disinformation and lies," said  B'nai Brith CEO Michael Mostyn. "These are not peaceful protests. The angry radicals feel more and more emboldened to harass and intimidate whoever they come across. They need to be stopped before all red lines are crossed."
It's all concerning, but perhaps most egregious was protesters deriding a Toronto restaurant with Jewish roots, heckling diners and calling for a boycott of the eatery.
That is what transpired in Germany, starting in 1933, when the Nazi's organized a boycott of businesses in the cities and small towns and the word "Jude" was painted on the doors or walls.  
The modern equivalent was on display Saturday where the Toronto4Palestine group posted to social media a video in which a protester was waving a Palestinian flag toward diners on the other side of the glass with an online banner, saying "Zionist Cafe" and "boycott" next to the name of the restaurant.
With a Jewish-owned business hit with graffiti in Kensington market Oct. 11, there seems to be a campaign to highlight establishments based on owners' religious background. This is how the Holocaust began in the 1930s.
This is happening now. Toronto should not tolerate anything of this nature in 2023. 
Or can it? So far, the city seems to tolerate all of it.
As Canada has seen, protesters from the Freedom Convoy movement were subjected to the Emergencies Act, arrest, jail and the freezing of bank accounts.
It's unclear what the answer is here.
But if this anti-Semitic fever is allowed to grow, and the disrespect continues toward law enforcement trying to keep a handle on it, the results could be tragic and irreversible.
Mayor Olivia Chow has been asked for her comment on what transpired. Protests seem to become more emboldened with each passing day. 
There have been no known arrests, but Toronto Police's Hate Crimes Unit has been deployed and has made it clear charges can be laid at the time of a protest or after a demonstration.
While Police Chief Myron Demkiw has publicly warned that no acts of hate are acceptable, the chants at the rallies, and the targeting of Jewish establishments, is concerning to the Jewish community which has not been protesting. 
It should be concerning for everybody.