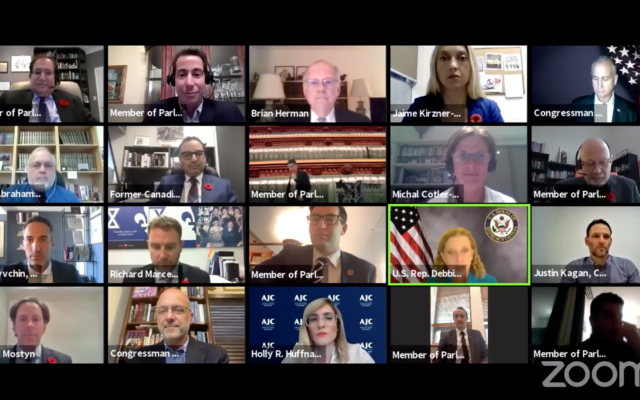 July 14, 2021
OTTAWA — B'nai Brith Canada endorses a new report released today by the Interparliamentary Task Force to Combat Online Antisemitism.
The report highlights the dramatic increase of online attacks against the Jewish community, coinciding with a major rise in antisemitic incidents in Canada, as detailed in B'nai Brith's special report of June 29, 2021.
The Task Force report follows a May 24 statement by these same parliamentarians, who expressed their alarm at antisemitism online: "Social media companies' reactions to the content on their own platforms has been inconsistent and, by and large, inadequate. There is a distinct line between legitimate criticism of a country, and blatant antisemitism – which can lead directly or indirectly to violence, as we have seen play out in public."
Led by Canadians MPs Anthony Housefather, Marty Morantz and Randall Garrison, and former MP Michael Levitt, parliamentarians outlined the international efforts and preliminary recommendations of the Task Force, to monitor and combat what is becoming "an increasingly hostile and loosely regulated and monitored social media space where perpetrators of misinformation and disinformation propagate hatred of all forms, especially antisemitism."
"The recent rise in online antisemitism is a harbinger of hate that many marginalized communities increasingly confront," said the Task Force.
"This report is a highly valuable contribution not only to combating online hate in general, but as a framework to address the issues at Canada's July 21 National Summit on Antisemitism," said Michael Mostyn, Chief Executive Officer of B'nai Brith Canada. "We welcomed the opportunity to contribute important ideas to the Task Force in November, and we will be drawing on their critical work as part of our Summit preparations and beyond."
Several of B'nai Brith's longstanding proposals have been endorsed or noted in the Task Force interim report, including:
Pursuing a universal standard of what antisemitism is. The need for more widespread adoption and implementation of the definition of antisemitism used by the International Holocaust Remembrance Alliance (IHRA).
The need to focus on hate content, before it transforms into terrorist and violent extremist material; how online hate, countered at an early stage, can help forestall radicalization to violence.
The need for transparency by technology platforms in drafting policies, algorithms and approaches to moderation of hateful content.
The importance of an interparliamentary and inter-governmental system to gather and share new data rapidly, based on the work of international experts and scholars.
The need for effective tools to counter online disinformation, particularly virulent antisemitic conspiracy theories, combined with promoting positive narratives about the Jewish contribution to our societies.
The need for avenues of public complaint and redress, to facilitate individual complaints about online hate.
"Tackling online antisemitism is of fundamental importance," said Brian Herman, B'nai Brith Canada's Director of Government Relations. "It's why we have been pressing the Canadian government, including the Departments of Justice and Canadian Heritage, for action, and will continue to do so at the National Summit on Antisemitism."
B'nai Brith will be a key participant in the National Summit on Antisemitism and is canvassing Canadians for their ideas on how to counter online hate and antisemitism.