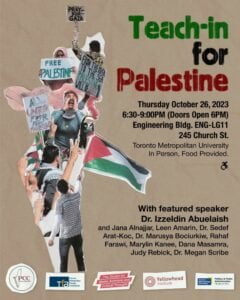 October 27, 2023
TORONTO – B'nai Brith Canada was shocked to discover that the Faculty of Arts and Faculty Association Equity Committee at Toronto Metropolitan University (TMU) sponsored an on-campus event Thursday where the actions of Hamas were condoned.
This comes in the wake of a recent scandal involving students at TMU's Lincoln Alexander School of Law (LASL) declaring their support for terrorism.
Thursday's "Teach-In for Palestine," which was shared on TMU's official website, featured calls to change the popular narrative surrounding the Israel-Hamas conflict, encouraging students to reframe Hamas as "freedom fighters" and cast Israel as the terrorists. Some of the panelists included TMU Professors Sedef Arat-Koc, Marusya Bociurkiw and Megan Scribe.
Promotion materials for the event included the genocidal slogan "From the River to the Sea Palestine will be Free."  At the teach-in, Gaza was referred to as a "concentration camp."
Some attendees were dismayed by the lack of condemnation for Hamas' brutal Oct. 7 rampage, which claimed over 1,400 innocent lives.
"Universities are supposed to be institutions of higher learning that encourage critical thinking," said Michael Mostyn, B'nai Brith Canada's Chief Executive Officer. "This TMU sponsored teach-in appears to have been void of academic discourse yet flush with hypocrisy."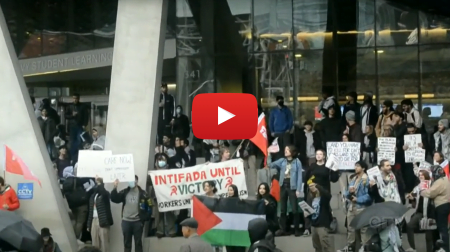 This latest scandal comes less than week after B'nai Brith demanded that TMU's Lincoln Alexander School of Law expel the students who signed the outrageous declaration, presently under investigation by the university.
"Academic freedom is not a moral licence to justify terrorism," Mostyn lamented. "Ontario must ensure that TMU holds itself to the high standard expected and required of it."