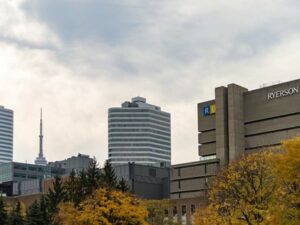 October 23, 2023
TORONTO – B'nai Brith Canada is asking the Lincoln Alexander School of Law (LASL) at Toronto Metropolitan University (TMU) to expel the students who signed onto a harmful letter denying Israel's right to exist and condoning terrorism.
The Oct. 20 statement demands, among other things, that LASL pledge its "unequivocal" solidarity with Palestine. The petition, which has since been taken down, also alleged that "'Israel' is not a country… It is the brand of a settler colony," and accuses the Jewish State of "ethnic cleansing," "war crimes," and "apartheid."
The text goes on to hold Israel responsible for "all loss of life" resulting from Hamas' brutal Oct. 7 rampage – the unprovoked slaughter of 1,400 innocent Israelis, including several Canadian citizens, that left thousands more critically injured. It was the worst single-day attack on Jews since the Holocaust.
Without acknowledging that Canada lists Hamas as a terrorist entity – or condemning the group's brutal atrocities on Oct. 7 – the signatories declare their support for "all forms of Palestinian resistance," calling on LASL to endorse "resistance as fundamentally just and a means of survival for Palestinians."
Although the list of law student signatories has since been deleted from the internet, B'nai Brith has obtained the names of all student signatories to this letter.
"Our law schools, who are training the next generation of officers of the court, must not tolerate students who publicly justify the most heinous acts of terrorism," said Michael Mostyn, B'nai Brith Canada's Chief Executive Officer. "This hateful screed is antithetical to the rule of law and those who endorsed it must have no future role within our judicial system. We have written to TMU and fully expect it to do the only reasonable thing and expel all signatories to this despicable letter."