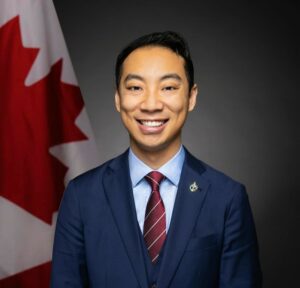 November 7, 2023
OTTAWA – B'nai Brith applauds MP Kevin Vuong (Spadina-Fort York) for insisting in Parliament on Monday that the Federal Government must act against rallies inciting hatred against Canadian Jews.
"Canadians are witnessing the glorification of terrorism and incitement of hatred against the Jewish community at pro-Hamas terror rallies across our country," he said. "At a … rally in Toronto, genocidal slogans called for violent acts against innocent civilians. B'nai Brith has reported these rallies that support a listed terrorist organization [Hamas]."
The MP followed up his remarks with a few pointed questions for the Government:
"Why has the Minister of Justice and Attorney General of Canada been silent on such grotesque displays of antisemitism and incitement?" he asked. "Has he [the Attorney General] asked his provincial and territorial counterparts to enforce Canada's hate propaganda laws?
"Canadians believe in the rule of law," he said. "Not in mob rule."
B'nai Brith strongly agrees with Vuong, who represents a riding where protesters recently targeted Jewish-owned businesses and called for a boycott against them.
"The Government cannot continue to ignore the incitement unleashed at these pro-terror rallies," said Michael Mostyn, B'nai Brith Canada's Chief Executive Officer. "Within the last week, we have seen that such antisemitic rhetoric is contributing to real-world violence."
In Toronto, a Jewish woman was punched in the face by a pro-Palestinian demonstrator. Tragically, in Los Angeles, an elderly Jewish counterdemonstrator died after a confrontation with anti-Israel protestor.
This morning, Montrealers woke up to discover that someone had thrown a Molotov Cocktail at a local synagogue. There was also an attempted arson attack aimed at the office of a Jewish organization across the street from the synagogue.
"We need our politicians to be proactive about fighting hate crimes," Mostyn said. "Our leaders need to take preventive measures, including clarifying to police what they should be expected to do to curtail this ongoing incitement against Jewish Canadians."
"We thank Mr. Vuong for standing up for Canada's Jewish community," Mostyn said. "We look forward to continuing to collaborate with him and other political leaders in the fight against antisemitic incitement and the glorification of terrorism in Canada."