Times Colonist
Published Oct 23, 2023
https://www.timescolonist.com/national-news/lines-have-been-crossed-groups-condemn-protests-at-jewish-businesses-event-7723843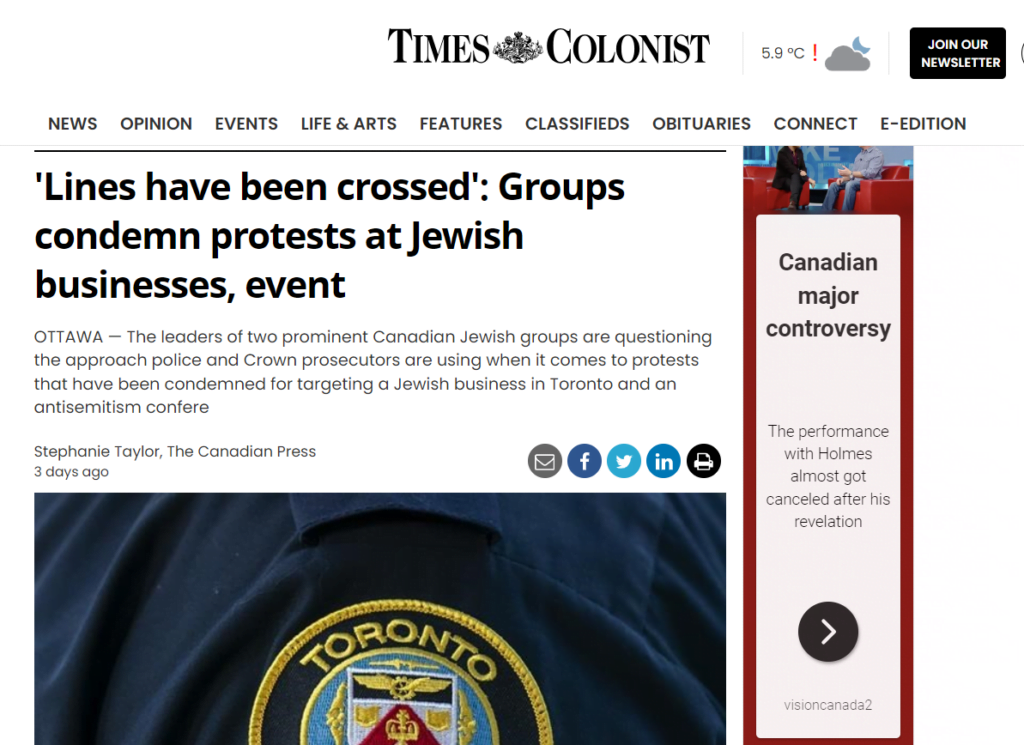 OTTAWA — The leaders of two prominent Canadian Jewish groups are questioning the approach police and Crown prosecutors are using when it comes to protests that have been condemned for targeting a Jewish business in Toronto and an antisemitism conference in Ottawa.
Videos shared on social media showed a group of protesters, including many holding Palestinian flags, gathered in front of a Toronto restaurant this weekend, where some in the crowd could be heard calling it a "Zionist café" — referring to a movement to establish, and develop, a Jewish homeland in Israel — and chanting for a boycott.
"Lines have been crossed," Michael Mostyn, the CEO of B'nai Brith Canada, said Monday.
Several parliamentarians echoed a similar sentiment, including Montreal Liberal MP Anthony Housefather, who is Jewish, who described demanding boycotts of Jewish-owned businesses as "unforgivable."
"This is not an expression of Canadian values. It is pure hate," he said in a statement posted to X, previously known as Twitter.
Melissa Lantsman, a deputy leader of the federal Conservatives who is also Jewish, called the protest "a despicable act of antisemitism." 
Toronto Mayor Olivia Chow said in a statement on Monday that "targeting a business in this way is wrong," and noted that city police have recently reported an uptick in reported hate incidents.
Stephanie Sayer, a spokeswoman with Toronto police, said late Monday that police were "reviewing the incident" and encouraged anyone who was present or has photos or videos to come forward. 
Earlier Monday, Sayer had said "no report has been filed at this time" with police about the protest.
Police services across Canada say they are dealing with heightened fears from both Jewish and Muslim groups since the latest Israel-Hamas war broke out more than two weeks ago.
The federal government says it is working with the RCMP to address such concerns and has called for calm, saying that no community, whether Jewish or Muslim, should face discrimination.   
Many police forces say they have increased their presence near places of worship and are sending officers to monitor protests.
Prime Minister Justin Trudeau has condemned Hamas since it attacked Israel on Oct. 7, saying the group is a listed terrorist entity. He said its militants are not "freedom fighters" and should not be celebrated as such.
Hamas fighters stormed into Israel, killing more than 1,400 people, largely civilians, and took hostages. Israel has responded to the attack with airstrikes and by cutting off food, water and electricity to the Gaza Strip, a Hamas-controlled Palestinian territory of 2.3 million that was already subject to severe restrictions by Israel and Egypt.
International aid agencies have said the situation in Gaza is a humanitarian crisis, and only a handful of truckloads of supplies have been allowed in through its border with Egypt.
The conflict has led to protests in Canada and around the world by groups supporting both Israeli and Palestinian sides.
Michael Kempa, an associated professor of criminology at the University of Ottawa, said it is ultimately up to Canadian police to decide what behaviour crosses a line into criminality.
The Charter of Rights and Freedoms protects the rights to peaceful assembly and freedom of expression, but the Criminal Code also prohibits anyone from making public statements wilfully promoting, or inciting, hatred against an identifiable group.
Based on what he has seen from video of the weekend protest, Kempa said the incident could potentially be investigated as an act of criminal mischief or intimidation.
"When you look at the pro-Palestinian rallies, despite the fact that whatever the messages of pro-Palestinian groups on the ground may be deemed offensive or distressing or upsetting to huge swaths of the population … the fact that it's offensive or in poor taste or deemed that way by any group of people, that doesn't make it illegal," he said.
Kempa compared the recent rallies to last year's "Freedom Convoy" in Ottawa, which at times featured Nazi imagery and saw crowds blockade the streets around Parliament Hill for three weeks. While some of the people involved said they were there to overthrow the federal government, others were protesting against COVID-19 public-health measures, including vaccine mandates.
Mostyn said he feels some of the pro-Palestinian protests should have resulted in hate crime charges for featuring inciteful rhetoric and slogans against the Jewish community.
But Kempa said the Criminal Code is very specific when it comes to hate-related offences, and ultimately police and Crown prosecutors have to determine whether an incident will likely to lead to a "disturbance of the peace." 
"Just because someone says something hateful, it's not a slam-dunk or a certainty that they're going to be convicted," he said.
"Police have to look at it and work with Crown prosecutors to basically determine: is this a promotion of hatred that is serious enough that we're likely to get a conviction in a court, or are we making the situation worse if we intervene?" 
Kempa said the law is designed to be applied in such a way that it takes an individual's intentions into account, so as not to "chill speech." 
As an example, one slogan commonly heard and seen at many pro-Palestinian rallies, even before the latest Israel-Hamas war, is: "From the river to the sea, Palestine will be free."
Many members of the Jewish community and supporters of Israel view that statement as calling for a future Palestinian state that runs from the Jordan River to the Mediterranean Sea, which would encompass not only Gaza and the Israeli-occupied Palestinian territories of West Bank and East Jerusalem, but also what is now considered the state of Israel.
There are also Palestinian activists who view it as a chant for rights and recognition for their people in the region. Some 700,000 Palestinians who were living in what is now called Israel either fled or were expelled during the wars that followed the United Nations' partition of what was then British-controlled Palestine into separate Jewish and Arab states in 1947.
"Many people, it would be safe to guess, have simply no concept of what that statement even means," Kempa said.
"They may have heard other people saying it, they may think it sounds punchy and they're generally for Palestinian rights."
Shimon Koffler Fogel, the president and CEO of the Centre for Israel and Jewish Affairs, said the recent protests have generated "genuine concern." 
Last week, people attending the centre's conference in downtown Ottawa that was dedicated to combating antisemitism had to leave through the back after a crowd of pro-Palestinian protesters appeared.
Fogel said the nature of some protests have changed compared to what he has seen in recent years. 
"It does require a different kind of approach on the part of law enforcement." 
This report by The Canadian Press was first published Oct. 23, 2023. 
— With files from The Associated Press
Stephanie Taylor, The Canadian Press