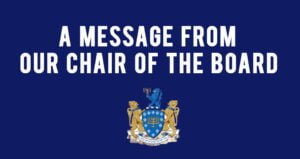 Dear Friends,
We are only two months into the year 2017, and yet, we have already witnessed several offensive and blatantly antisemitic incidents across Canada.
We've seen religious leaders call for the destruction of Judaism in Quebec, a bomb threat at a London, Ont. Jewish community centre, mezuzahs ripped apart and vandalized in Toronto, antisemitic slogans spray-on the walls of a Vancouver elementary school, and Holocaust denial fliers distributed on campus in Calgary.
Throughout these horrific attacks, B'nai Brith Canada has been there, documenting and monitoring these hate crimes, filing appropriate charges and working with police, offering resources and counselling to the victims, and urging the government to pursue hate crimes more rigorously.
As the voice of Canada's grassroots Jewish community, it is our mandate, and our duty, to fight against the racism, antisemitism and hatred that threatens our society. But we can't do it alone.
We need you to support our work. Without you, B'nai Brith cannot advocate for the human rights of all Canadians.
My friends, it has been only two months, but yet the work B'nai Brith Canada has accomplished thus far in 2017 – pertaining to both small and large-scale incidents – has been nothing short of monumental.
Following an ugly act of antisemitism in Winnipeg, B'nai Brith offered support to both the victims and the Winnipeg Police Service. "It makes sense that the owner would reach out to B'nai Brith for some guidance," Const. Rob Carver said at the time. Winnipeg Mayor Brian Bowman also thanked B'nai Brith for swiftly responding to the incident after the victims contacted its 24-7 Anti-Hate Hotline. "I would like to thank B'nai Brith for everything it is doing in regards to this incident and other incidents across Canada that sadly continue to occur," he said.
After researching and translating a television program that promoted Holocaust denial and referred to Jewish suffering as a series of "fairy tales," B'nai Brith filed a complaint with Rogers TV,prompting the network to pull the plug on the Arabic-language show.
https://www.facebook.com/watch/?v=10155231367574245 (page doesnt exist)
After discovering swastikas scrawled in the snow in Sault Ste. Marie,Ont., Winnipeg, and Montreal, B'nai Brith offered counselling to the victims and assisted police in its investigation. "I wasn't interested in 'no response' again," said Chris Melnick,the former Manitoba Cabinet Minister who first reported the antisemitic symbol in Winnipeg. "That's why I called B'nai Brith. I called you folks because I knew you would respond in some way."
On campus, B'nai Brith galvanized the community to react when an an Israeli engineering student was prohibited from applying to the Island School of Building Arts on Gabriola Island, B.C. due to his country of origin. Within hours of our intervention, the school apologized for its policy of discrimination. "I want to thank B'nai Brith Canada for its efforts on my behalf," said the victimized student, Stav Daron. "I'm delighted by the outpouring of support that I have received from the grassroots Canadian Jewish community."
Our organization was also instrumental in having McGill student leader Igor Sadikov removed from the Board of Directors of the Students' Society of McGill University (SSMU) after we first exposed his tweet encouraging violence against Zionists. In addition to promoting awareness, B'nai Brith also wrote to McGill Principal and Vice-Chancellor Suzanne Fortier, urging her to compel the SSMU to take action against Sadikov, and offered support to students.
This is an important victory for Jewish and pro-Israel students and for tolerance in general at @mcgillu https://t.co/Zg8GvjNb6E

— Michael Mostyn (@MichaelMostyn) February 24, 2017
Off campus, a B'nai Brith complaint finally led to hate crimes being charged – albeit in another country, Germany, after Alfred Schaefer was charged with criminal incitement.
We are also leading the charge in demanding that the Montreal imam who called for the destruction of the Jewish people be charged with a hate crime. A B'nai Brith petition urging the government to take hate crimes against the Jewish community seriously has garnered roughly 2,000 signatures as of Monday afternoon. B'nai Brith also filed a complaint with Ryerson University in Toronto regarding antisemitic comments made by Ayman Elkasrawy, a teaching assistant and imam who called to "purify Al-Aqsa Mosque from the filth of the Jews" during a sermon.
https://www.facebook.com/watch/?v=10155318184584245 (page doesnt exist)
After several Jewish residents of a Toronto condo were targeted with yellow slips containing antisemitic epithets and slurs (their mezuzahs were also vandalized), B'nai Brith, in conjunction with Rabbi Moshe Steiner, quickly organized a major press conference with Mayor John Tory and city police.
https://www.facebook.com/watch/?v=10155333979714245 (page doesnt exist)
Over the last two weeks, B'nai Brith experts have also testified twice to Parliament in regards to hate crimes and terrorism against our society.
My friends, today marks the end of February, but in these short eight weeks, B'nai Brith has been vital in identifying promoters of hatred against the Jewish community and advocating for them to be charged to the full extent of the law. During these perilous times, it is imperative that we remain diligent in this battle against discrimination and prejudice, which is why we must have your support.
We know, judging by your great feedback, that you appreciate our recent efforts in our new aggressive approach to combat racism and antisemitism. A donation of any sum allows B'nai Brith to continue to spearhead our essential human rights initiatives.

Your kind support will allow us to continue our fight as leaders and champions of Human Rights.
Thank you for your ongoing support of B'nai Brith Canada.
Sincerely,
Jay Harris
Chair of the Board
B'nai Brith Canada