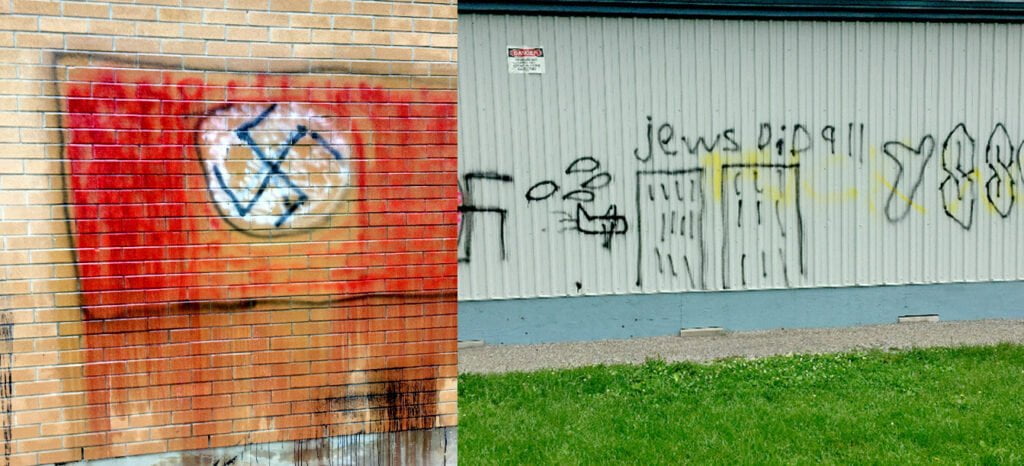 July 10, 2017
By Tevy Pilc
Staff Writer/Researcher
B'nai Brith Canada
York Regional Police (YRP) have charged three 17-year-olds following the discovery of antisemitic and racist hate graffiti on the walls of a Vaughan high school.
According to police, the three male suspects turned themselves in and were subsequently charged with one account of mischief of over $5,000.
The graffiti, which contained antisemitic, anti-black and homophobic images and slurs, were found on the walls of Woodbridge College High School on the morning of Thurs. June 29, 2017. YRP's investigation revealed that the accused drew the graffiti before midnight on the previous evening.
Earlier today, B'nai Brith Canada was first to publicize this development following correspondence with YRP before an official police release was published.
B'nai Brith has remained in close contact with police ever since the graffiti was first reported to our 24/7 Anti-Hate Hotline and immediately offered assistance to YRP in its investigation. Furthermore, as it did following the swift removal of the graffiti, B'nai Brith Canada commends YRP for its quick apprehension of the suspects.
In a statement, YRP said that it "will not tolerate hate crime in any form. These kinds of crimes not only hurt the community that has been targeted, but they hurt us all. We take great pride in being one of Canada's safest and most inclusive communities and we remain vigilant in our fight against prejudice, discrimination and hate in our community."
The accused will appear in court on Monday, July 24, 2017.
CHARGES LAID AFTER HATEFUL GRAFFITI WAS DISCOVERED IN VAUGHAN https://t.co/PCqRRT9M9I

— York Regional Police (@YRP) July 10, 2017
To report an antisemitic or racist incident, please visit bnaibrith.ca/report.
WATCH: CityNews Interviews B'nai Brith on Antisemitic Graffiti at Vaughan School