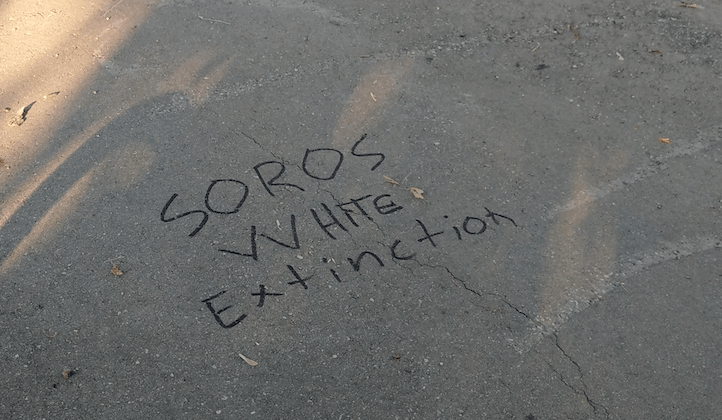 August 16, 2017

WINNIPEG – Graffiti promoting an antisemitic conspiracy theory has been found in a broad area of southern Winnipeg.
Writing scrawled on roads, sidewalks and even private property along Wellington Crescent warns ominously of "white genocide," linking the concept to Jewish-American philanthropist George Soros. The white genocide conspiracy theory, which falsely accuses Jews of plotting violence against people of European origin, finds its roots in classical Nazi ideology but has been revived in recent years by neo-Nazis and white supremacists.
Local residents told CBC Winnipeg that the graffiti first appeared on Sunday, after the violence sparked by white supremacists in Charlottesville, Va. The cryptic nature of the graffiti may explain the delay in reporting to B'nai Brith and the police.
Aidan Fishman, Interim National Director of B'nai Brith's League for Human Rights, told the CBC, "Recent events in the United States may have emboldened Canada's relatively weaker far-right formations to spread their hateful messages in a more public manner.
"Even in a city like Winnipeg, which is currently holding a major multicutural festival, complacency in the face of hatred is not an option. On New Year's Eve, this city witnessed an ugly antisemitic incident,  but Winnipeggers rallied together to support the Jewish community. That's the sort of reaction that we would like to see once again."
B'nai Brith and the Winnipeg Police Service both have launched investigations into the antisemitic graffiti. B'nai Brith encourages anyone with information to speak to police and call our 24/7 Anti-Hate Hotline at 1-800-892-2624.