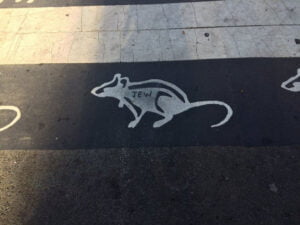 By Jordan Zaitchik
B'nai Brith Canada
For the fourth time in nine days, vandals have scrawled 'Jew' on an image of a rat in Chinatown, Washington D.C., as reported by the DCist.
DowtownDC, a private non-profit, encourages businesses in the city centre to create works of outdoor art. Chinatown, located in the northwestern quadrant of the city, has the 12 animals that represent the Chinese zodiac depicted on a crosswalk. The graffiti was first spotted on Aug. 1, police were dispatched on the scene with a cleaning crew. Despite the initial removal, the vandals returned to redo their antisemitic graffiti again on Aug. 3, Aug. 8, and Aug. 9.
Michael Villafranca was a passerby who saw that the graffiti reappeared and notified the police, he posted the photo on Twitter.
Anti-Semitic graffiti has returned yet again to Chinatown crosswalks @311DCgov @MayorBowser @councilofdc @DCist pic.twitter.com/g5cBiGhpR0

— Michael Villafranca (@deMIKEracy) August 8, 2016
Rachel Hartman, spokesperson for DowntownDC BID said, "There's definitely four different times it appeared and we cleaned it." She continued on to say, "The DowntownDC BID supports MPD (Metropolitan Police Department) in whatever capacity they're working to find and apprehend the person or persons behind these incidents. We help maintain the public space downtown and are committed to keeping it clean, safe, and friendly for everyone."
Hartman was notified about the graffiti from Reverend Thomas Bowen, director of the Mayor's Office of Religious Affairs. "My immediate reaction was to reach out to people I know in the Jewish community," said Bowen. "To stand with them and let them know that we are a city that embraces all people and all faiths."
Rabbi Batya Steinlauf, Director of D.C. advocacy and community relations for the Jewish Community Relations Council of Greater Washington, said, "The graffiti itself is very disturbing… It's classic anti-Semitism and should not be minimized. It not only suggests that Jews are not human but suggests that they're worthy of destruction. What do you do with rats and bugs? You destroy them."
The MPD has filed the classified the graffiti as an alleged hate crime. The MPD is offering a $1000 reward to the person who helps police identify the person, or people, who continue to deface the crosswalk. Currently, the police do not have any known suspects. They also do not know if it is one perpetrator or a series of copycats.