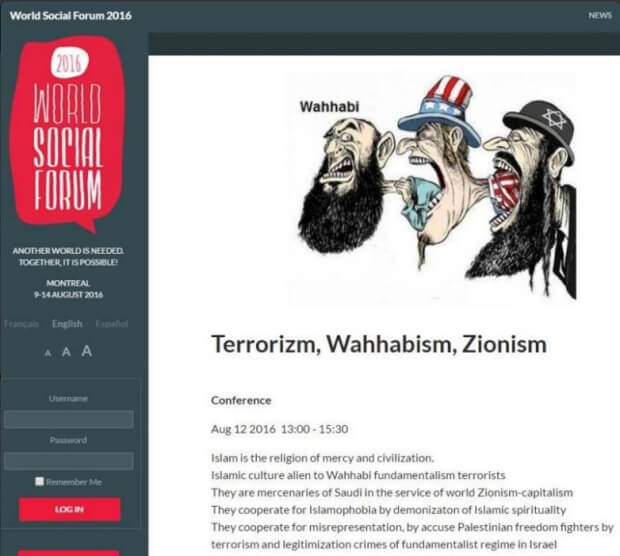 The World Social Forum (WSF), which is set to begin in Montreal on August 9th, is being used as a platform to promote antisemitism using public funds, reports B'nai Brith Canada.
The WSF is an annual conference aimed at uniting various far-left and anti-globalization civil society groups. The "Partners" page on its website highlights the logos of the Province of Quebec and the City of Montreal, along with McGill University, Université de Québec à Montréal and Cégep du Vieux Montréal.
"It is disappointing to see that, despite the Federal Government renouncing all connection to the WSF after B'nai Brith spoke out against the conference last week, other public funds appear to remain invested in this antisemitic conference," said Michael Mostyn, CEO of B'nai Brith Canada.
After a release last week from B'nai Brith Canada, highlighting the apparent partnership with the WSF and the Government of Canada, in a joint statement MP Anthony Housefather and MP Michael Levitt told B'nai Brith "We are deeply concerned with a number of the sessions that are scheduled for 2016 World Social Forum and in particular, we are disgusted by the blatantly anti-Semitic cartoons and images that appear on the World Social Forum website. The Prime Minister, the Government of Canada, and the Canadian Parliament have been very clear that we oppose the Boycott, Divestment and Sanctions movement and that anti-Semitism is never acceptable." Shortly after this statement was issued, the Government of Canada logo was removed from the WSF website.
Events being hosted under the WSF umbrella include a workshop headlined by Diana Ralph, a leading Canadian conspiracy theorist who has blamed Israel for staging the September 11, 2001 terrorist attacks. A few hours later, WSF attendees will hear from Sabine Freisinger, a former President of the Concordia Students Union who played a role in the violent 2002 riot which prevented Binyamin Netanyahu from speaking at that university. Rioters at Concordia physically assaulted a rabbi and his wife and kicked an elderly Holocaust survivor in the groin.
Further to the antisemitic content of the conference, the WSF has publicly declared a policy of 'Non Apartheid', in which it states that "…we have already taken a stand to exclude all people, organizations and or activities that promote any kind of oppression, supporting the Palestinians and all the people struggling for emancipation and freedom". "The natural implication of such a stance is the outright exclusion of any organization or individual that supports Israel," said Mostyn. "The idea that public money is being invested in an event which not only spreads antisemitism, but also bars attendees based on ethnicity is contrary to the multicultural and pluralistic values that we as Canadians value so highly."
"Any partnership by governmental agencies is entirely inappropriate for this event, and we call on both the Government of Quebec and the City of Montreal to pull all support from the WSF," said Mostyn.
Last week, after news about the conference was made public, organizers abruptly cancelled a workshop entitled "Terrorizm [sic], Wahabbism, Zionism." The advertisement for this event was an antisemitic caricature depicting a Wahhabi terrorist emerging from the mouth of American mascot Uncle Sam, who in turn emerges from the mouth of a stereotypical ultra-Orthodox Jew with a Star of David emblazoned on his hat.
This weekend, it was further reported that Canadian immigration officials had denied entry visas to more than 200 foreign participants in the WSF.
All calls made by B'nai Brith Canada to the Montreal organizers of the WSF have gone unreturned. B'nai Brith is in touch with the relevant government officials about this matter.
Une conférence antisémite financée avec l'argent des contribuables
Le Forum Social Mondial (FSM) qui débute ce 9 août à Montréal, est utilisé comme une plateforme de promotion de l'antisémitisme de selon B'nai Brith Canada.
Le FSM est une conférence annuelle dont le but est de regrouper diverses associations non-gouvernementales à but non lucratif antimondialistes situées à l'extrême-gauche sur l'échiquier politique. Sur leur site web, la page des partenaires met en évidence les logos de la Province de Québec et de la Ville de Montréal ainsi que ceux de l'Université McGill, de l'UQÀM et du Cégep du Vieux-Montréal.
Michael Mostyn, PDG de B'nai Brith Canada a en effet affirmé qu' « il est désolant de constater que des fonds publics demeurent investis dans cette conférence antisémite malgré que le Gouvernement fédéral s'en soit dissocié suite à la dénonciation du FSM par B'nai Brith la semaine dernière. »
Suite à la publication d'un communiqué de presse par B'nai Brith Canada la semaine dernière qui met en lumière l'apparente association du FSM et du Gouvernement du Canada, les députés fédéraux Anthony Housefather et Michael Levitt ont affirmé, dans une déclaration conjointe à B'nai Brith : « Nous sommes profondément inquiets par un certain nombre de conférences qui sont au programme de l'édition 2016 du Forum Social Mondial et, particulièrement, nous sommes dégoutés par l'antisémitisme flagrant des caricatures et des images qui apparaissent sur le site web sur Forum Social Mondial. Le Premier ministre, le Gouvernement du Canada et le Parlement canadien ont été très clairs de leur opposition à la campagne Boycott Désinvestissement Sanctions et que l'antisémitisme n'est jamais acceptable. » Peu de temps après la publication de cette déclaration, le logo du Gouvernement du Canada a été retiré sur site web du FSM.
Les conférences au programme du FSM incluent un atelier avec comme tête d'affiche la Canadienne Diana Ralph, une importante théoricienne de la conspiration qui a mis le blâme sur Israël d'avoir organisé les attaques terroristes du 11 septembre 2001. Suite à cette conférence, les participants au FSM pourront entendre Sabine Freisinger, une ancienne présidente de l'association étudiante de l'Université Concordia qui a joué un rôle dans la violente émeute de 2002 ayant empêché Binyamin Netanyahu de s'adresser à la communauté estudiantine de Concordia. Les émeutiers ont agressé physiquement un rabbin et sa femme et frappé une personne âgée, survivante de l'Holocauste, à l'aine.
En plus du contenu antisémite de la conférence, le FSM a déclaré publiquement une politique « Sans Apartheid » dans laquelle les organisateurs affirment que « nous avons déjà pris position quant à l'exclusion des gens, des organisations et des activités qui font la promotion de toute sorte d'oppression, supportant ainsi les Palestiniens et tous les peuples qui souffrent afin d'obtenir leur émancipation et leur liberté ». « L'implication naturelle d'une telle position est carrément l'exclusion pure et simple de toute organisation ou individu qui soutient Israël, » affirme Mostyn. « L'idée que l'argent des contribuables est investi dans un évènement qui, non seulement propage des propos antisémites, mais exclut également des participants basés sur leurs origines ethniques est contraire aux valeurs multiculturelles et pluralistes que nous, Canadiens, valorisons fortement. »
« Tout partenariat entre le FSM et des agences gouvernementales est entièrement inapproprié et nous demandons à la fois au Gouvernement du Québec et à la Ville de Montréal de retirer tout leur support au FSM, » affirme Mostyn.
La semaine dernière, après la publication de la nouvelle concernant la conférence, les organisateurs ont abruptement annulé un atelier intitulé « Terrorizm [sic], Wahhabisme et Zionism. » La publicité pour cet évènement était une caricature antisémite qui illustre un terroriste Wahhabi surgissant de la bouche d'Oncle Sam, une mascotte américaine qui, à son tour, surgit de la bouche d'un Juif ultraorthodoxe stéréotypé blasonné de l'Étoile de David sur son chapeau.
il a également été signalé que les autorités canadiennes de l'immigration ont refusé des visas d'entrée à plus de 200 étrangers souhaitant participer au FSM.
Tous les appels téléphoniques effectués par B'nai Brith Canada aux organisateurs Montréalais du FSM sont demeurés sans réponses. B'nai Brith Canada est en contact avec les instances gouvernementales pertinentes à ce propos.