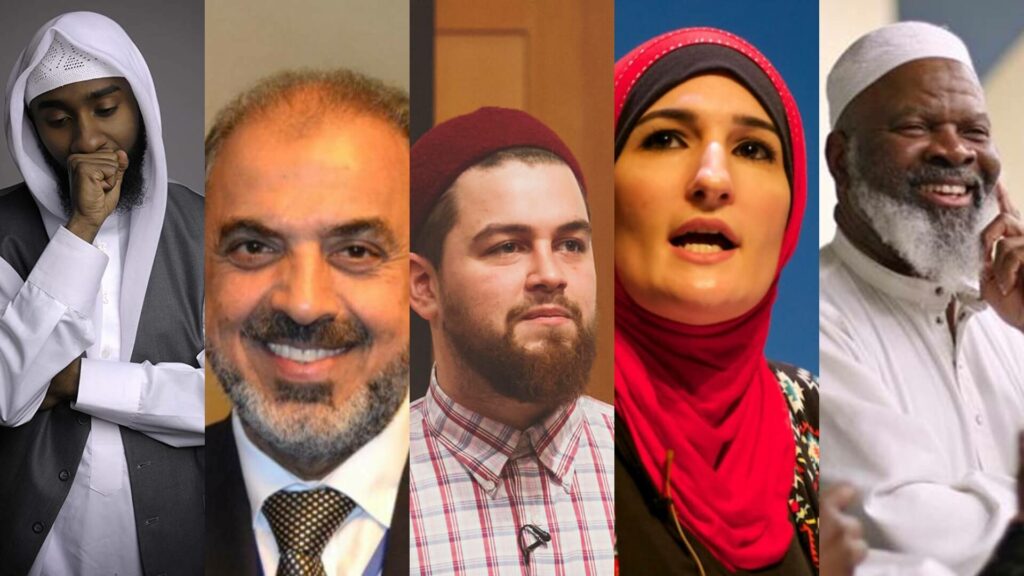 Sept. 26, 2018
By Daniel Koren & Ran Ukashi
B'nai Brith Canada
TORONTO – A bevy of figures who have engaged in homophobic, misogynistic or antisemitic rhetoric are scheduled to speak next week in Mississauga, Ont., at a convention run by the Islamic Circle of North America (ICNA) Canada.
To demand that the ICNA remove these speakers and replace them with individuals who do not promote homophobia, antisemitism or xenophobia, please sign our petition by clicking here.
The goal of the "Carry the Light" convention, from Oct. 6 through Oct. 7, 2018, is to "inspire Muslims to implement the true spirit of Islam in their lives" and provide a "platform to share the basis for moral, social and economic development of Canada with Canadian society at large," according to the ICNA.
However, judging by the roster of participating speakers, the event seems more likely to foment anti-Israel hatred and promote antisemitic and homophobic conspiracy theories within Toronto's Muslim community.
"While B'nai Brith is concerned with the attendance of anti-Israel activist and Louis Farrakhan supporter Linda Sarsour, there is a slew of other speakers who have promulgated antisemitic perspectives and conspiracy theories and even demonstrated sympathy for those convicted of terrorism," said Michael Mostyn, Chief Executive Officer of B'nai Brith Canada.
"This gathering is allegedly to promote peace, interfaith dialogue and respect. Instead, because of the damaging antisemitic remarks of some of its speakers, it will only further sew the lines of division between Canada's Jewish and Muslim communities," he said. "The ICNA must remove these speakers immediately and replace them with community leaders who actually inspire peace and tolerance."
Last Thursday, B'nai Brith objected in a letter to the Canada Border Services Agency (CBSA) about the entry into Canada of some of the scheduled speakers, notably Imam Sirah Wahhaj. In an email, B'nai Brith also strongly urged the ICNA to delete the reprehensible figures it chose to highlight this year.
Following is a list of speakers who need to be removed:
Nazir Ahmed
Nazir Ahmed, a member of the British House of Lords, has a dirty laundry list of antisemitic occurrences to his name. In 2013, he blamed a "Jewish conspiracy" after he was convicted of dangerous driving and criticized his "Jewish friends who own newspapers and TV channels." He also blamed "the Zionist lobby" when an Iranian propaganda network was banned in the UK and said British Jews who fight in the IDF "should be arrested." In 2012, Ahmed drew the ire of his colleagues when he condemned former U.S. President Bush and former UK Prime Minister Blair for "committing war crimes in Iraq and Afghanistan." He resigned from the Labour Party months later.
Ustadh Abdelrahman Murphy
Muslim activist Ustadh Abdelrahman Murphy, who once claimed there is "no such thing as an innocent Israeli," is an employee of the Qalam Institute, which hosts a document on its website warning that Muslims who seek "cleanliness" and "purity" should "not resemble the Jews. The document also implies that Jews are "impure" or "unclean." Sheikh Abdul Nasir Jangda, who is also a guest speaker at the convention, is Murphy's colleague at the Institute.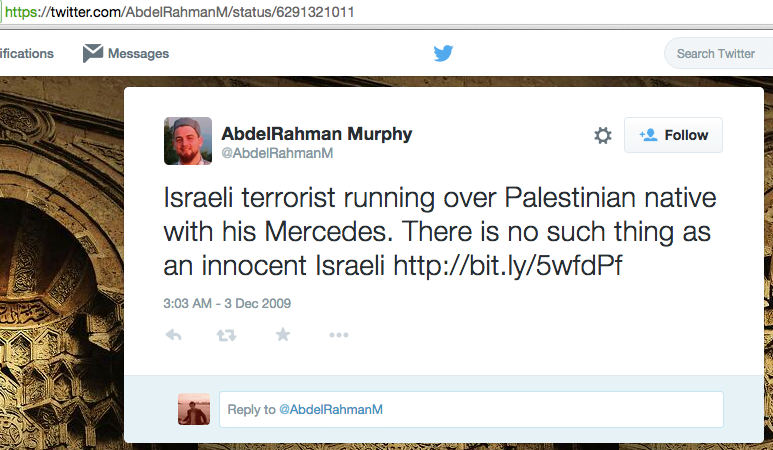 Imam Siraj Wahhaj
Identified by U.S. prosecutors as an unindicted co-conspirator in the 1993 World Trade Center bombing, Imam Sirah Wahhaj was a character witness in the trial of Omar Abdel-Rahman, who is linked to the attack, describing him as a "respected scholar" and "strong preacher of Islam." Wahhaj has also denounced "lesbianism and homosexuality" in Islam and condemned North American laws for not forbidding "fornication and adultery."
Boonaa Mohammed
On his website and social media channels, Toronto-based, spoken-word artist Boonaa Mohammed complains about being picked on by "lots of rich yahudi kids," maintains conspiracy theories about the Sept. 11, 2001 terror attacks, accuses "evil Zionists" of controlling "the media and foreign affairs," and compares Israeli policy to the Nazi regime, which is clearly antisemitic under the International Holocaust Remembrance Alliance (IHRA) definition.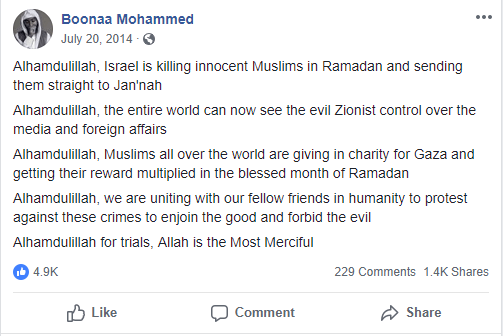 Linda Sarsour
Despite finding mainstream success as a women's rights activist in the U.S., Linda Sarsour continues to promote blatant falsehoods about Israel, associate with antisemites and convicted terrorists such as Farrakhan and Rasmea Odeh, and support the antisemitic boycott, divestment and sanctions (BDS) movement. She also has made troubling statements that seem to endorse female genital mutilation.
If you agree that the ICNA must remove these speakers, click here.