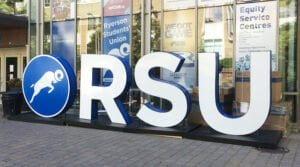 On Wednesday, the Ryerson Students' Union (RSU) voted to adopt a definition of antisemitism in line with what is used by the governments of Canada (page does not exist) and Ontario.
The definition includes the denial of the Jewish right to self-determination, the application of double-standards to the State of Israel, the comparison of contemporary Israeli policies to that of the Nazis, and the use of symbols or imagery associated with classic antisemitic tropes.
"After all of the shameful incidents to occur on campus this year, it was especially important for the RSU to adopt a robust definition of antisemitism," said Tamar Jaclyn Lyons, Vice-President of Communications for Students Supporting Israel (SSI) at Ryerson. "This definition will prove critical in holding bigots accountable for their actions, and preventing these hateful acts from continuing in the future."
In November of 2016, the RSU attracted controversy after a motion to commemorate Holocaust Education Week at its General Meeting was foiled by a premeditated walk-out led by members of the local chapter of Students for Justice in Palestine (SJP).
Then, in February, Ryerson teaching assistant Ayman Elkasrawy was recorded describing Jews as "filth" during prayers at the Masjid Toronto mosque near campus. Following  B'nai Brith Canada's intervention, Ryerson dismissed Elkasrawy from his position.
"This is an important step, which should be followed by other Canadian student unions," said Aidan Fishman, B'nai Brith Canada's Campus Advocacy Coordinator. "Given the instances of anti-Jewish bigotry that have transpired this academic year, ignorance about antisemitism is an obvious issue at Ryerson. The adoption of a clear definition should help to remedy this problem."
Rebecca Katzman, President of SSI, told B'nai Brith that SSI had attempted to convince the RSU to adopt a similar definition in 2014, but were rejected. "Seeing non-Jews tell Jewish students how to define their own oppression was a shocking moment for me, and inspired us to correct that mistake this year," she said.