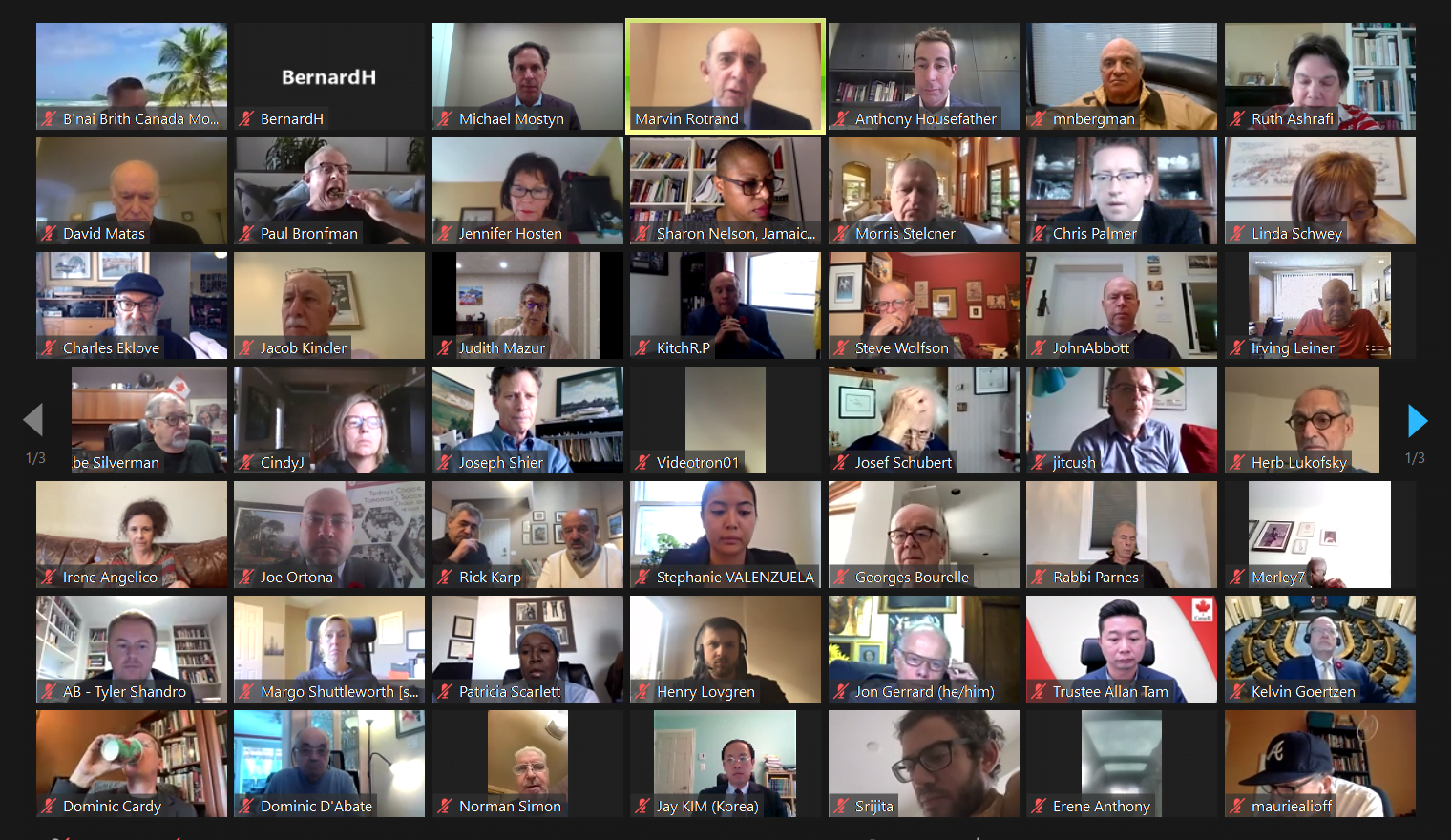 Nov. 7, 2022
A member of the Legislative Assembly of New Brunswick is proposing the formation of a national parliamentary group that would focus on entrenching the International Holocaust Remembrance Alliance (IHRA) definition of antisemitism throughout Canada.
The suggestion surfaced Sunday at B'nai Brith Canada's National IHRA Cross Country Check-in, which featured more than 300 participants, including 40 elected officials, three cabinet ministers, federal and provincial parliamentarians, justice ministers, mayors, B'nai Brith leaders and other community officials across Canadian political, jurisdictional and geographic spectrums.
Dominic Cardy, who served as the New Brunswick Education Minister during the past four years, proposed the parliamentary-group concept Sunday while speaking about the importance of strengthening links among parliamentarians who are committed to fighting antisemitism.
"The more we can collaborate and coordinate, the more effective we can be," Cardy told listeners.
Marvin Rotrand, National Director of B'nai Brith's League for Human Rights, reacted favourably to Cardy. "Dominic, really strong words," Rotrand said.  "I am actually very, very moved."
Alberta Justice Minister Tyler Shandro spoke about the importance of applying the IHRA definition by all layers of government. "As a next step, I sent correspondence to all our mayors in Alberta encouraging all the municipalities to adopt the IHRA definition," Shandro told the group.
David Matas, B'nai Brith's Senior Legal Counsel, also contributed to the discussion. He spoke about the IHRA definition's versatility and ability to distinguish more modern forms of antisemitism that are more difficult to identify than historical examples.
"Hate speech is full of trigger words and coded references," Matas said. "With a hatred as old as antisemitism, which has existed since prehistoric times, those trigger words and coded references change dramatically. The IHRA definition and examples are relatively up to date."
Also in attendance was Irwin Cotler, the Federal Government's Special Envoy on Preserving Holocaust Remembrance and Combatting Antisemitism. He informed participants about the academic fortitude underlying the IHRA definition.
"Let me say the IHRA definition is the most authoritative, comprehensive definition," Prof. Cotler said. "It is the most representative and one that is democratically adopted over a 15-year decision-making period."
Other elected officials who spoke at the forum included Federal MP Anthony Housefather, Manitoba Minister of Justice Kelvin Goertzen, Newfoundland and Labrador Minister of Seniors, Children and Social Development John Abbot, Yukon MLA Currie Dixon, Ontario MPP Laura Smith and Quebec MNA Elisabeth Prass.
Community leaders representing prominent Jamaican and Filipino associations also spoke.
"The ideas presented and exchanged during B'nai Brith's National Discussion were invaluable," said Michael Mostyn, Chief Executive Officer of B'nai Brith Canada. "Through thoughtful and productive dialogue, we can identify and elevate the best ideas, practices, and standards to more effectively combat antisemitism across the country. We look forward to more discussions of this calibre and ultimately bringing many of these promising ideas to fruition."