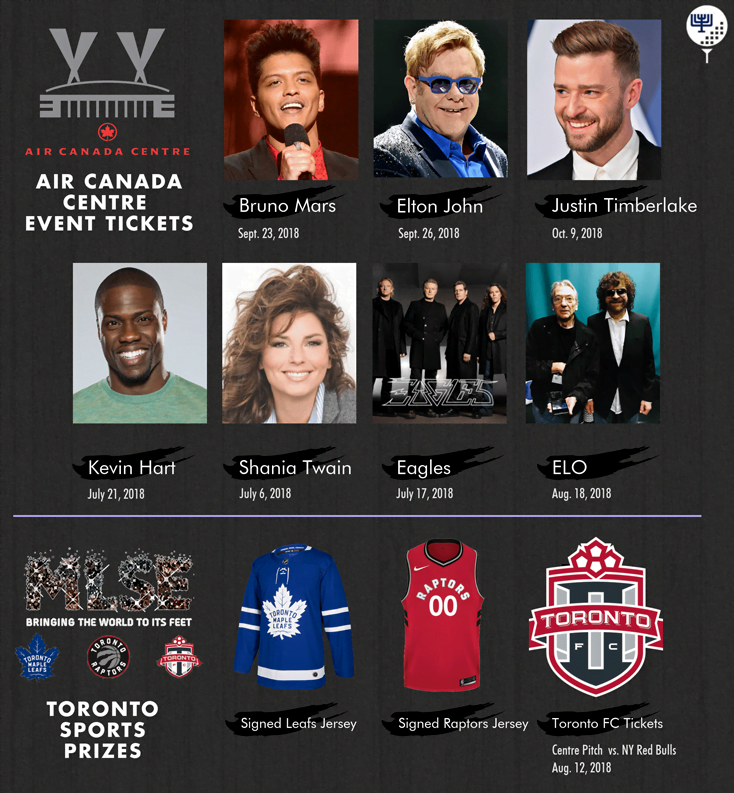 May 2, 2018
By Tevy Pilc
Writer/Researcher
B'nai Brith Canada
TORONTO – A round-trip flight on a private jet is among an impressive list of auction items that will be up for bids at the Lebovic Golf Club banquet hall during the 3rd Annual B'nai Brith Charity Golf Classic on June 11, 2018.
To register for the tournament, click here. Spots are limited.
Thanks to a special donation, one lucky attendee will be jetting away with five friends on a private aircraft to either New York or Chicago.
The flight won't be the only coveted item to be auctioned off. Courtesy of Maple Leaf Sports & Entertainment, participants will be able to bid on tickets for upcoming concerts at the Air Canada Centre featuring superstar musicians including Elton John, Justin Timberlake, Bruno Mars and Shania Twain.
Tickets to see legendary bands such as Electric Light Orchestra (ELO) and The Eagles as well as actor/comedian Kevin Hart will also be available.
Other items that will be up for bidding include centre-pitch tickets to a Toronto FC game, signed Toronto Maple Leafs and Raptors jerseys and treasured sports memorabilia from NHL Hall of Famer Marcel Dionne's personal collection.
Golfers will receive welcome packages with about $1,500 worth of donated gifts and will be treated to a delicious lunch and dinner as well as on-course snacks and beverages. You'll also be able to schmooze with Dionne himself, Canadian horseracing legend Sandy Hawley, former NHL star Gary Leeman and other luminaries.
Golfers will have the chance to win a luxury vacation, two brand new cars and tons more, all in on-course contests!
B'nai Brith is also pleased to release our anticipated schedule for the day:
10:30 a.m. – Registration and welcome gifts
10:45 a.m. – Buffet Lunch opens
12:15 p.m. – Tournament Announcements | Off to the Carts!
12:30 p.m. – Tee Off (sharp)
5:30 p.m. – Cocktails
6:00 p.m. – Dinner and Auction
Sponsorship opportunities, both major and minor, are still available. For more information, click here. If you cannot attend the Golf Classic, please consider making a donation  instead. All donations are tax-deductible.
Thanks for your ongoing support of B'nai Brith Canada. See you on June 11!
For more information, please contact Marty at [email protected].